HDI Railing Systems' Optik range features discreet, minimalist solutions for staircases, walkways, screens and partitions
Coloured, laminated and tempered: HDI's Optik Boss at University of California, Berkeley.
The Optik balustrade system has four product types, all engineered to provide specifiers with the highest levels of building code compliance.
Optik Boss is an ultra-minimalist alternative to the traditional glass shoe rail. Handrail brackets match discreet stainless-steel mounting hardware for a fully co-ordinated design that creates the trademark illusion of floating glass.
Optik Shoe is an equally unobtrusive handrail system. If features a stainless steel covered channel that supports glass panels secured in place with a patented disc lock system.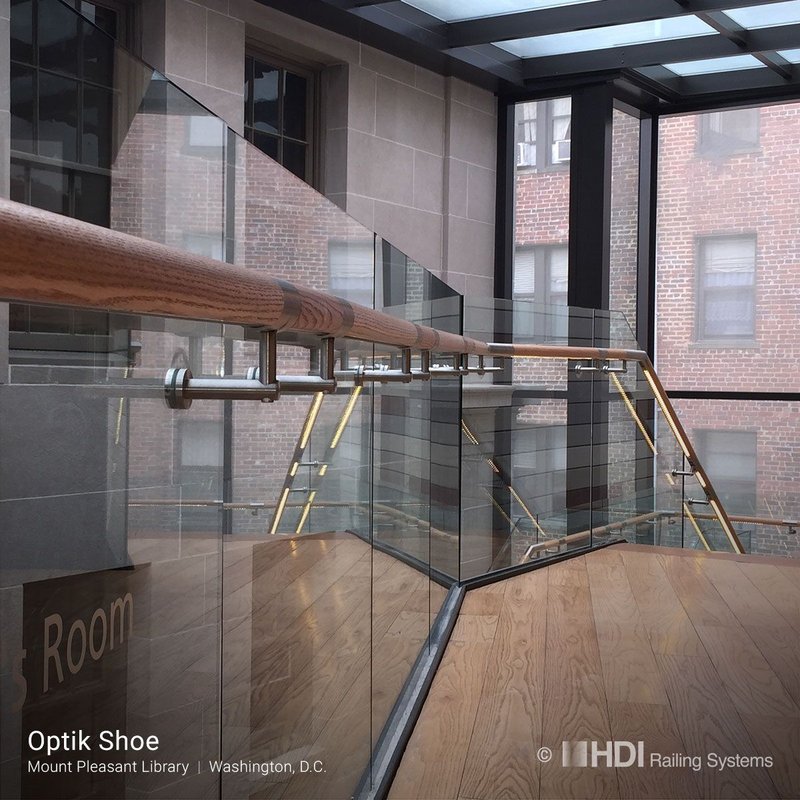 Optik Shoe balustrade design at Mount Pleasant Library, Washington DC.
Optik POD provides discreet stainless-steel mounting hardware in round, rectangular or elliptical shapes for frameless glass balustrades.
Optik Smoke Baffle offers an aesthetic alternative to automatic smoke curtains. Virtually invisible overhead glass screens or curtains restrict airflow and smoke movement below the ceiling level. Many fire codes require large commercial areas to be sub-divided into smaller more manageable spaces to allow monitoring by smoke detectors. Smoke Baffle works to retain smoke in these areas, helping to prevent unnecessary sprinkler activation.