With giant hospitals that cover all services proving slow and unwieldy, healthcare is seeing the advantage of community diagnostic centres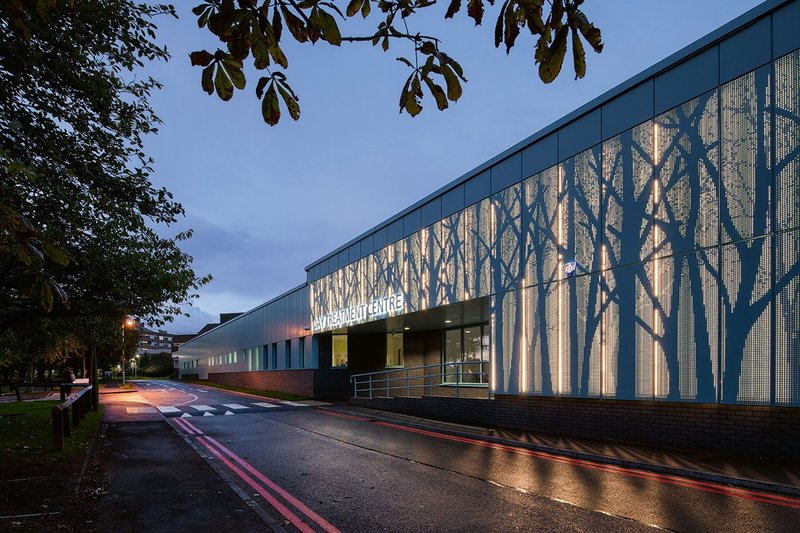 Newcastle's Freeman Hospital has opened a new Day Treatment Centre, by P+HS Architects, in a bid to deal with the backlog of elective surgery for day-case procedures.

Credit: Jill Tate
The number of people waiting for routine hospital treatment in England reached a record 7.5 million in May, as industrial action compounded Covid-induced delays.
In an effort to reduce waiting lists, the government and NHS are creating a string of new centres to carry out common procedures, treatments, scans and tests. These facilities are also part of a shift in healthcare delivery, drawing on pandemic lessons and the findings of Mike Richards' 2020 independent review of diagnostic services for NHS England, which talked of establishing new service models in new facilities, away from acute hospital settings.
So far, the government drive has seen more than 100 community diagnostic centres (CDCs) alone built in England since 2021 and more facilities are on the way. CDCs were specifically intended to be sited in town centres and high streets, for ease of access and to help address healthcare inequalities.
Add to this government ambitions for rapid delivery, more standardisation, modern methods of construction (MMC) and sustainability in NHS projects and expectations are high. Not surprisingly, some clients have been struggling to meet them all, as can be seen from last year's analysis by think tank the Kings Fund, which found only one in five CDCs were being built in the community.
Need for speed
'With ageing estates, healthcare clients have identified an immediate need to improve clinical facilities as soon as possible', says Derek Shepherd, director at P+HS Architects, but at the same time, cost constraints have become even more acute, with capital finance failing to keep pace with inflation and materials costs. 'You don't get as much for your money these days, so we have to balance rapid timescales with value for money, while maintaining quality of clinical output'.
Shepherd's practice is working on numerous projects to tackle the NHS backlog, from day surgery centres to CDCs and endoscopy centres. The Day Treatment Centre (DTC) for Newcastle Hospitals NHS Foundation Trust at its Freeman Hospital was made to tackle waiting list backlogs in elective care surgery caused by the pandemic. The centre, which opened last September, provides four much-needed surgical theatres for day-case procedures, 44 pre-operative and post-recovery bays and staff and welfare facilities.
To get the DTC up and running fast, the trust provided initial capital funding, while also bidding for funding from NHS England; and it called in P+HS Architects and contractor Robertson Construction, which it was already working with. Its reduced programme required pro-active consultation with the local authority and followed a permitted development planning pathway. Aligning initial design work to the timescale called for a 'very rapid and intensive' design process, says Shepherd, with two or three stakeholder meetings a week.
These exceptional ways of working enabled the project to be delivered in just 12 months. That has a direct benefit, says Shepherd, as it is estimated the trust will be able to undertake around 16,000 more surgical procedures than if its project had been approached traditionally.
The client initially hoped off-the-shelf modular would accelerate delivery, but the architect's review found otherwise. 'The challenge on this and other projects when considering a volumetric approach or MMC is finding the balance between benefits and timescale,' says Shepherd. 'We needed some flexibility so we could progress with construction on site in a more traditional manner, while we were still finalising some of the design.'
As a result, hybrid construction was adopted, with theatres and plant rooms – which needed to be in place early to allow for equipment installation – constructed using conventional steel frame and blockwork. At the same time, design of pre- and post-operative areas was finalised, these subsequently being constructed in light gauge steel.
Design appraisals for some of its CDCs have produced similar findings. In Stockton-on-Tees, P+HS is advising North and South Tees Hospitals NHS Foundation Trust on the development of a centre on the site of the now demolished Castlegate shopping centre, which will provide scanning, ultrasound, X-ray and respiratory and cardiology consultation. In Workington town centre, it is working with North Cumbria Integrated Care NHS Foundation Trust to provide a similar CDC.
Taking non-emergency healthcare services off the acute hospital campus brings benefits and challenges. In Stockton, the architect carried out initial feasibility and design work for the trust, which included assessing more than 20 potential sites. In Workington a former car park site was acquired by the trust in collaboration with Allerdale Borough Council, while the trust has procured the construction partner, via NHS England's ProCure23 route. Building health facilities in town centres brings care closer to home but finding land or suitable buildings requires client need and development viability to be carefully considered against costs, says Shepherd.
The trust will be able to undertake around 16,000 more surgical procedures than if its project had been approached traditionally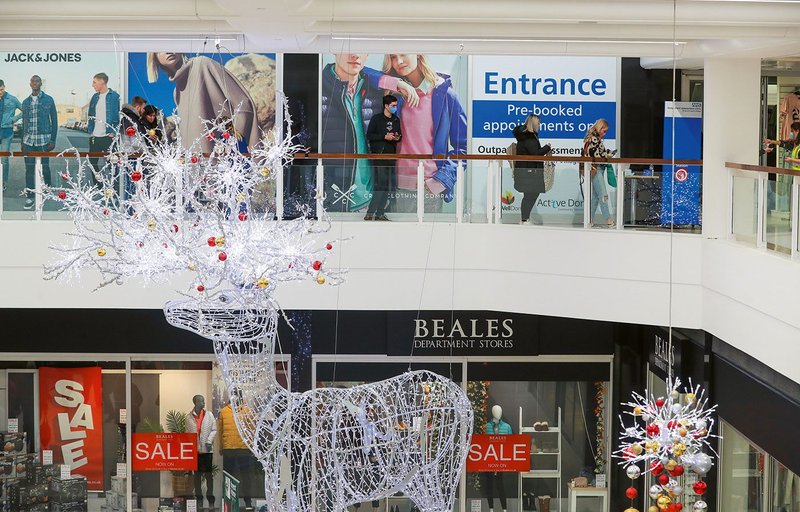 The success of BDP's CDC, set in vacant units in Poole's Dolphin Shopping Centre, has seen its original two-year life extended, and brought extra footfall to the retail centre.

Credit: Richard Crease
Coffee and consultation
University Hospitals Dorset NHS Foundation Trust turned to vacant department store space on the first floor of Poole's Dolphin Shopping Centre to house its CDC. The trailblazing move enabled the trust to create its centre in just six months, with its December 2021 opening timed to help meet the demands of the winter surge in patients.
The trust set the project's location and timescale, with BDP and contractor CFES resuming a working relationship they established creating the NHS Nightingale hospital in London's ExCel exhibition centre. Ehren Trzebiatowski, architect with BDP, sums up the CDC's design as 'a hospital in a box', which was sustainably delivered using partitioning and other components recovered from decommissioned Nightingale hospitals by Innova Care Concepts.
The retail unit had few columns and plenty of space, so accommodated the three clinical streams needed – ophthalmology, breast screening and general services – as well as allowing flexibility for future expansion and rooms for several health charities. A linear route takes patients through the centre without cross-flow in a pandemic-influenced strategy, while banks of consulting rooms are connected by staff corridors, allowing staff to work effectively across appointments.
Ahead of the conversion, existing fire systems, lighting, energy supply, toilet provision and other infrastructure had to be assessed for its suitability for a healthcare setting. Lighting and HVAC systems were found to be adequate, but other areas required closer focus. A structural engineer confirmed the integrity of the floor before the breast screening unit's weighty mammography machine could be installed, and fire safety was enhanced. 'We had to improvise a fire alarm system because the shopping centre's escalators are in an open plan area and could act as a chimney in the event of a fire,' says Trzebiatowski.
The ceiling and fire sprinkler system were left undisturbed, the latter preventing partitioning from reaching full ceiling height. Although that compromised acoustics, background noise including HVAC ultimately proved effective. The most obvious disadvantage of adapting the shopping centre, however, is its lack of windows and so potential for natural daylight and ventilation.
The centre was intended to be temporary, but its two-year lifespan is already being extended as NHS pressures continue. When its doors close for good, circular principles will see internal materials and components refurbished for re-use again. Meanwhile, the shopping centre owner, which recognised from the start the potential benefits of the health centre, is seeing increased footfall and spend, as patients follow consultations with a trip to a shop or café, BDP's post-occupancy evaluation of the project found.
Such centres are an agile response to NHS service needs and are generating broad benefits. They are essential to the NHS' future as it works to provide care amid severe staffing challenges and estate maintenance backlogs, while the government New Hospital Programme proves slow to deliver.
'We've identified several services that don't need to be carried out in an acute hospital so could be moved to a community setting – whether a shopping centre or a new building on a car park, that people are more familiar with,' says P+HS's Shepherd. 'It's also more viable to build specialised centres targeting preventative care than mega-hospitals dealing with both planned and emergency care,' he continues. 'It's unsustainable to keep building beds. What we need to be doing is reducing the need for beds, so the diagnostic and elective surgery programme is the way forward.'