Design and functionality combine with Zip's Platinum Design Range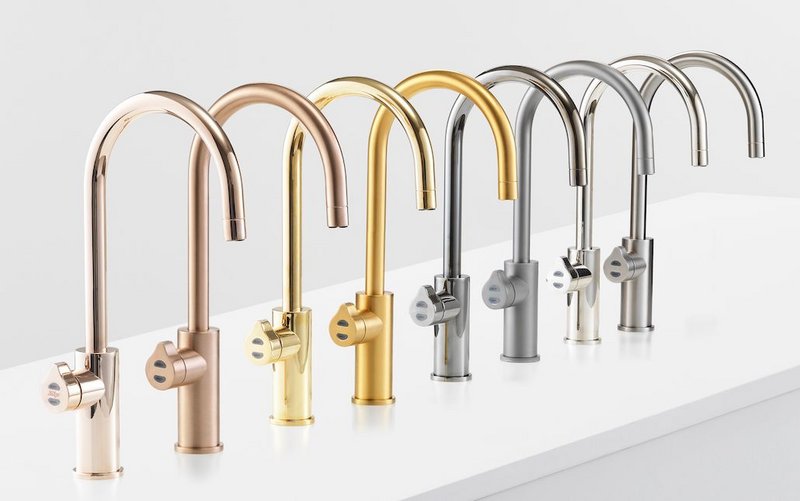 The Zip Platinum Design Range, shown on the HydroTap Arc.
When it comes to built-in home appliances, consumers are no longer content with just high-end functionality; a product needs to look as good as its performance, especially in the kitchen.
In fact, this growing desire for high end functionality wrapped up in stylish design has seen Zip – creators of advanced filtered boiling, chilled and sparkling water taps – launch a range of finishes named the Platinum Design Range.
Available on Zip's entire Design Range – which includes the Arc, Cube and Elite designs, as well as the dual-function Celsius HydroTap mixer tap – there's a choice of rose gold, brushed rose gold, gold, brushed gold, platinum, gunmetal, nickel and brushed nickel, which join Zip's standard bright chrome, brushed chrome, matt black and gloss black finishes.
Now, those working on kitchen designs or updates are able to specify a highly functional instant filtered water tap that can reflect their client's personal design preferences.
There's a choice of filtered boiling, chilled and sparkling water – or any combination to suit their needs – and the HydroTap's market-leading filtration system offers x25 better filtration than a standard water filter jug.
Auto-sleep mode and best-in-class air-cooled technology see the HydroTap's energy-saving and environmental features impress too.
Stylish design, on-trend finishes and highly functional, the WRAS-approved HydroTap Range looks set to be a key addition in this year's residential and commercial kitchens.