Hilti's fire and acoustic seal slots effortlessly into dry-lined walls to ensure safe, comfortable homes
If the local press is anything to go by, there will be no tears shed for the loss of Bracknell's old Eagle House office block. Dubbed an 'eyesore', the mid-rise 1980s disused office block in its dated 'bronze' glazing had long looked down on and been a prominent expression of the town centre's decline. But part of Bracknell Regeneration Partnership's £240m, 60000sqm Lexicon redevelopment, Eagle House is being given a new lease of life, undergoing conversion by developer Thomas Homes into 84 one and two-bed flats over new ground floor commercial space. The 'office to resi' scheme, concept designed by Studio Partington with the blessing of Bracknell Forest Council, will be transformed in the process, with an A2-rated façade of brick slips and render on the main elevations and aluminium rainscreen cladding on its flanks.
There will be dramatic change internally too- not least the transformation of offices to residential use; but some of this will be on a far more understated, indeed microscopic, level. With the 250mm drylined party walls on the subdivided floorplates having to have high levels of fire and acoustic performance, Thomas Homes were taking no chances with the fourteen flats being fitted out over each of Eagle House's six floors. Instead, the firm chose to specify one of Hilti's latest introductions to the UK market, its CFS-TTS E top track seal for dry lined walls, integrating a deflection head and fire and acoustic integrity into one easy-installed detail- all meeting European Technical Assessment (ETA) criteria for this particular application.
And as good ideas are prone to be, it's essentially a simple one- a multi-width aluminium channel acting as the deflection head to the ceiling, with a Hilti lightweight intumescent strip sandwiched between the two; the whole lot shot-fixed through to the soffit. The system is, Hilti states, installed in a fraction of the time and fuss that it would take to cut and fit a typical gypsum board deflection head with mastic seal.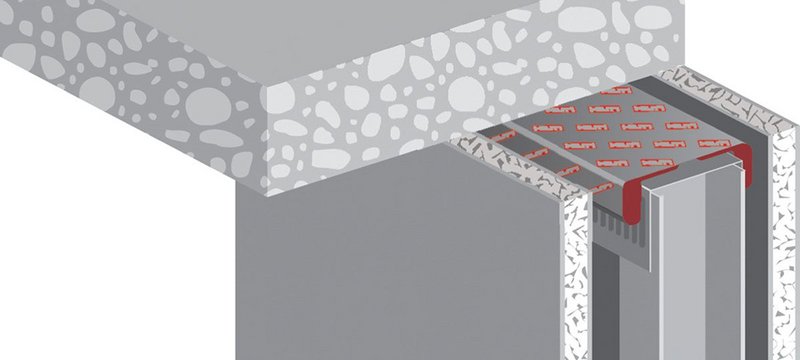 Detail showing how Hilti's CFS-TTS E top track seal is sandwiched between the slab soffit and the dry lining's aluminium deflection head. Credit: Hilti
Interestingly, even though Thomas Homes specify Hilti products regularly due to their approved details and sign off processes, this innovation wasn't actually driven by them. 'It was strange- the sub-contractor ASM Drylining approached us and asked if they could use it,' recalls Thomas Homes Architectural Technologist Leo Maggs. 'Normally with contractors if you give them something new they'll throw their hands up with it, but in this case, they said that it was extremely easy to install and, relative to the traditional deflection head detail, saved both time and cost. I personally had never heard of it until they introduced it to me.'
Designed for slab deflections of up to 25mm, the 15mm ones anticipated here were easily allowed for but, as an innovative detail, the completed installation did need official sign off. 'It was a bespoke solution that was different to the usual cut gypsum head detail so we had to go back to our building warranty provider to ensure they were happy with the installed system- which they were,' adds Maggs. That said, Hilti warranty their own products as a matter of course.
For sub-contractor ASM Drylining's MD Matthew Edmonds, the use of the Hilti's CFS-TTS E was a no-brainer. 'It saves on the labour of loading and the cutting of core board needed for the standard detail. Plus there's the wastage of materials, and extra labour to mastic everything afterwards,' he adds. 'The Hilti system is easy to install. You just put the laser across, run the channel along and fix mechanically.' Edmonds states that it adapts well to uneven soffits too-his only wish was that it came as a roll rather than in 3m lengths. 'It was a little dearer overall, offsetting the reduced time and labour against the cost of the product, but it was worth it for the peace of mind we got from the finished installation,' he adds.
It's a thought that resonates for Leo Maggs too, with clear sensitivities to regulation after the Hackitt Review. 'The detail as installed provides 90 minutes fire integrity but it doesn't matter whether it's the head of a dry lined wall or the whole cladding system- everyone on the Eagle House project is deeply concerned about fire performance,' he concludes.