Virtual reality headset gives vicar actual vision of his dreams for his church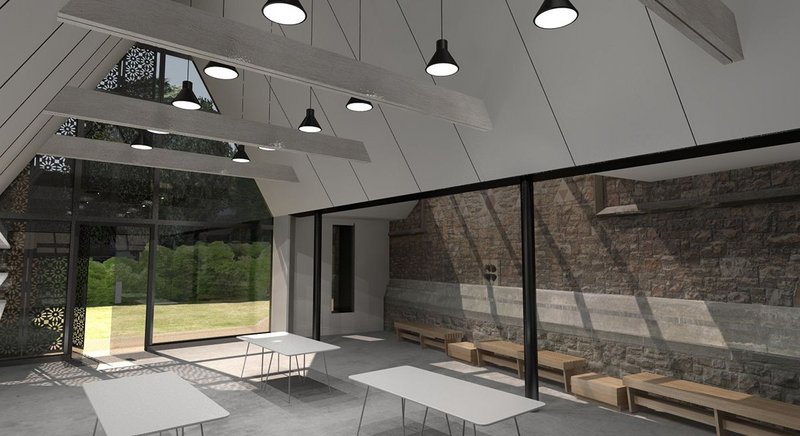 View of interior showing historic church wall.
The idea of a vicar wearing a virtual reality headset might sound ridiculous, but that is exactly what happened when architect Purcell trialled the technology as part of the planning process for a grade II listed church in East Sheen, south west London.
Christ Church is a ragstone-built English Gothic church with unusual stone and render decorations on a wall adjacent to a proposed new annexe. The virtual reality headset, developed by tech start-up Visual-Wise in collaboration with Purcell, was used to demonstrate to client, the Borough of Richmond, and the vicar, Revd Stephen Griffith, that the new scheme would integrate well with the existing building.
The technology displays a first person view of a digital CAD model, which updates in real time in response to the wearer's head movements, or when navigating around the model using a hand-held controller.
The idea is to provide a more accurate sense of the scale and detail of a proposal, going beyond 2D drawings and renders offer in way that is more easily interpreted by clients or planning and conservation officers.
After using the system, Revd Griffith commented: 'When we were struggling to find out what the drawings meant, we were presented with this new headset and it was astonishing. For the first time I really had an idea of what our dreams were turning into: dreams made visible!
'It was wonderful to walk around the hall, look up and see so well what we soon hope to see in reality.'
The effectiveness of the simulation is strongly affected by the quality and detail of the 3D model because it fills the user's field of vision. As a result, certain realistic details like light fittings, skirting boards and door furniture must be included to allow users to feel like they are in a real environment.
Future versions of the headset are likely to include augmented reality features and its developer claims Visual-Wise will become a best practice method of showing interventions in listed buildings within sensitive contexts, and perhaps become a supplement to the verified views methodology.
---