Designing restaurant kitchens is a particular kind of art. Architect Anna Sabrià reconfigured the space and specified the surface materials at Hotel Casamar's Michelin-star restaurant in Llafranc, Catalonia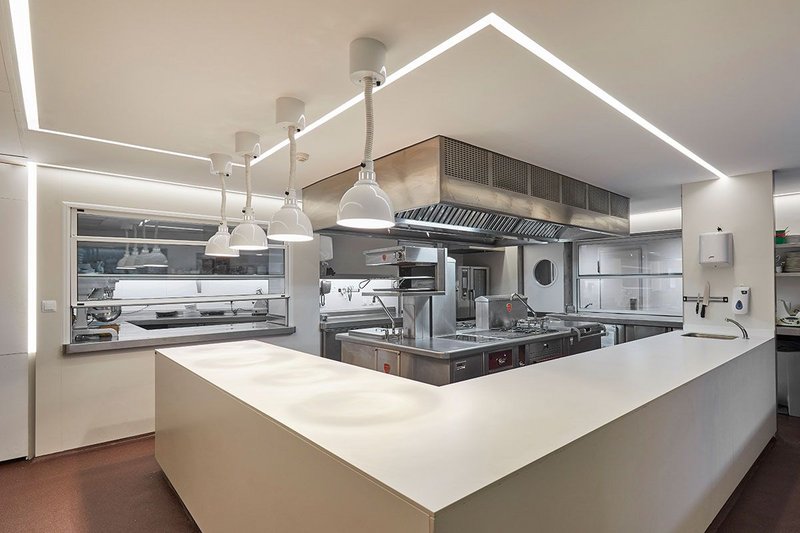 Hotel Casamar: worktops and walls in Neolith Nieve; floor in Neolith Iron Corten.
The Casamar sits on the hills above the bay of Llafranc in Girona, Catalonia. The family-run hotel and restaurant is owned and operated by chef Quim Casellas and his sister Maria. It won a Michelin Star in 2011.
Hotel Casamar was founded by Casellas's grandfather and began life as an inn, but it was the entrepreneurial spirit of the next generation, Casellas's parents, that began the transformation of the inn into a hotel and restaurant.
Today the food is fine dining of the contemporary Catalan variety - a careful balance of the traditional with the modern. Much-loved flavours are given a subtle twist through state-of-the-art techniques and presentation. The mix of the classic and the contemporary is central to Casellas's vision for the business and was a key part of the brief for the redesign of Hotel Casamar's restaurant kitchen.
'Quim wanted a functional, open kitchen with independent access,' says architect Anna Sabrià. Storage, food preparation, service, cleaning and washing zones all needed to be accessible from the main central core of the cookline. It is a layout that has improved movement around the space, making the kitchen a more efficient working environment.
But aesthetics are as important as practicalities for today's restaurants. 'Many establishments are bringing customers closer to what's happening in professional kitchens,' says Sabrià. These spaces are designed with the kitchen on view to customers, rather than being hidden away behind the scenes. At the redesigned Hotel Casamar a window and sliding glass door allow diners in the restaurant to observe the working kitchen.
This opening up of kitchens to the gaze of customers makes the materials used important. At Hotel Casamar, Sabrià specified Neolith Sintered Stone in Nieve Silk 6mm and 12mm for the kitchen walls and worktops and Iron Corten 6mm for the floors.
'Surfaces like Neolith enrich the dining experience,' says Sabrià. 'They are not only visually stunning, but offer the resistance and robustness required for a busy line and pass.'
Neolith Sintered stone is 100 per cent natural, composed of raw material - clays, feldspar, silica and natural mineral oxides - and is recyclable. It is created using a sinterisation technique that exposes minerals and other raw materials to extremely high pressure and temperature, resembling the way natural stone forms over thousands of years. The process gives the product outstanding physical and mechanical properties in terms of compaction, resistance and durability.
Neolith has near-zero porosity, making it hygienic, stain resistant, easy to clean, impervious to chemicals and ideal for professional kitchens. It is also wear, scratch and heat resistant and is lightweight and easy to install.
For more information and technical support, visit neolith.com
Contact:
01297 454301
---