Granada's secondary glazing enabled restored grade II* listed hotel Kimpton Fitzroy situated on a busy London road to give guests peace and calm while retaining its original character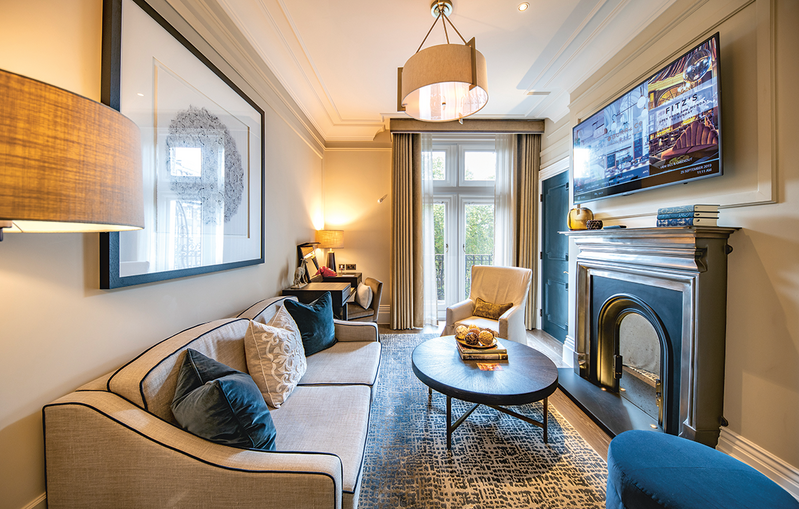 Granada's secondary glazing can reduce noise levels by as much as 80% - 54 decibels and can substantially reduce heat loss
Situated in Russell Square in the heart of London, the historic grade II* listed Kimpton Fitzroy London Hotel opened in 1900 as one of the first purpose-built hotels in London. Originally designed by the architect Charles Fitzroy Doll, much of the hotel's opulent interior was the inspiration for Doll's later designs for RMS Titanic.
After extensive restoration, it reopened in 2018 as a modern luxurious 5-star hotel while retaining its important architectural splendour.
Due to the hotel's central London location, noise insulation from traffic using the busy main road was a key requirement in this major renovation project. The primary windows could not be changed due to the building's listed status and the owner's desire to retain them to preserve the building's original character.
Granada Glazing's aluminium secondary glazing was specified to attenuate external noise and create a quieter, more comfortable experience for patrons in both the 334 individual custom finished guest rooms and the 39 new luxury suites.
Working with London-based Architects, Granada Glazing designed, manufactured and installed a bespoke system using two and three-pane horizontal sliding windows, balanced vertical sliders and heritage hinged units to blend unobtrusively with the existing primary windows.
Powder-coated in a white high gloss finish, the slimline aluminium frames utilised 6.4mm acoustic laminated glass, crucial in meeting the required noise reduction level. Granada's secondary glazing can reduce noise levels by as much as 80% (54 decibels). In total 900 units were manufactured and installed, improving both acoustic and thermal insulation.
A key challenge was the size of the project. Working to a demanding programme, Granada's close collaboration with the main contractor ensured that a premium quality installation was delivered on time and within budget.
Renovations across nine floors also involved reconfiguration of the public areas and inclusion of new restaurants, bars and event spaces.
Principally, secondary glazing was installed to combat noise and make the hotel quieter. An added benefit provided by Granada's secondary glazing is greater thermal efficiency, reducing the building's carbon footprint and energy costs.
Granada Glazing partners with architects and specifiers on the design, manufacture and supply of high quality commercial secondary glazing for all sectors and building types across the UK.
To hear the difference that Granada's Secondary Glazing makes, please visit here: https://www.gsecg.com/kimpton-fitzroy-hotel/
For more information on how we can assist with your project or to book Granada Glazing's RIBA Certified CPD, please telephone
01909 499 899 or email:
info@granadaglazing.com