vPPR reveals the what and why of its specification decisions for an infill housing scheme in south London, marrying a specific identity with a contextual response
ARCHITECT'S STATEMENT
Catherine Pease, director, vPPR Architects
Idlewild Mews, an affordable rent, eight-unit housing scheme, uses a playful combination of form and materials to unlock a challenging, narrow infill site. Volumetric design gives nearby residents privacy while engendering a sense of community within the development. It's characterful shape and materiality offer the homes a sense of identity, yet they are clear references to the built landscape.
A chequerboard pattern of different coloured brick on the exterior further mitigates its perceived mass. The bricks were inspired by the tonal palette of neighbouring properties and ensure the contemporary architecture fits its surroundings. The terraces are wrapped in folded metal balustrades adding to a sense of light and shadow, while in-built planters act as an additional buffer zone.
A diamond pattern running along the access-way breaks down its length and a change in colour outside the front doors demarcates a small shared space. With benches opposite the main building, it is hoped this simple hard landscape will encourage dwell time and conversations between residents. Little moments of communality will help reinforce a sense of community, which can be achieved through design on a modest budget.
The development occupies a former garage site and is completely surrounded by existing houses, with glimpses of the new project appearing from across gardens and over fences. A narrow pathway leads to the front of the homes where the volumes have been alternately pushed back to create covered entrances on the ground floor and terraces on the first. Inward focused to prevent overlooking, these can be accessed directly from living rooms and bedrooms, bringing light and air into the upper level of the homes.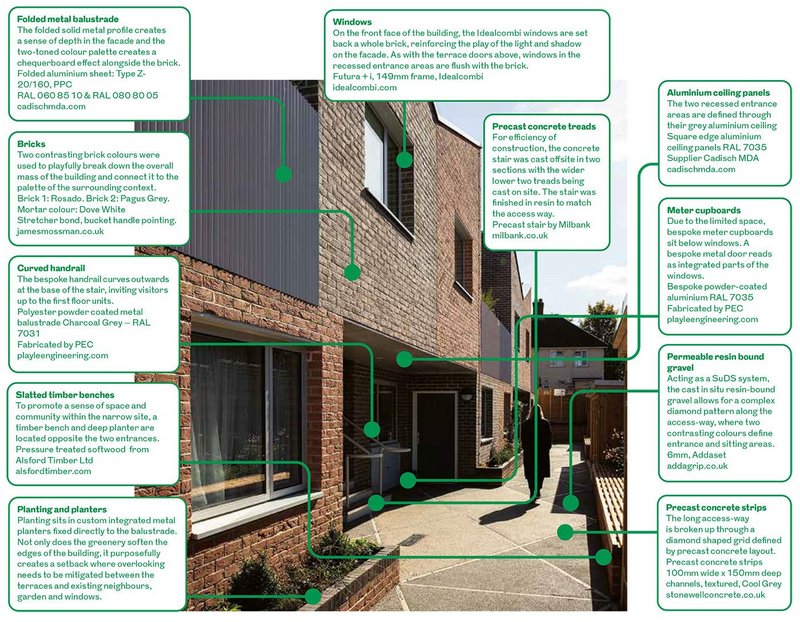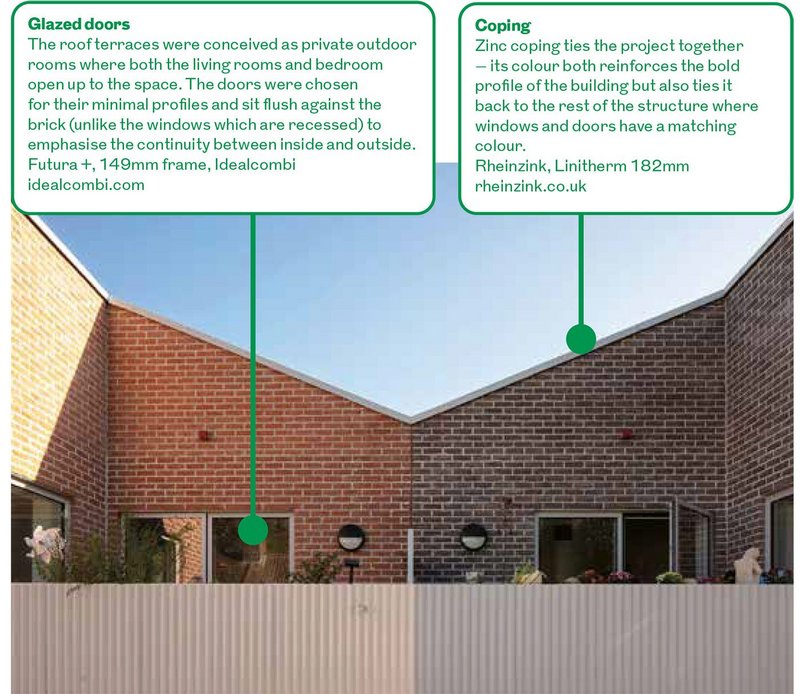 Gross internal floor area 527m²
Gross external floor area 624m2
Form of contract Design & Build
Start on site September 2020
Completion date August 2022

Credits
Architect & executive architect vPPR Architects
Client Croydon Council
Structural engineer Arcadis/Pell Frischmann
M&E consultant Arcadis/Desco
QS Arcadis Ian Sayer & Co
Landscape consultant Christina Odell
Acoustic consultant Arcadis
Principal designer/CDM/Project manager Arcadis/Faithful+Gould
Approved building inspector Croydon Council Building Control
Main contractor Selsdon Building Contractors
CAD software used Vectorworks