By maximising daylight Flushglaze rooflights enhance perceptions of space and complement the overall aesthetic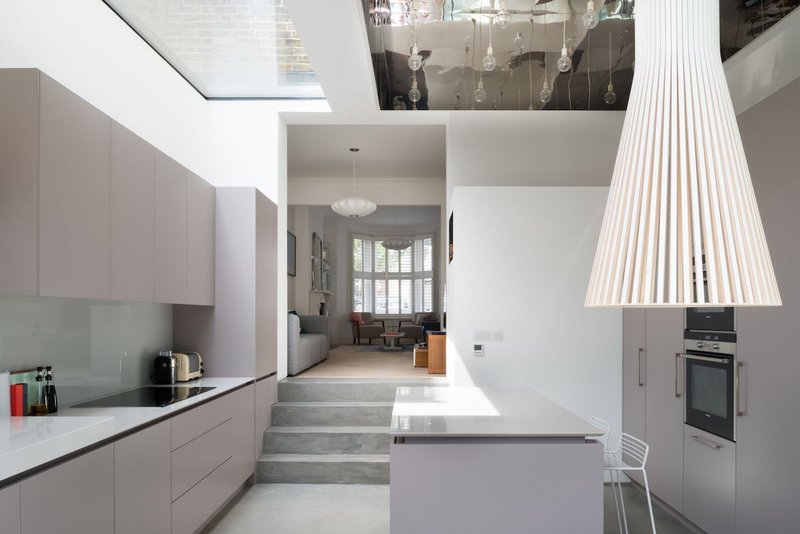 Flushglaze rooflights combine with large light fixtures to make the kitchen of this refurbished Victorian terrace an impressive space.
Whether building a brand new kitchen extension or renovating an existing room, one of the most important considerations throughout the design process is lighting.
Achieving the right lighting can transform the dynamics of the home, with natural daylight helping to create the illusion of space. Natural daylight works well to complement artificial lighting by accentuating the amount of light reflected from the walls.
The refurbishment of a Victorian terraced house in Islington, shown above, has used a combination of rooflights and large lighting fixtures to open up what was a dark space. Focusing attention towards the impressive kitchen worktops, the lighting also serves as a standalone, artistic feature and beautifully complements the overall aesthetic.
Another project, an Edwardian terraced house (see slideshow), is a prime example of how natural lighting can be used to add visual space and create a floor-to-ceiling mergence of garden and sky. The renovated dining area now serves as the perfect family environment for cooking, eating, working and socialising.
Rooflights can also be used in darkened corridors, as shown in the slideshow; in this instance both horizontal and vertical sections of glazing have been positioned within the stairwell, enabling light to flood into a typically dark, enclosed space.
Glazing Vision's fixed Flushglaze rooflight range allows any dwelling to maximise the amount of natural daylight available by providing a minimal, 'seamless' framework design, helping to create a feeling of space and light to your project.