High performance, handmade Geggus matting is not only tough but good-looking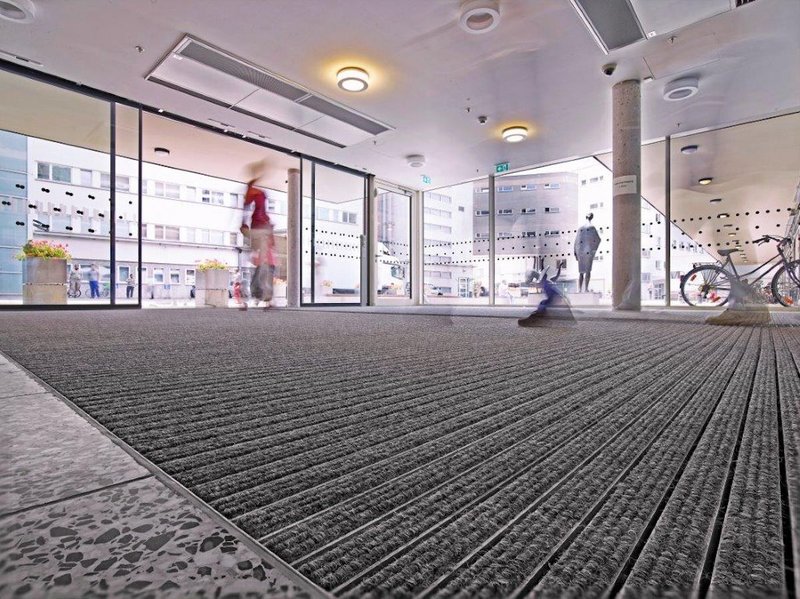 Manufactured in Germany, the Geggus entrance matting system delivers an unrivalled combination of outstanding aesthetics, high performance, exceptional quality and great value.
Geggus systems are proven in projects across Europe, from offices to retail outlets, from food manufacturing to construction. The low-maintenance system not only keeps entrance areas reliably clean and attractive, but also extends the cleaning intervals of floors – saving time and money as well as greatly improving the building environment.
Geggus entrance matting delivers a great range of benefits to tackle even the most demanding applications – and climates. Unlike many standard entrance mats, the open structure of the Geggus matting system takes dirt and moisture away from the top level and there is an extensive range of top surface material options to suit specific interior design or corporate branding requirements.
Its lightweight aluminium structure provides strength and longevity, as well as easy regular cleaning, and there are heavy duty options to meet the needs of heavily trafficked areas and trolleys. Impact and sound proofing insulation add to the matting's strength and durability.
With an extensive range of material and colour options, each Geggus mat is handmade. The experienced support team at MMA Architectural Systems, the sole UK agent, can work with you to supply standard or special shapes to meet the exact requirements of every project and assist with every aspect, from design to installation.
For more information and technical support visit www.geggus.co.uk
Contact
0845 1300 135 / 01761 419427
---