As hopes rise for a return to some sort of normal, leisure centres will play an important part in social cohesion and wellbeing. But are they up to scratch?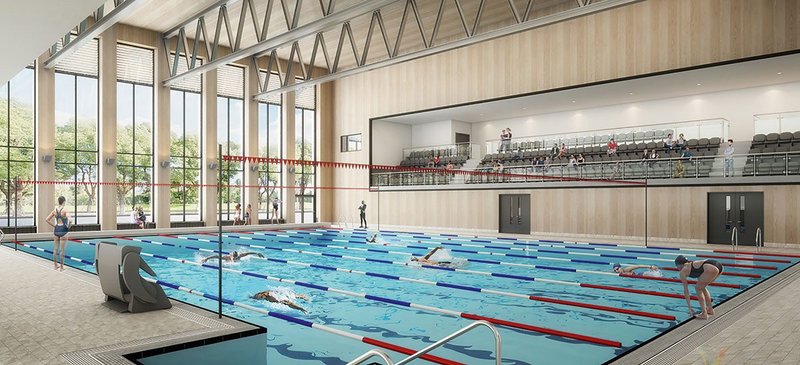 Passivhaus principles informed GT3's Spelthorne Leisure Centre design, where pool orientation shifted south from the usual north to capture solar gain.

Credit: GT3
Smell is said to be the most evocative of the senses, which may be why you only have to think about the leisure centre to bring back the odour of chlorine and with it countless memories of family outings and school swimming lessons. Local authority leisure centres have a special place in our childhood, but many have changed little since then and their age has been starting to show.
Earlier this year the Local Government Association (LGA) drew attention to figures from Sport England showing that almost a quarter of council sports halls and swimming pools had not been refurbished for more than two decades. 'Too many are now in desperate need of being updated and refurbished,' was the message from councillor Gerald Vernon-Jackson, chair of the LGA's culture, tourism and sport board.
Local authorities have long struggled with limited budgets to maintain leisure centres and refurbishment and replacement are no easier. In a post-Covid-19 world, financial challenges are likely to increase, but so too are community health concerns, including diabetes and loneliness. As a result, leisure centres may have to work even harder to pay their way while serving their communities better.
All inclusive
'Centres are closing or refurbishing but are often reincarnated with the same wet and dry mixes,' says Mark Gowdridge, director at GT3 Architects. 'There are questions around whether that's the right approach and whether they are really catering for members of the public who need a soft entry into leisure. Leisure centres of the past didn't cater to all ages and abilities and we still see business plans alienating key groups, such as teenagers and older adults.'
Proposals need to be more inclusive through universal design, which allows for various age groups and abilities, including special needs groups, dementia users and greater ties with the school curriculum, he says, adding, 'It's not about past norms; it's about joining up'. The architect's design for the upcoming Spelthorne Leisure Centre in Staines, Surrey, was informed by its pre-briefing tool Performance+, which helped tease out local needs and aspirations for the client brief. 'Communities invest in leisure centres, so it is important to pay attention to the uniqueness of each,' explains Gowdridge.
The centre, which will be built at the edge of a park, is packed with activity spaces. There will be a 25m pool, teaching pool, splash pad and café. The sports hall accommodates six badminton courts, with two adjoining squash courts having flexible walls to provide two further badminton courts. It will have a fitness suite, multi-use spaces, soft play space and Clip-n-Climb wall, the latter prominent at the building's front. Even the roof is put to use with four five-a-side pitches.
Mindful of its zero carbon objectives, the forward thinking council helped drive the team to review the leisure centre against Passivhaus principles. It is an approach that means altering some design conventions, explains Gowdridge. 'The orientation of a swimming pool has to change. It is usually on the north side so that there is no glare on the water, but for Passivhaus it needs to be on the south side to capture solar gain.' Similarly, Passivhaus demands a shift from naturally ventilated areas to greater improvements in airtightness.
Progress is even banishing the smell of chlorine. The Spelthorne centre will have a micro-filtration system, which offers benefits in lower odour, energy costs and water consumption, as well as taking up far less space. Elsewhere, GT3 has used moss filtration, popular in the USA, based on a sphagnum moss.
All this is being delivered within a changing procurement environment. Some 18 months ago, Gowdridge says the practice was getting two or three leisure centre bids a month on OJEU via councils. 'Now I can't remember when we saw the last OJEU bid. Frameworks are starting to take over,' he says, adding, 'Most of our work is won through going in to councils and advising on feasibility, often at nil cost.'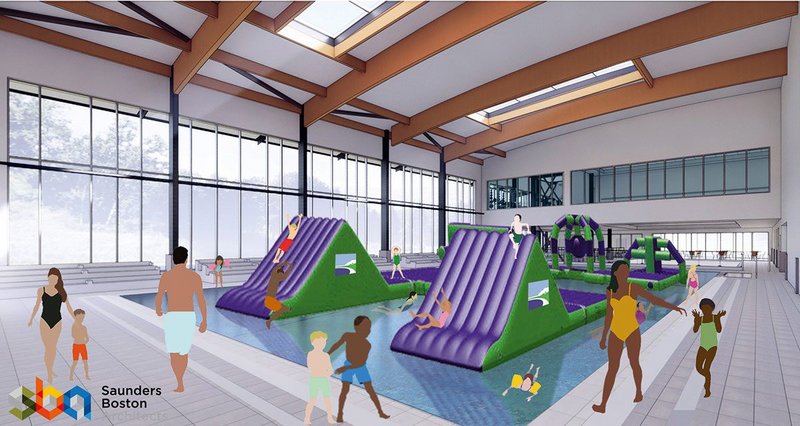 At the new Sheringham Leisure Centre in Norfolk, 'play', such as a wave pool, was eschewed to concentrate on wellness and learning facilities.

Credit: Saunders Boston Architects
Creating appeal
'The fact is that leisure is a non-statutory service, although historically it has been subsidised by many local authorities,' says Nathan Swift, director of Saunders Boston Architects. 'Over the past few years local authorities have increasingly been spending on facilities in order to save on subsidy.' That was a driver behind the decision to replace the Splash in Sheringham, Norfolk.
Splash was known for its tropically-themed wave pool and was designed by Will Alsop. Saunders Boston's replacement, which has operator Everyone Active in place, provides a 25m pool and learner pool, plus fitness suite, dance and spinning studios and café. Like many local authorities, North Norfolk District Council has drawn on Sport England funding, which supports broader community health and wellbeing, rather than pure play. That ruled out providing a new wave pool, with the architect instead incorporating a splash pad, which combines fun with helping children gain water confidence.
In operation, the centre will produce savings on energy and water consumption, thanks to solar thermal hot water panels on the roof, air source heat pumps and low energy lighting, as well as low-water toilets and showers and UV filtration, alongside conventional chlorine. The new design references the old Splash in its barrel vaulted roof, while drawing inspiration from the North Norfolk coastline and its longshore drift, with the building's fins reflecting timber groynes and slanted glazed elevations the drifting sands.
The architect, working with the council's leisure consultant, FMG Consulting and Project Managers Real Consulting, looked at the potential to refurbish Splash. But the building's condition would have made it costly, Swift says, adding by way of illustration, 'The existing building fabric was suffering multiple failures, particularly on the roof, which was becoming dislodged and leaking.' Refurbishment would also have prevented the release for sale of an enabling site, which is being freed up as the new centre is built and the old continues to operate alongside. 'Phasing the works has been key to making the project work.' says Swift. Contractor Metnor Construction is due to complete the centre next year.
Working with what you've got
In Urmston, Greater Manchester, refurbishment was able to give the local leisure centre the added commercial potential and flexibility it needed, on a modest budget. Urmston Leisure Centre was less than 30 years old and expected to have a basic spruce up when 5plus Architects was brought on board. 'The client was only looking to spend under £1m but the aspirations went beyond the budget,' says Paul Norbury, its director. Trafford Council had seen 5plus transform its town hall to some acclaim, and so supported the architect in growing project and budget.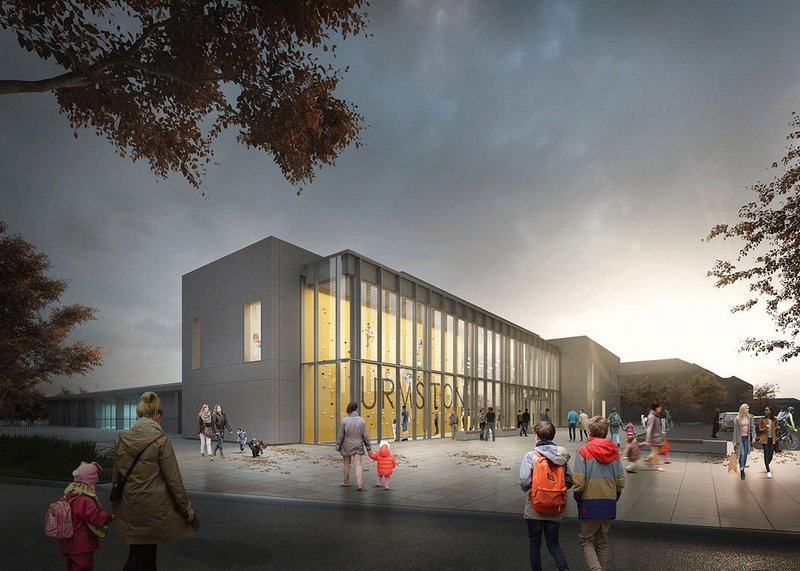 At Urmston leisure centre in Greater Manchester, 5plus transformed the decades old facility with targeted, effective interventions.

Credit: 5plus Architects
The area in obvious need of attention was at the building's front. 'It was unwelcoming, had lots of little spaces that weren't used and the wayfinding wasn't logical,' says Norbury. The addition of a double height glazed box invites visitors in, improves circulation and creates usable space, allowing for a Clip-n-Climb wall and large café, the latter overlooking the children's play area and existing pool. There are three new flexible studio spaces and a gym at first floor. The newly completed revamp also included new services throughout the building and upgrading of the existing swimming pool and sports hall.
The end cost of the makeover was just over £6m. 'It would have cost two and a half times that to build new,' points out Norbury. 'We have not built any more than we needed to. This is simple, logical space with no waste.'
The solution is specific to its context but the approach, with its need for creative thinking and a fine balance of cost and value, is replicable and in the spirit of sustainable re-use.
'In many ways it has been a similar project to Trafford Town Hall,' Norbury says. 'Cost was a massive issue, but at the same time, everyone wanted something really nice to come out of a difficult situation.' That's a message for our times.
---
Mark Gowdridge identifies six trends for future leisure
1 Going multi-generational Centres will need to cater for wider ranges of ages and abilities than they have in the past. 'It makes them more of a destination and increases dwell time,' says Gowdridge.
2 Tracking tech Performance tracking and data are becoming key to the leisure and sports experience. The buzz term is 'quantified self'.
3 Play matters 'There will be more playfulness in centres,' says Gowdridge. From Doncaster's House of Play, with its indoor playgrounds, to Xbox or PlayStation games linked to treadmills, play is rediscovering activity and provides this soft landing for younger, inactive members of communities.
4 Recapturing online exercisers Through lockdown people necessarily turned to digital platforms to keep fit at home when and how they wanted. Leisure centres will now need to find ways not to lose members and embrace this technology much more than they have done before.
5 Linking with education Local authority leisure is increasingly being coupled with schools and colleges, allowing for sharing of facilities. Gowdridge is exploring another option: 'We're looking at incorporating classroom space for rent into leisure centres. It could increase revenue and a school could rent a space, stay for a day and use other facilities, rather than losing half a day for a 20 minute swimming lesson.'
6 Therapeutic recreation Spaces need to be flexible enough to accommodate health and wellbeing uses, including mental wellbeing, both now and into the future