The firm's latest subscription service gives architects access to state-of-the-art technology, printheads, maintenance and ink - with no upfront hardware cost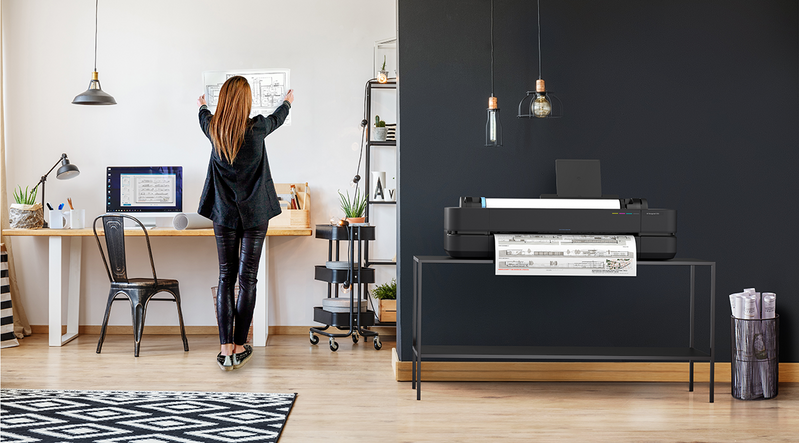 HP DesignJet T250 large format plotter printer. Monthly plans start from £34.99 with no upfront hardware cost.
HP's DesignJet Print at Your Service plan enables small to medium-sized companies in the architecture, engineering and construction (AEC) sectors to access HP's latest DesignJet technology in a cost-effective way.
The service runs as a subscription plan, with customers paying a low fee once a month to access HP's market leading DesignJet large format plotter printer technology and other benefits. Monthly plans start from £34.99 with no upfront hardware cost. The payment covers the cost of the machine, as well as maintenance, printheads and ink cartridges.
Print At Your Service customers can choose from the very latest HP large format printers, including the HP DesignJet T250 and T650 models. With a small footprint, these printers have been designed for ease of use and meet the specific requirements of businesses in the AEC sectors. The HP Smart App enables users to print on the devices from virtually anywhere with a smartphone or tablet.
The plan also includes the HP DesignJet T830 multifunction printer range, which allows users to pick the exact device to match their business needs.
Customers benefit from an automatic discount of up to 25 per cent on all HP original inks. Ink usage is monitored remotely via an internet connection with the HP DesignJet printer and new cartridges are automatically delivered by HP when levels are running low.
Also included in the plan is HP's Next Business Day Onsite Service, which provides expert assistance or support from HP within 24 hours of contact, minimising any downtime and allowing businesses to get back up and running quickly.
Daniel Powell of architectural practice Daniel Powell Studio was looking into purchasing a replacement large format printer and was told about the plan by the team at Plot IT, part of the wide format printer supplier the Stanford Marsh Group.
'We were asked if we would be interested in joining the Print At Your Service pilot scheme,' says Powell. 'It looked great value without the upfront costs so we went ahead. It is working well for us. The HP ink always arrives in plenty of time and the scheme delivers a cost-effective printing service without the upkeep and maintenance costs.'
The HP DesignJet Print At Your Service is available from approved HP partners Plot IT, DPSB, Ebuyer and the HP Store.
For more information and technical support, visit hp.com/designjet-print-at-your-service
Contact:
Colin Easton, large format printing channel manager at HP UK
0800 408 4348
---