Like condensation on the mirror, speakers at this RIBAJ/Ideal Standard webinar on bathroom design demystify trends, evolving demands and how to bring joy to the smallest room
From the outdoor latrine to the en suite with touchless technology, the bathroom has come a long way. With complex plumbing, electrics, heating and ventilation to keep it hygienic and safe – making specifying incredibly complex – the bathroom punches above its weight in the demands it caters to, which are both functional and elemental. Can one small room be all things to all people?
RIBAJ managing editor Isabelle Priest kicks off proceedings with a brisk walk through bathroom history. The the last five years have seen rapid design evolution, raising questions over which needs should be prioritised, and what is a passing trend or a more substantial change in thinking? Like condensation on the mirror, this is for the speakers to demystify.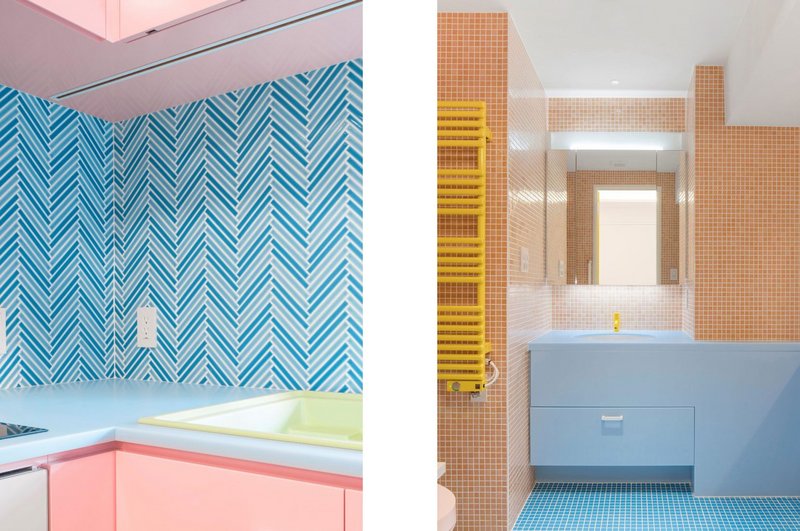 The bathroom and kitchen at Adam Nathaniel Furman's Nagatacho apartment project in Tokyo show how colour and texture can be combined.

Credit: Jan Vranovsky
Adam Nathaniel Furman brings characteristic exuberance to his presentation on colour. Diving in with a quote from Memphis pioneer Ettore Sottssas – 'you don't save your soul by painting everything white', he laments that although children use colour with abandon, for adults colour is the antithesis of serious. The future is bright for bathrooms, Furman believes, with a move away from the 'sinister, dour, monochrome', towards a more expressive, personal use of colour, which communicates non-linguistically but viscerally. 'It's easy to make things functional', he says, 'but not to make them joyful'. Tomorrow's bathroom is a space of less conformity and more freedom.
Roberto Palomba, chief design officer of the Atelier Collection for Ideal Standard, also views the bathroom as a new frontier of self-expression. When he began his practice, 26 years ago, he recalls, the bathroom was 'the lost room' of the house, built around plumbing with limited options for tiles, fixtures and fittings. A few 'masters' had broken the mould however, such as Gio Ponti, who in the 1950s also produced sanitaryware for Ideal Standard.
Moving away from the 'trend cycle' which vacillates periodically from white to colourful and back, Palomba feels that we are now in the 'everything goes' era: vintage classical or Bauhaus-inspired super minimalist. The Atelier collection encompasses a wide range of coloured and textured sanitaryware and fixtures. 'Our aim is to democratise bathroom design,' Palomba says of his collection: 'I don't want to impose, I want to inspire'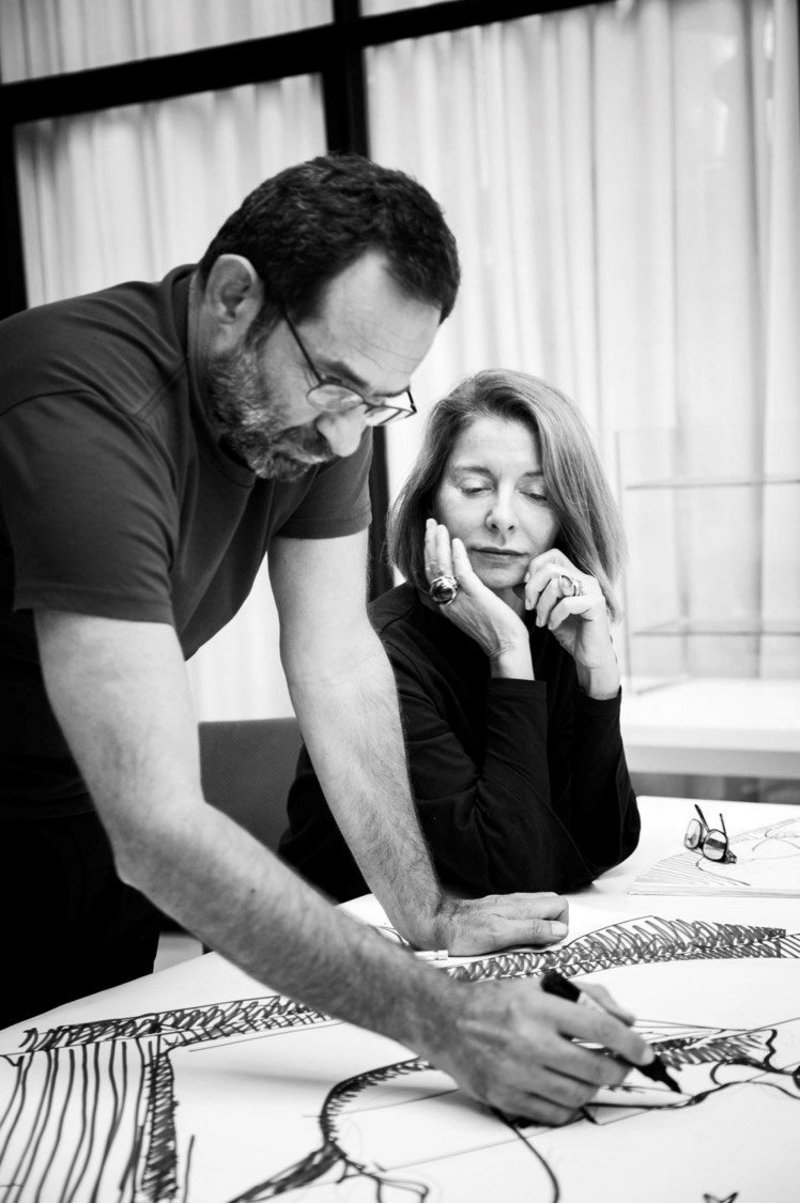 Ludovica and Roberto Palomba founded Palomba Serafini in Milan in 1994.
The pandemic has acted as a catalyst for an already changing relationship with bathrooms; when our constantly occupied homes must accommodate work, socialising and rest, the bathroom becomes, in Palomba's words, a 'body sanctuary'.
Hotelier Andrew Stembridge agrees with this. In recent years, 'what guests want has changed', he observes. 'Leading such busy lives, when people go to a hotel they expect a luxury bathroom'. Today's hotel bathrooms are multifunctional, with design requirements running along similar principles to the bedrooms themselves: intelligent lighting, natural daylight, high-spec furnishings, brassware and sanitaryware, and in some cases televisions, all prerequisites. 'A bathroom refurb will typically live through two bedroom fitouts', he explains, so longevity is key, with durable, good-quality materials and interior design that isn't going to look outmoded or tired. Neutrality balanced with character.
Longevity is also sustainable. As Stembridge points out, the pandemic has rather derailed the sustainability agenda in hotel facilities management, with single-use plastics (free shampoo bottles) returning on hygiene grounds. Yet environmentally friendly facilities are increasingly on guests' lists of demands, which hoteliers-as-clients pass on to their architects as design challenges: effective means of drying towels to prevent daily washing, energy efficient heating, reduced water consumption etc.
The Iconic Hotel Group manages a series of luxury treehouses at Chewton Glen. Here, in the seclusion of the New Forest, ample foliage permits non-frosted bathroom glazing, presenting guests with scenic views. Hotel stays must be 'memorable and instagrammable', with social media now pivotal to hotels' marketing strategies.
Focusing on the adaptation of period bathrooms to today's needs, Nicolo Stassano discusses his work on private period residences. These were often not built with a bathroom, and creating visual continuity involves drawing out period features such as datums, marbles, plasterwork, architraves and joinery and celebrating them alongside the bathroom's modern functional needs.
Colour re-enters the frame with Studio 2LG's discussion; for co-founders Russell Whitehead and Jordan Cluroe, their queer identities and former acting careers inform their 'joyfully minimalist' style. 'Colour can crash through boundaries', they say, 'allowing us to express our voice'. Pushing clients out of their comfort zone can 'give them the confidence and permission to go there'. The bathroom is a place for emotion too; a 'morning person' may require an energising vibrant bathroom, unlike one who prefers to unwind with an evening bath.
And what of accessibility? Is the increase in luxury bathroom design leaving clients with mobility needs behind? A private residence, Stassano points out, can accommodate individual needs such as wider doors, ergonomic brassware, benches in showers and no-threshold floors, with cost the only limiting factor.
More challenging, perhaps, is creating a sumptuous environment in an accessible hotel bathroom, which must cater to a wider range of needs. Yet interesting developments have occurred here too. 'Twenty years ago', Stembridge says, 'guests would check out of rooms with an accessible bathroom': with their white plastic grab rails, they were utilitarian and depressing (indeed many such bathrooms still are). A conscious effort to upgrade the accessible bathrooms has resulted in in-demand rooms: they are spacious, with considered details such as removable grab rails, height-adjustable vanities, conveniently installed hooks, seats which can be rotated at different angles and so on. The details may be subtle, 'but when everything is in the right place, and with the facility to introduce more or fewer accessible features, the experience can be equally comfortable for all guests'.
So, wrapping up like a hotel guest in a fluffy towel, the webinar concludes that the bathroom of the future enjoys augmented status in the house, caters for a wider range of needs, keeps sustainability and accessibility in sight and is entitled to enjoy the 'wow factor' of bold colour if so desired.
---
Speakers
Adam Nathaniel Furman, artist, designer and author
Roberto Palomba, chief design officer, The Atelier Collection for Ideal Standard
Nicolo Stassano, founder, Studio Stassano
Russell Whitehead and Jordan Cluroe, co-Founders, 2LG Studio
Andrew Stembridge, executive director, Iconic Luxury Hotels
---
View the delegate pack here