Logicor's Clear Heater System turns the traditional approach to domestic heating upside down to halve energy requirements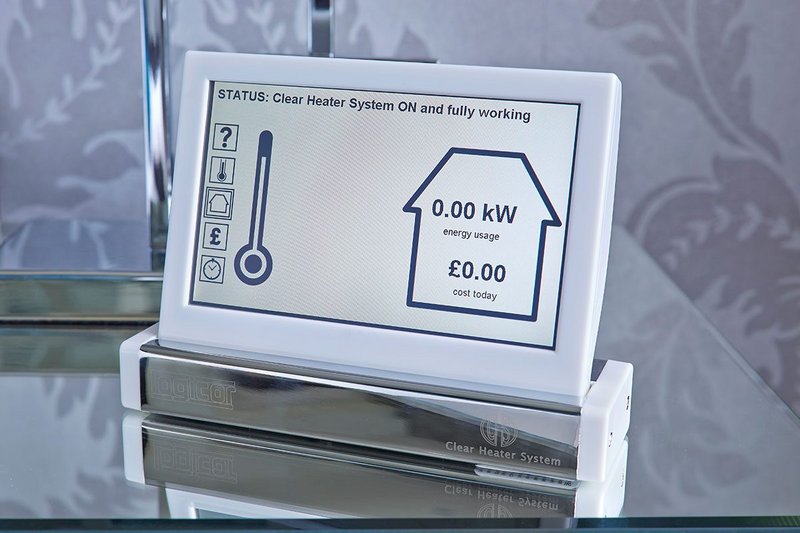 The control panel allows precise control of individual panels either independently or as part of a whole house system.
With around 83% of the UK population still heating their homes via the gas grid, decarbonising heat is seen as the biggest challenge to achieving a net zero society.
Technologies such as air or ground source heat pumps or adding more hydrogen into the gas network are often highlighted as alternatives,but one less well known solution is infra-red heating electricity-powered panels installed in rooms that transfer energy into walls and objects causing them to give off heat.
The Clear Heater System, by UK-based manufacturer Logicor, uses a combination of infrared, AI control, and low power pulse electricity to heat homes and provide hot water using what's claimed to be 50% less energy than an equivalent gas-powered central heating system. The technology plugs into the mains and requires no plumbing, boiler or complex wiring.
David Bowen, chief technical officer and founder of Logicor, told RIBAJ: 'The system can work with home batteries and solar PV arrays, or you can simply run it on 100% green electricity if you choose the right energy supplier. A system like this can run using zero fossil fuels if required.'
Infra-red doesn't transfer heat through the air, as with conventional radiators. Instead it transfers energy from a generation source to any object with mass. This energises the object, causing its molecules to vibrate giving off heat.
Intermittent pulses of electricity enable the Clear Heater System to gradually charge a room with energy to achieve a target temperature. Turn the temperature up high and heat is released direct from the panels as an instant response.
'The entire heating landscape in the UK has been about heating air, then trying to trap air in the building, which is inherently hard to do and bad from a health viewpoint,' says Bowen. 'Infra-red doesn't mind if there are gaps in your house, or if fresh air is coming in, if you open a window then close it a room will regain its target temperature within a matter of minutes because the walls act like a big storage heater.'
Logicor's system costs £5,000-£6,000, based on a typical three-bed house, and takes 1-2 days to install. There are already more than 6,000 systems installed across the UK, around 4,000 of which are connected to enable the company to monitor data on performance and user behaviour.
Panels in different rooms can be set to different temperatures and smart controls use a combination of algorithms and AI to learn occupants' movements and habits, monitor live weather forecasting data – plus internal and external temperatures – and adjust operation to suit.
A recent pilot with Merthyr Tydfil Borough Council saw Logicor replace a conventional gas heating system in a house occupied by a single mother with two children with a Clear Heater System. 'Exorbitant heating costs of £12 a day in winter, were cut to £43 per month, even with both children still able to take two baths a day, seven days a week,' said Bowen.