Eurowall + gives designers a new weapon in the drive to improve the thermal performance of the walls of new homes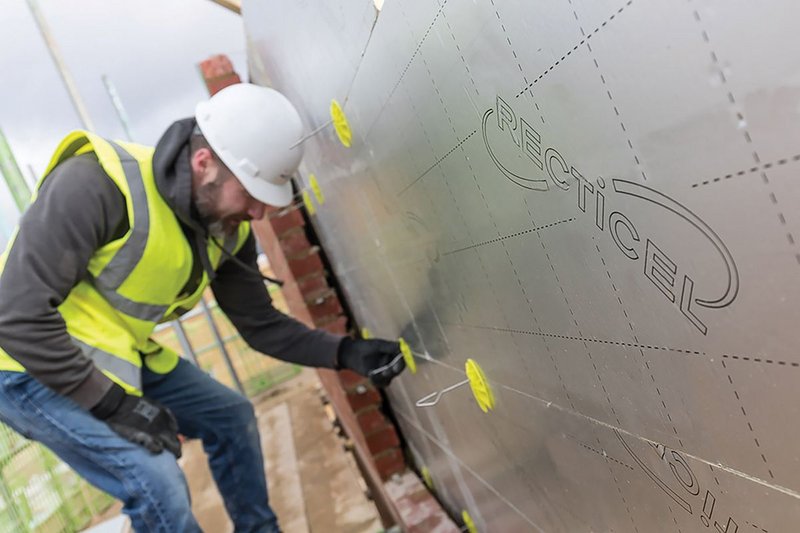 In the quest for improved energy efficiency, designers can be left with little option but to increase the thickness of insulation in a dwelling's external walls. This additional insulation can be added internally, externally or within the cavity, all of which reduces a home's internal floor area or increases its external footprint, which for housebuilders can mean smaller rooms or fewer houses per plot.
In response, Recticel launched Eurowall +. This premium, full fill cavity insulation board is manufactured from high performance closed cell polyisocyanurate (PIR) foam. It has been developed to allow designers and housebuilders to maintain existing masonry cavity wall build-ups, while achieving a U-value of 0.18W/m2K to enable compliance with Part L1A of the Building Regulations 2013 in England and Part L1A of the Building Regulations 2014 in Wales.
Eurowall + is ideal for progressive housebuilders striving to offer homes that minimise energy consumption, improve comfort for occupants and deliver a more sustainable future. It suits all types of residential development, from large housing sites to one-off premium homes, as the following case studies demonstrate.
Case Study 1: Impressive thermal performance
Eurowall + was used by Mentmore Homes in the construction of two energy-efficient, detached five-bedroom homes in Gerrards Cross, Buckinghamshire, valued at £2.5 million each.
These high quality, traditionally constructed homes feature external walls built using brick/block cavity construction. This is the UK's most common method of wall construction for residential dwellings. For Mentmore Homes, a significant challenge was to retain a standard-sized cavity while complying with the latest Building Regulations.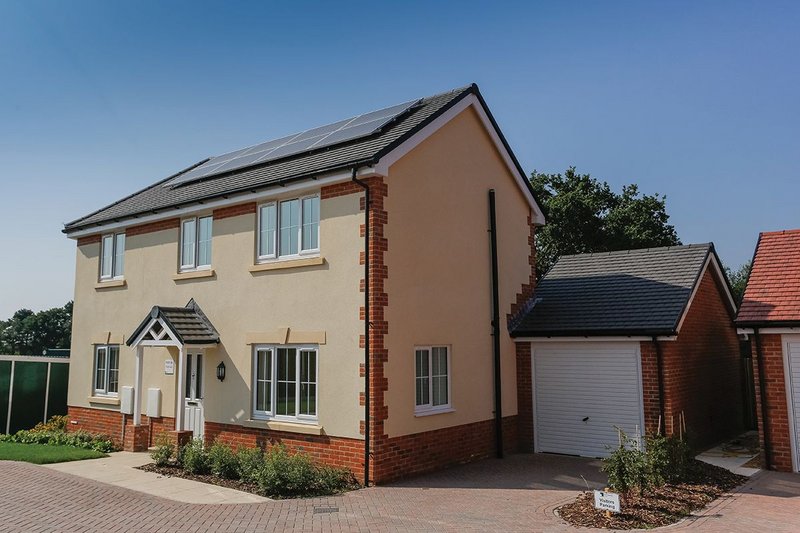 To maximise the thermal performance of external walls without increasing the width of the 100mm wide cavity, Mentmore Homes specified 90mm Eurowall + full fill insulation.
A nominal cavity width of 10mm between the insulation and the wall's outer leaf means the board fills the cavity while leaving space for bricklayers to 'roll' the bricks into place. This ensures that bricklaying for a full fill cavity is not significantly different from a conventional partial fill cavity wall construction.
Eurowall + also incorporates a precision-cut tongue and groove joint on all four sides of the board. As a result the insulation panels fit snugly and securely together to deliver the wall's thermal performance by minimising heat loss through thermal bridging. The innovative joint also offers increased protection against wind-driven rain and improves air tightness.
Using this high-performance PIR insulation board enabled the developer to meet the thermal performance required to achieve Building Regulation compliance.
A total 500m2 of Eurowall + boards were used in the wall construction of the two houses. Nicholas Peck, contracts manager at Mentmore Homes, was impressed with the performance of Eurowall +. 'We wanted to make the properties as energy efficient as possible; to make this happen the best place to start is the insulation,' he says. 'Specifying Eurowall + meant we didn't have to increase the size of the wall cavity and lose space inside the properties.'
The panel's interlocking feature was another element of the product that Peck says was beneficial: 'Eurowall +, because it slots together so easily, will remain solid and airtight,' he explains. 'We required a high-performance product for this extremely high-profile project and Eurowall + didn't disappoint.'
Case Study 2: Ease of installation
Ease of handling and simplicity of installation were just two of the reasons Foreman Homes selected Eurowall + to insulate the walls of the homes on two large housing developments in the south of England.
The schemes at Hedge End, Southampton, and Ludgershall, Andover, together contain a mix of over 300 plots of social and private housing; homes vary in size from two- to five-bedroom.
Eurowall + was designed to future-proof cavity wall construction. The 90mm board for a 100mm cavity can achieve a U-value of 0.18W/m2K. Also available are boards of 115mm for 125mm cavities and 140mm for 150mm cavities, capable of achieving 0.15W/m²K and 0.13 W/m²K respectively.
Wall construction is simple with Eurowall +.
The inner block leaf is constructed first, allowing any mortar protruding into the cavity to be cleaned off and the insulation to sit flush against it.
The Eurowall + boards are then placed against the inner leaf with the tongue and groove joints tightly interlocked and vertical joints staggered. Boards are installed with the horizontal tongue joint facing upwards.
To help the installer fit boards the right way, a different gas-tight foil-faced finish is used on each side: one is a distinctive grey alkali-resistant facing or placing against the inner leaf; the other is a low emissivity multi-layer aluminum facing which enhances the thermal resistance of the nominal cavity.
The Eurowall + boards are then secured with universal retaining clips attached to the wall ties.
A section of the wall's outer leaf is then built up to a course above the next row of wall ties
Mark Kew, a bricklayer with Foreman Homes, applauds the benefits of using Eurowall +: 'In 35 years' experience in construction, the insulation developed by Recticel is easy to cut accurately due to the grid printed on the foil-facing side, which makes it easy to install with minimal waste. I can honestly say our quality and speed have excelled as a result of its use.'
In total over 15,000m2 of Eurowall + insulation was installed. For Foreman Homes, using Eurowall + meant the homes' external walls could be built more quickly and easily, resulting in a corresponding saving in construction costs. And the full fill insulation's excellent thermal performance will mean that residents on both developments will be able to enjoy their comfortable, energy-efficient dwellings.
Gary Hunt, senior buyer at Foreman Homes, is impressed with the benefits of Eurowall +. 'We wanted to achieve NHBC standards for the thermal performance of each property so the high insulation value of Eurowall + made it the obvious choice from a thermal perspective,' he says. 'For our on-site teams, rigid foam board is a lot easier to handle than traditional forms of insulation'.
The housebuilder's choice
Eurowall + is an innovative full fill cavity wall solution that improves the thermal performance of a wall without bricklayers having to change the way they work. By extracting more performance from the cavity without slowing on-site trades, builders can achieve better U-values without widening the footprint of the external wall, or incurring the additional design and material costs associated with larger cavities.
To ensure Eurowall + is used to optimum effect, Recticel experts are happy to provide support to installers.
Recticel Insulation's Eurowall + is certified by the BBA and is suitable for masonry cavity wall constructions throughout the UK. It is also LABC registered.
---
Box: FAQ
EUROWALL + is an outstanding product for architects and specifiers who are working hard to meet the building regulations with cavity wall constructions. Here are some frequently asked questions about this innovative product:
Q) Why don't you need a 50mm cavity?
A) The insulation boards have fully rebated tongue and groove edge profiles that slot together stopping any ingress of water.
Q) Do you need to tape the board joints?
A) No, there is no requirement to tape the board joints
Q) Do the boards need to be staggered?
A) Yes, install the insulation boards in a brick bond pattern with staggered vertical joints.
Q) What happens with wall ties?
A) You use wall ties the same as if you were using a partial fill board. The bricklayer cuts a slot in the tongue joint with their trowel then pushes the wall tie into it, retaining discs fit onto the wall ties acting as a spacer and helping maintain the nominal 10mm cavity.
Q) What happens around reveals?
A) Wall ties continue to be installed at every second course of block work, rather than every course as is common practice, but two ties are positioned within 225mm of the reveal.
Q) What happens on corners?
A) Corner details are formed by cutting boards squarely and closely butt-jointing. A vertical 300mm wide DPC covers the corner and runs the full length of the junction.
Q) How do you fit cavity trays?
A) You can either cut the insulation at an angle and run a DPC over the top of it, or use a partial fill board behind the section where the tray is going to be fitted, and ensure that board joints are taped.
If you have any questions about the product or its application visit: www.recticelinsulation.com to view detailed product guides or contact Recticel technical services department on 0800 0854079 or our sales department on 01782 590480 to discuss your requirements.
---