Interface's sustainable nature-inspired modular flooring was key to the redevelopment of Oxford Brookes University's Clerici building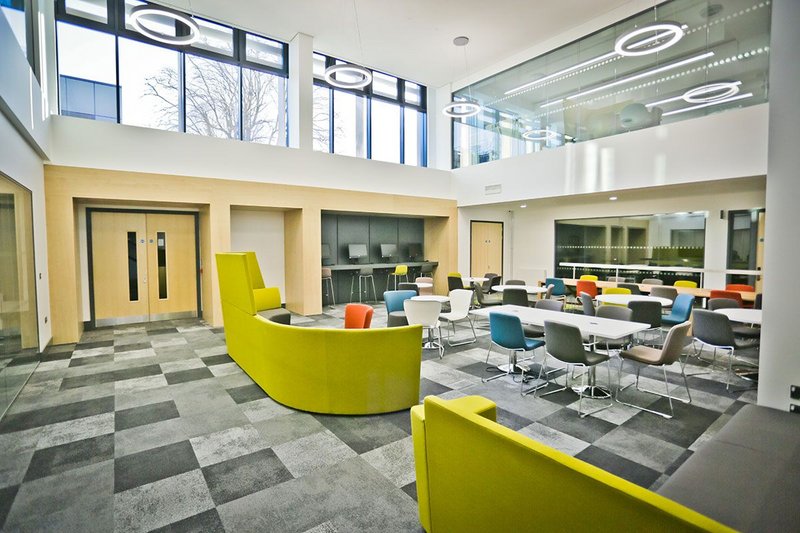 Interface Composure modular flooring in a breakout space in the Clerici building at Oxford Brookes University.
Universities are increasingly putting a holistic and transformational experience at the centre of their plans for students. This ethos was fundamental to Oxford Brookes University's recent redevelopment of the Clerici building and modular flooring manufacturer Interface was central to delivering its goal.
The Clerici redevelopment involved transforming the university's former main entrance building into a hub for teaching, learning and studying. The building is the new home of the Oxford Brookes Business School, a number of teaching rooms and the Sir Kenneth Wheare Hall, a flexible space for teaching, events and graduations.
Tracy Panther, associate dean of student experience at the Business School, said: 'It's been absolutely fantastic to see students move in so quickly and use every inch of the building, particularly the social learning spaces. You walk around and see happy smiling faces. Students are spending more time here because it is homely and comfortable, and that means they're spending more time engaged with their studies.'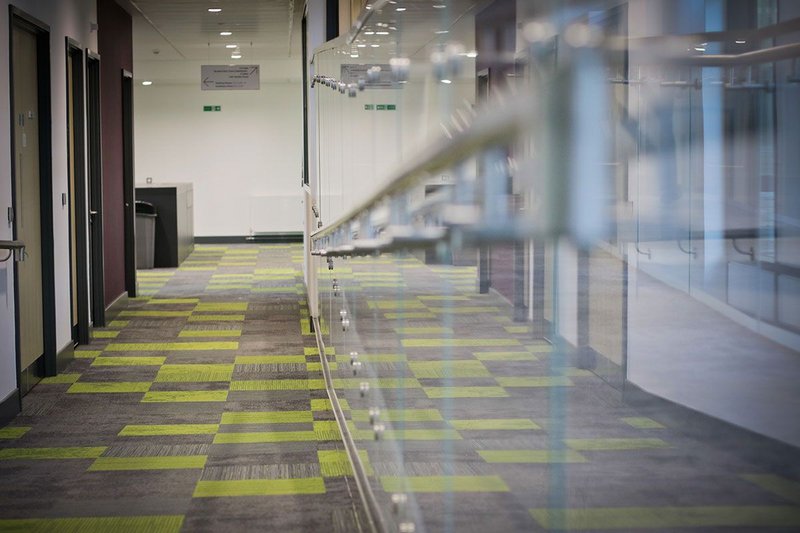 A combination of Interface's Composure, Urban Retreat, Equilibrium and Infuse designs leads the way in a transition space at Oxford Brookes University.
Interface's Concept Design team worked closely with Oxford Brookes to create multi-functional spaces across Clerici that are welcoming and conducive to learning. Some of Interface's sustainable and nature-inspired collections were used to bring this vision to life and they work in harmony with softwood furniture that features the fresh colours and patterns of biophilic design.
Commenting on the project, Laura Light, Interface concept designer, said: 'It's important that students have access to different settings, whether that's somewhere to study or to socialise. Being able to create different designs that enhance that is important. We knew we needed to be flexible with our plans, while maintaining the impact of the flooring across wide spaces. We needed to add diversity across the floor, so used a number of ranges to complete the overall effect.'
Interface's Human Nature range has been used in the Sir Kenneth Wheare Hall to help create a beautiful space that can be used for a number of activities. These products are suited to the main auditorium, which is both a high traffic walkway and a light and airy space that links the hall and the building's Gateway or main entrance. Interface's Composure range reinforces the link between the two spaces. As the two ranges complement one another, the combination offers subtle wayfinding between the two parts of the building.
Three different shades of Interface's Composure range, Diffuse, Solitude and Transcribe, feature across the Gateway and main learning spaces. This multi-tonal approach offers variations in contrast, texture and pattern that not only introduces diversity, but also defines the different spaces within the building. For students, this creates a variety of settings where they can work and relax.
The Composure collection connects with tiles from Interface's Urban Retreat, Infuse and Equilibrium ranges to bring further texture to the space. Interface's skinny planks were also used in Kiwi throughout the auditorium and the building's Gateway to link it with the colour scheme in the rest of Clerici.
Drew Hardie, head of space planning at Oxford Brookes, said: 'The Sir Kenneth Wheare Hall is where our students get inducted and where we host their graduations. Their whole cycle starts and finishes in that one room, so the design and feel of the space really help bring that together. Clerici is a key building off our central courtyard that is used for social learning, teaching, meeting academics and research. If students spend time here because they like being in the spaces then we've done our job.'
For a video case study of how Interface helped transform the Clerici Building at Oxford Brookes University, visit: youtube.com
For more information and technical support, visit: interface.com
Contact:
01274 690690
---