Restaurant chain Prezzo picks Interface's Level Set luxury vinyl tiles for branch redesign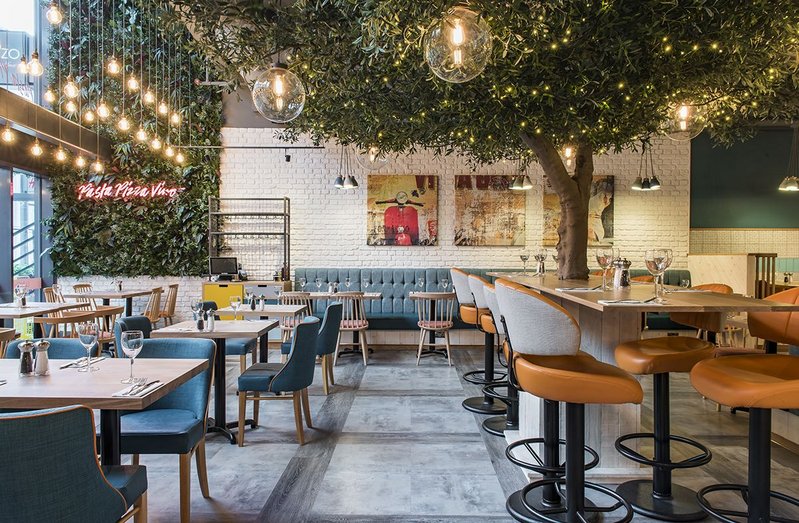 Prezzo's Bracknell branch with Grey Dune Textured Woodgrain and Cool Polished Cement Textured Stone luxury vinyl flooring by Interface.
Creating a stylish, sleek interior is as important to restaurants as a mouth-watering menu. With its mission to deliver lunch, dinner and drinks in a modern, fun and exciting setting, restaurant chain Prezzo has chosen the luxury vinyl tile collection Level Set, from modular flooring manufacturer Interface, to help transform two of its branches.
Inspired by earthy elements, the collection features textured and natural finishes that are also designed to work alongside its carpet tile products. The collection is made up of two ranges – Woodgrains and Stones – to replicate the natural world and bring contemporary spaces to life.
Prezzo originally wanted to use real timber and tiles in its design scheme, but they presented a number of challenges in terms of budget, installation and handling bulky, heavy materials on site. Interface's luxury vinyl tile (LVT) range provided an ideal solution. The wood-inspired skinny planks and stone-like tiles are not only a viable alternative to real timber and stone, but also use integrated Sound Choice backing for superior acoustic performance. LVT is also lightweight, making it much easier to manage on site during installation.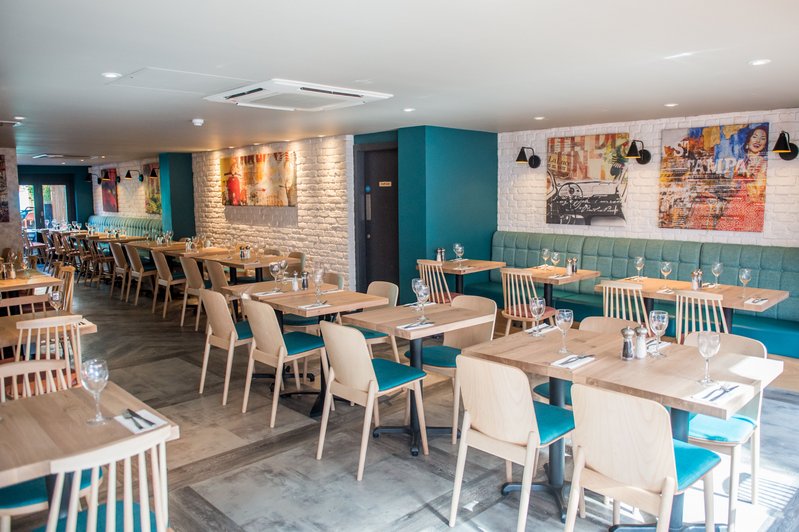 Interface's Woodgrains and Stones luxury vinyl at Prezzo's Winchester branch.
'Products from Interface's Level Set range were selected because they offer the same effect as real timber and tile without the cost implications,' says Harriet Lazzeri, interior designer at Keane Brands, which has been appointed to design new Prezzo stores and refurbish existing ones. 'LVT is also much easier to install as it's more lightweight. The product offers vastly improved acoustics, which is a key consideration when designing a space with high footfall.'
The first branch to be renovated using Interface's LVT range was in Winchester, Hampshire. The collection is inspired by the earthy elements of wood and stone, which perfectly complement the teal highlights of Prezzo's colour scheme and the restaurant's feature olive tree, creating a light, modern and welcoming space for diners.
Following the successful installation in Winchester, Prezzo went on to use to use Interface's LVT flooring in its Bracknell branch in Berkshire.
'We wanted to create welcoming and stylish interiors for these branches so that customers look forward to spending time in our restaurants and feel relaxed during their visit,' says James Dawson, project manager at Prezzo. 'Having products that replicated real timber and tiles was key to achieving this look and the Interface flooring was a great fit for the design. The products were easier to install than real wood and stone and require little maintenance, even in high traffic areas. We're so pleased that we're already using the same flooring in a number of other outlets.'
For more information and technical support, visit the Interface website: www.interface.com.
Contact:
01274 690690
---