The Friends of the Earth office in London is a lesson in how to design office environments with the wellbeing of workers in mind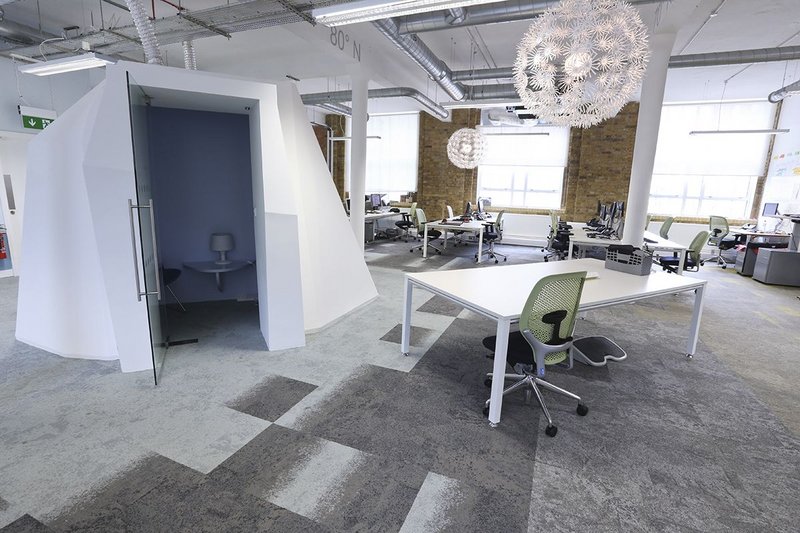 Biophillic design can have a positive impact on worker's productivity.
The London office of Friends of the Earth, an environmental campaigning charity, is a brilliant example of a space designed with the welfare of its occupants in mind. By creating a positive workplace–one that gives people permission to work as they see fit–which remains true to its core environmental beliefs, the organisation brings its brand identity to life.
Eilish Kavanagh, the organisation's director of people, culture and inclusion, notes the space reminds the charity's employees of its mission, while sowing the seeds to continue thriving. She says, 'Our old office space was five floors, which made it hard for staff and volunteers to work together effectively. We wanted to move to an office that would give us a much more flexible and positive space with a colourful, fun and inspiring design. We were delighted with the carpet from Interface – it truly reflects the different ecosystems and adds a real wow factor. Interface's sustainability credentials – including their focus on using recycled and biobased materials within their products – made them a natural fit for the project. The end result is an office space that's amazing to work in, and where you really feel you're contributing to change'.
In collaboration with workplace interior specialists Peldon Rose, Friends of the Earth has created a 'round the world' interior design scheme. This showcases its global reach and brings the restorative shades and textures of nature into the workplace. Modular flooring specialist Interface provided carpet tiles from their sustainable, nature inspired collections to bring the company's vision to life.
Commenting on the design Steve Taylor, project director of Peldon Rose, says, 'physical spaces affect our performance, behaviours and moods, and there's a direct correlation between the physical spaces we work in and our mental well-being. Friends of the Earth wanted a design for its office space that really empowers employees, brings them together and allows the charity to be more impactful. This was a great opportunity to create a showcase for responsible, sustainable resourcing in interior design'.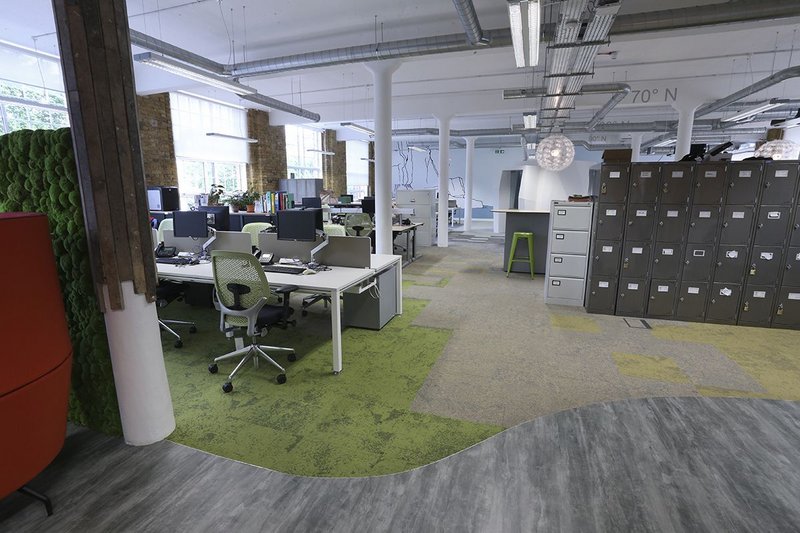 Contrasting rhythms, textures, colours and patterns form an iceberg themed space; giving each room a unique illusion of light passing through water.
To mimic diverse elements of nature, Interface's urban retreat collection was used throughout the communal office space. Carpet tiles were used in the open plan office space to represent various ecological elements, like textured grass and sandy deserts.
Taylor added, 'The Urban Retreat collection allows us to create quick and easy-to-understand visual prompts that feel like you're venturing across different regions of the earth.'
Colours from the net effect one and two collections can be seen in the meeting rooms, which emulate the moment sea foams on the shore. Contrasting rhythms, textures, colours and patterns from the urban retreat range form an iceberg themed space; giving each room a unique illusion of light passing through water.
For more information and technical support visit: www.interface.com
Blog
Can positive spaces boost worker well-being and productivity?
Mandy Leeming, design and development manager, Interface EMEA
In recent years, a wealth of evidence has proved the correlation between the way office spaces are designed and the productivity of workers inhabiting the space. At Interface we believe working environments should enhance the mood, productivity and creativity of those using it. Positive design is about making a space which can deal with a multiplicity of functions.
Office interiors benefiting from plenty of natural light and views looking out on nature have been found to significantly improve worker's creativity and output. It is no wonder that so many companies are exploring the benefits of incorporating natural elements into their office interiors. This approach is known as biophillic design, and is used to create positive spaces which support an occupant's wellbeing.
For example, Spanish architects Selgascano has built a new headquarters in Madrid: semi-submerged within the floor of a woodland glade; boasting a panoramic window curving upwards to form the ceiling. This maximises daylight allowing team members to contemplate the trees outside, in turn feeding their ingenuity.
The recent focus on health and wellbeing in the workplace is now so important that a new code, called the WELL Building Standard, has been implemented. This standard uses research-based strategies to promote buildings and interiors which foster health, happiness, mindfulness and productivity of the occupants.
Contact: 0127 4690 690
---