Versatility is key to Neubau's internal fit-out of a junior school's up-to-the-minute STEM Lab, though its greenhouse-like appearance harks back to an earlier time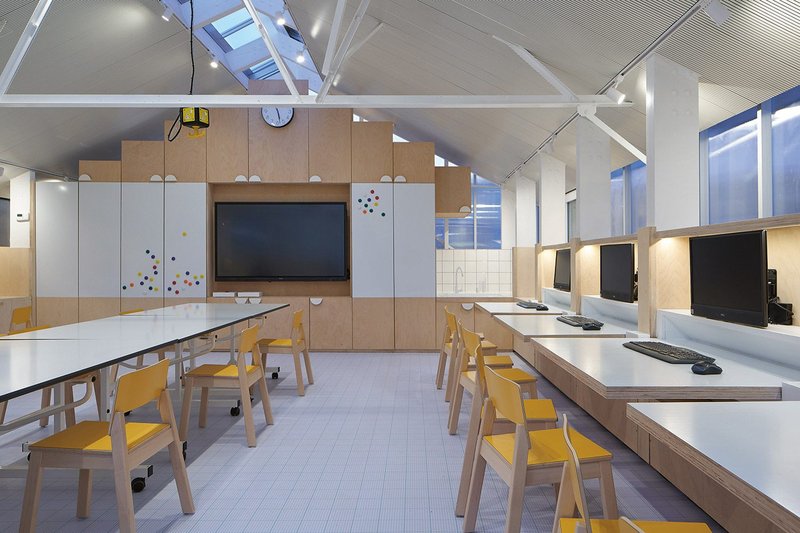 With side desks hinged, the STEM Lab is a versatile space, here set up with trestle tables for formal teaching.

Credit: Nick Guttridge
A simple pitched roof, translucent walling, and a low brick plinth for it all to sit on. Externally this small, tidy building looks like an agricultural shed – and there's a simple reason for this. When St Mary's Junior School, Cambridge, commissioned Neubau for its new STEM Lab, the earmarked plot was occupied by a 1970s greenhouse. Outside it still carries the look and feel of a greenhouse, though internally it is anything but – this compact and meticulously detailed space now nurtures knowledge not plants.
The new building adopts the same envelope, as well as reusing the existing frame, slab, and plinth. Instead of glass, the shell is now formed of polycarbonate panels acting as an external and internal material, diffusing light to create an even spread within. The room is largely an open space set within a geometry of carpentry and material speaking to the language of science, technology, engineering and maths – the Atrafloor vinyl flooring features a 10mm square grid pattern.
'It's a working surface,' says Alexander Giarlis, co-director of Neubau. 'The floor is one aspect, but this is all about how the room itself is a STEM instrument – it's got things to measure from, things to look at, things to work off.' Neubau is a young practice formed of Alexander Giarlis and Brgs Lenz, and if the use of polycarbonate cladding seems familiar it may be because Giarlis and Lenz met while working at OMA. This system of Danpalon panels, supplied by Everlite in the UK, is not the same as that deployed by OMA, though there is a visual connection to projects including the Garage Museum in Moscow or Fondazione Prada in Milan, which Lenz worked on briefly.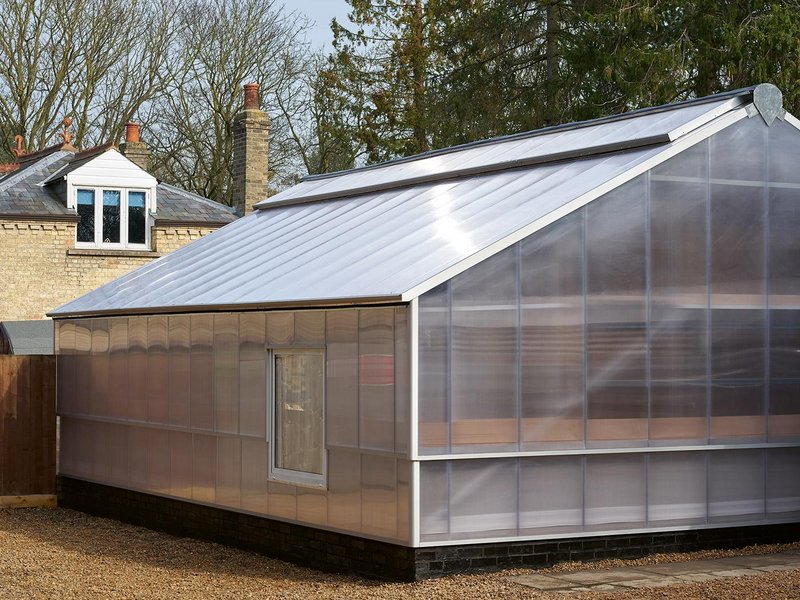 Externally, the building reads as the greenhouse that formerly occupied the site, but with a contemporary flourish hinting at a new use.

Credit: Nick Guttridge
Sitting on a child-sized chair to discuss the project with Giarlis, I realise that scale is not the only design consideration for the new users of the space. Along each side, rows of hinged desks conceal computers, enabling versatility of use for the small room. There is considered detail here – a counterweight balance, soft shut, and an inbuilt tray to catch keyboards, pens, or educational detritus when the desks return to a vertical position.
As befits a building for technological design, the desk system was manufactured in a CNC workshop, directly commissioned by Neubau. Giarlas explains: 'It was a very involved process as we resolved the design partly through 3D modelling and partly through on site tests and mock-ups. The hinge mechanism was the most difficult to get right, needing to prevent finger trapping along the sides and at the hinge, and the desk falling and hitting pupils' heads or breaking if anyone sat on it.'
Most internal cabinetry was built by the main contractor, whose original trade was joinery, and who was also tasked with constructing the stepped end wall, which concealed functional shelving. 'One of the biggest aspects of the brief was storage space,' Giarlis adds. Under the desks are inbuilt electric plinth heaters, future-proofed so that when the school installs an air source heat pump the Lab can be connected using the louvred outlets. When not heated, the space naturally ventilates through opening ridge windows, operated by an industrial mechanism directly copied from the former greenhouse.
The greenhouse structure remains, now supporting the cladding's mullions. Internally, a secondary structure of glued timber with Envirograf intumescent paint – sprayed to a smooth finish – supports insulation and Stil Acoustics' Groove 12 ceiling panels. Meanwhile the plywood cabinetry is fire-rated not through intumescent varnish, but with Burnblock, a natural and non-toxic fire retardant impregnated into the ply. This means the ply can be cut while retaining a Class B rating.
Before St Mary's took over this Victorian house and grounds it was the research-led Martin Centre, occupied by Cambridge University School of Architecture. While studying here, Giarlis first encountered the original greenhouse, then used as a wind tunnel to test architectural models. To now return and transform the space into a new laboratory offers poetic resonance.