Intralux Ultimate entrance matting soaks up water three times faster than standard products and comes with a PVC-free backing option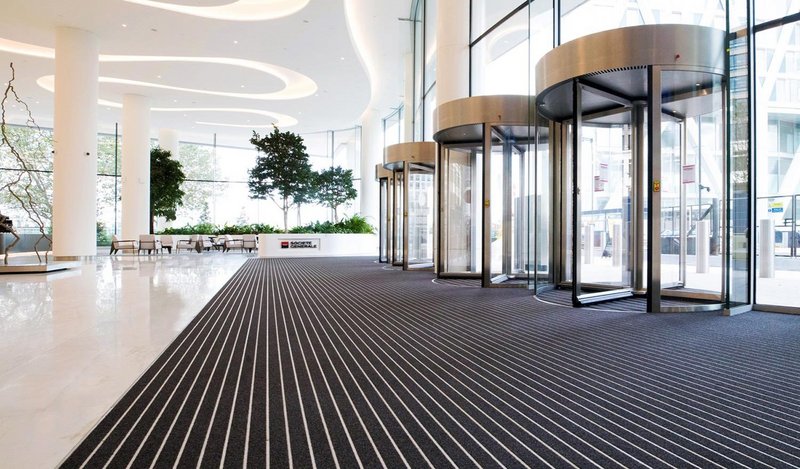 Intrasystems' Intralux fibre entrance matting with Intraform double module aluminium profile: For architects creating statement entrances that stay pristine - whatever the weather.
Hampshire-based Intrasystems' new Intralux Ultimate entrance matting fibre helps reduce the risk of slips and keeps lobbies, foyers and concourses looking pristine by ensuring dirt and water don't track through into the building on wet, rainy days - in the UK that's around 170 days a year on average.
With the best inset entrance matting in place to protect it, stylish hard flooring such as terrazzo will maintain its appearance all day.
Intralux Ultimate fibre inserts can be specified with a choice of recessed aluminium or steel profiles. They draw moisture off three times quicker than other fibres for an unbeatable rate of absorption that significantly reduces surface water accumulation. Intralux Ultimate also has high, Bfl-s1 fire resistance and a robust scraping action.
Purebase is a new 100 per cent PVC-free fibre backing option that allows specifiers to avoid the use of environmentally harmful softeners and plasticisers. This means the product has a significantly lower environmental impact, from manufacture through to end-of-life disposal.
The matting fibre is available in a contemporary colour palette that takes its influence from shades found in nature. Each colour is woven from 100 per cent Econyl regenerated nylon yarn.
There are nine shades to choose from, including warming tones of Sandstone and Terracotta and earthy hues of Truffle and Forest Green.
There is also a choice of three greys, ranging from brown-based Anthracite to the lighter green hints of Lichen, while Night Sky and Ruby introduce black and red colour profiles, respectively.
With Intralux Ultimate, Intrasystems offers architects and specifiers a well rounded solution for every entrance mat requirement. With wear classifications 32 to 33, each insert option has been designed to overcome the common challenges faced in commercial entrance environments.
Intralux Ultimate is 100 per cent sustainable - a key commercial focus as businesses seek to reduce their carbon footprint, adhere to stricter building regulations and take a proactive role in the fight against climate change.
For more information and to order a sample, visit intrasystems.co.uk/newfibres
Contact:
01425 472000
---