Schueco's latest FWS 60 CV facade improves thermal performance and aesthetic appeal with the slimmest frames yet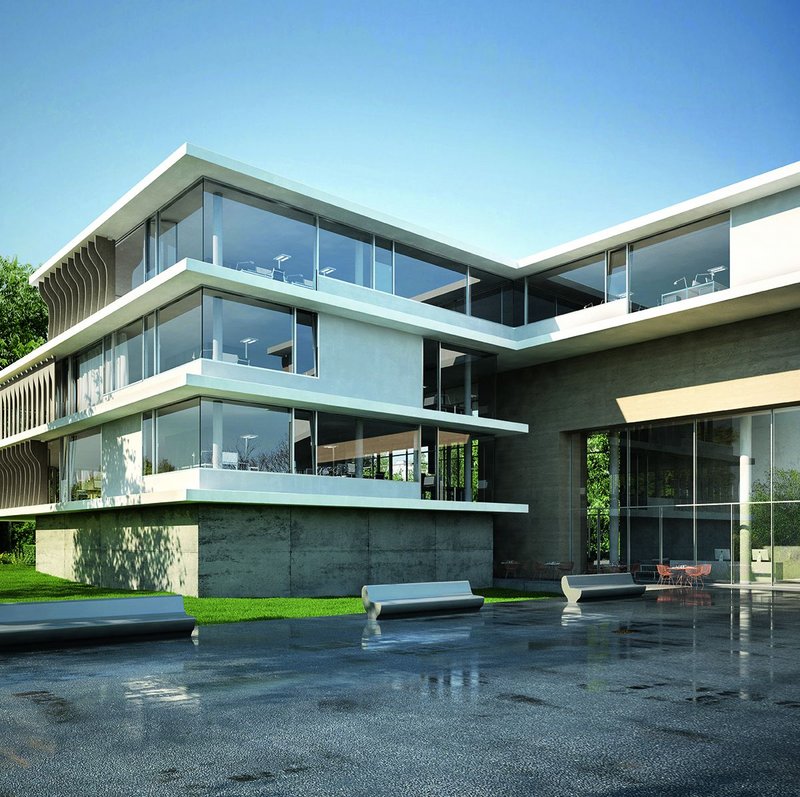 New systems from Schueco have been designed to deliver both greater energy efficiency and enhanced 'kerb-appeal'. The combination of ever slimmer frame widths and ever more effective thermal insulation is enabling Schueco to remain ahead of competitors.
The steady stream of innovative products from Schueco includes the FWS 60 CV concealed vent facade system. Designed primarily for classic, floor-to-ceiling ribbon windows, the unique feature of this new system is that from the outside it is not possible to distinguish which vents open and which vents are fixed.
This innovation, which has the added benefit of maximising light transmission through the facade, has been achieved by merging the vent with the load-bearing structure. Even from inside, the only indications of an opening unit are a flat slimline shadow gap and the presence of the window opening handle. Moreover, to ensure complete safety in use, an almost invisible all-glass Juliet balcony can be integrated into the areas which have opening vents.
Also ideal as a solution for punched openings, the Schueco FWS 60 CV facade counteracts the prevailing trend of meeting the demand for greater levels of thermal and sound insulation by using larger window profiles. Instead, the system has been designed with face widths that are elegant and narrow, and yet its inbuilt engineering excellence means that it delivers impressive Ucw values as low as 0.85 W/m2K (with a glazing U-value of 0.7 W/m2K) as well as an extremely high level of functionality.
To make the system yet more versatile, Schueco AWS side-hung or turn/tilt windows can be easily incorporated using Schueco AvanTec SimplySmart fittings. A new optional SimplySmart comfort fitting, fully integrated into the profile, allows heavy windows to be moved more easily.
In addition, a system of high performance external, centre and internal gaskets enables the Schueco FWS 60 CV facade to satisfy even the most stringent requirements for wind load and weather tightness. A choice of two basic depths and a new method of attaching the facade to the building that ensures optimal thermal insulation and efficient drainage, give the facade an enviable degree of versatility. The emphasis on developing systems that deliver optimal performance with the slimmest possible face widths is starting to emerge as one of the dividing lines between Schueco and its rivals. The understated elegance of the new Schueco FWS range will make it particularly appealing to the many architects for whom glazing with heavy framing is design anathema.
A high degree of prefabrication allows the facade to be put together particularly easily with the transom profiles being placed in the fixed fields to fit between opening units. After the fixed fields have been glazed, the glass is secured using pressure plates onto which cover caps are fitted.
One of the biggest challenges in implementing the thermal insulation zone of the Schueco FWS 60 CV facade was to combine and position intelligent isolator components to ensure fabrication and system security, despite the very narrow face-width of 60 mm.
The new glass fibre-reinforced compression resistant isolator is the key to achieving both an optimum Uf value and a high degree of stability and durability. Interestingly, when compared to standard constructions with insert outer frames and window vents, the system's very narrow face width actually assists in improving its energy efficiency as measured by Ucw values. A prepared adapter profile is also an important component: by comparison with windows bonded conventionally, it shortens the fabrication process by allowing the use of acrylic tape for direct bonding.
With burglar resistance up to RC 2, the Schueco FWS 60 CV facade is the ideal system for enhancing the thermal performance and visual appearance of both newbuilds and existing commercial properties.
For more information and technical support visit: www.schueco.co.uk
Contact:
01908 282111
---