Neighbourhood schools, created by parents, sounded a great plan for people power. But funding shortages, red tape and powerful trusts have soured the dream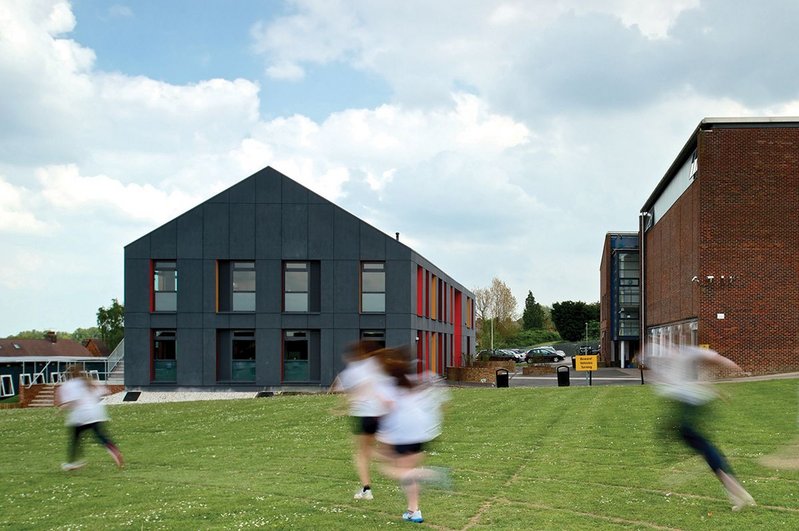 Hillview School for Girls, the first Optimum School to be delivered using the approach.

Credit: Andrew Hendry
Five hundred more free schools in five years: that was the pledge that prime minister David Cameron made in the run up to the May general election. By September he was taking the first step towards meeting that manifesto commitment, launching the next wave of 18 new free schools in a flourish of ideological rhetoric.
We are now well and truly in an age of austerity in state school design, development and refurbishment, and delivery approaches, stakeholders and buildings have changed significantly. Architects have adapted to a delivery environment dominated by the Department for Education's Education Funding Agency (EFA), whose influence extends from budgets to the output specifications that essentially form the design brief. But five years after Michael Gove's Academies Act shifted control of schools away from local authorities and paved the way for free schools, the sector is still evolving.
The government's January 2015 census of schools and pupils in England notes that at the start of this year almost one in three pupils – more than 2.7m – was being taught in the 4722 academies and free schools that now exist. With all schools, especially the best performing ones, now invited to convert to academy status, more than 60% of state-funded secondary schools and more than 15% of primaries are either academies or the newly-established free schools.
If the prime minister sticks by his pledge, the number of free schools looks set to more than double by 2020. The Conservative government also expanded the remit of the approach this autumn, allowing free school applications to include nurseries as part of their bids.
To date, more than 250 new free schools have opened their doors, and a further 116 are destined to open in 2016 or after. Most of the upcoming schools will be in London boroughs where pressure on school places is most keenly felt. Outside London, key areas for free school development include the central region of Northamptonshire, Hertfordshire and Bedfordshire, as well as Bristol and Birmingham.
Rise and rise of the education trust
But the latest tranche of 18 new free schools named in September is significantly down on the 48 announced in March and includes no parent-proposer bids. Far from giving parents free rein to establish schools in their neighbourhood, the legislation has presented education trusts with a business opportunity, resulting in networks of academies and new free schools that rival local education authorities in size.
The EFA's constraints have put the emphasis on education, so if trusts want facilities that go beyond the basics, the onus is on them to find the funds. Some do find ways to do that, albeit fairly modestly. 'We have schools where we have put in more funding than the norm, but there has to be an added value for that, like greater flexibility from having wider corridors,' says Ged Mitchell, head of estates and facilities at Bright Futures Educational Trust (BFET).
Altrincham-based BFET operates nine schools across its area, a mix of existing and newly developed facilities. It has two very different primary projects in the pipeline in Manchester: the new build Rushbrook Primary and the upgrading of Stanley Grove. Both are being delivered through the Priority School Building Programme in a batch led by contractor Interserve, working with JM Architects.
Rushbrook, due to open in 2016, will benefit from sharing facilities with adjacent schools plus some supplementary funding from Manchester City Council. 'The council is adding more value for access and security measures. This is a school that will be prominent in the public realm and will be used by the community,' explains Mitchell. Stanley Grove is centred on a Victorian Board School which must be retained. 'We're still in discussions about how much work will be done to the Victorian building – there will be architectural details we won't want to remove because the school has a history, but if we want something we have to find the money.'
'We've become separated from the end users... so have lost the opportunity to innovate and look at specific community needs'
Adding value
Ask parents, education providers and architects how they would describe the learning environments that are being created through this process and they use words like adequate and basic. Slashing the school build budget from £2000/m2 to £1100/m2 was intended to raise standardisation and focus on functionality. 'When the budget is that tight everything has to work as hard as possible. Ultimately a classroom is a classroom, so we work very hard on the communal and linking spaces to make them as dynamic and inspirational as possible,' says Caroline Mayes, divisional director at Stride Treglown.
'The industry has risen to the challenges set by government,' says Helen Taylor, practice director at Scott Brownrigg. She highlights how the industry has engaged with the government's aspiration to see greater standardisation in school design: Scott Brownrigg and Galliford Try have developed one such standardised approach, Optimum Schools. However, that particular aspiration seems to be diminishing as the realities of school development are confronted, adds Taylor: 'We have seen some standardised approaches, but not copycat schools because schools are too individual.'
But irrespective of school type and procurement route, the EFA's influence leaves trusts and architects feeling that they have relatively little influence over the delivery of schools, particularly free schools. That lack of connection between designer and end user could mean opportunities to add value are being lost. 'We accept there's no more money, but would like more flexibility in how we use the school area,' says Taylor. 'The Optimum Schools approach minimises circulation, accepting for example that some of it could be external. But it's hard to make that work when you are not working with an end user. How does the EFA decide who wants an internal or external corridor?'
Taylor says the EFA seems to have tightened rather than lessened its grip on the process in the last five years. 'We've become separated from the end users. That's a shame as we have lost the opportunity to innovate and look at specific community needs. That lack of connection at a community level is causing some projects to trip in planning and can create delays. We could be helping to make things happen faster.'
If only…
The difference that a connection with the client can make is evident in the University of Birmingham School, which opened in September. The country's first secondary university training school, it is a learning community combining educational research, teacher training and the education of pupils from very different backgrounds. The school was created to a brief by the director of the university's school of education, with the advice of an educationalist. Designer Associated Architects worked with 15 specially developed educational quality indicators that included such aspirations as: 'The design promotes a social confidence and accessibility of staff with pupils'. As Simon Shakespeare, senior project manager for estates at the university, says: 'It's a one-off. The process we went through was quite different to most.'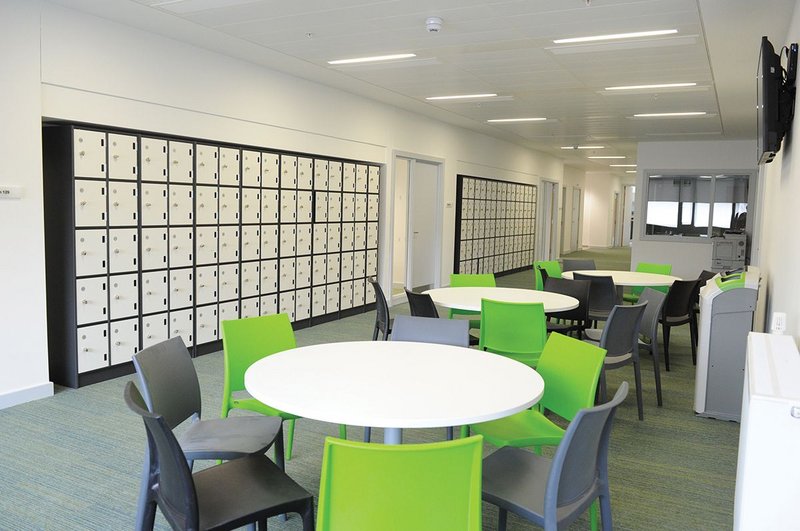 Associated Architects used educational quality indicators in its design of University of Birmingham School.
Shakespeare is more used to delivering university buildings than schools, so how did he find working with the EFA? 'Some processes with regard to the design meetings and signing off the design are quite regimented and disciplined. It was good as it maintained the standard at production stage,' he says.
The university injected an extra £3m into the project, and the architect praises its leadership in delivering this exemplar. The extra funding has bought space, says Richard Perry, director of Associated Architects: 'It's still very efficient. We have classroom clusters but have more social space'. Corridors are 4m wide instead of 2.1m, classrooms and laboratories are larger than average at 50m2 and 90m2 respectively, the shared dining space mixes students and staff – not only for surveillance but to create a university-style refectory – and there are no staff rooms.
Not all the innovations on this project carry a cost premium. Some – like mixing pupils and teaching staff – could be applied more broadly in schools with smaller budgets, says Perry. 'It's a greater challenge, but we are now in the frame of mind of identifying what's important in the teaching environment. Austerity has focused minds.' •
---
WHATEVER HAPPENED TO PARENT POWER?
Parent proposers seem to be fast disappearing from the free school scene, and it's not hard to see why. Architects working with parent groups tell of carrying out feasibility studies for a succession of prospective sites that get lost to deep-pocketed developers. They are usually existing buildings and can require significant upgrading.
When a parent group in leafy Wokingham bid to the Department for Education in 2012 to open a free school in a local former private school, the prospect seemed straightforward. 'We thought, it's a school already so how hard can it be?' says Helen Thorndyke, parent founder of Evendons Primary School Trust. 'We didn't realise we were in for a four-year project.'
The group, which included an architect, worked with ECE Architecture on the conversion, with the school opening in 2014 with 98 pupils, four refurbished classrooms and the office team housed in a portable building. A year later it has a further three usable classrooms, but two more years of work lie ahead. As the school buildings are a mix of 19th century originals – not listed but registered as a community asset – and later additions, conversion is phased and complex.
Parents have given significant amounts of their free time to progress the project amid numerous difficulties with the delivery process. Now half way through, the project still demands time and has its frustrations, not least the fact that it is considered temporary until the whole project is complete. 'It means that we can't have things like acoustic panels in the hall or even proper fencing around the site for two to three years,' says Thorndyke.