They are bestsellers in Asia and the US and now Japanese manufacturer Toto is introducing slimline, entry-level versions of its Washlet smart toilet technology into the UK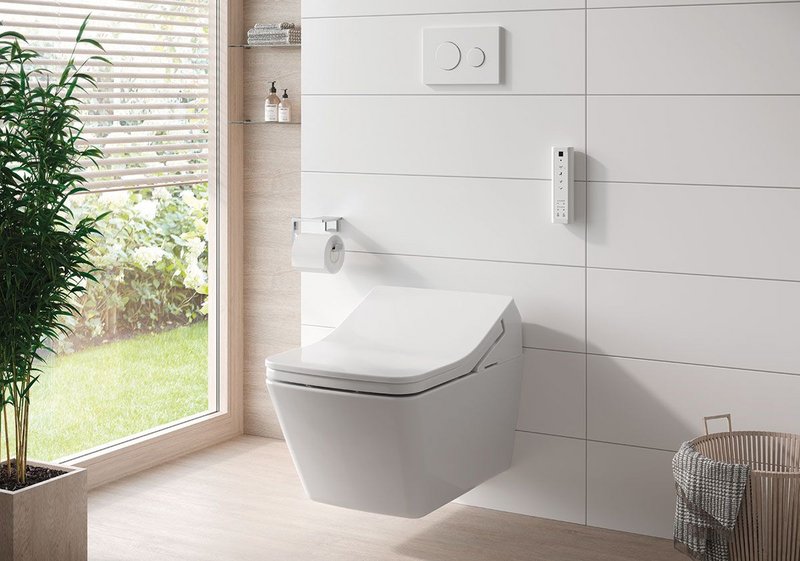 The Washlet is a toilet with integrated bidet functionality, including warm water spray, deodoriser and heated seat.
Manufacturer Toto is bringing some of its elegant new bathroom designs to the UK. Toto's Washlet is a toilet with integrated bidet functionality and the new Washlet RX and Washlet SX are streamlined versions of earlier models. Designed with space in mind, they project a super-slim profile, are narrower in width and, with their curved and angled lines respectively, seamlessly enhance any interior project.
The Washlet RX and Washlet SX retain all the technological innovations of their predecessors and feature luxurious functions, including a heated seat, the Tornado Flush, a deodoriser and a retractable wand with warm water spray. Both are pre-programmable for two personal profiles, offering adjustable seat and water temperature and an alternative wand position and pressure setting.
A global leader in Clean Technology, Toto has pioneered bathroom innovation for over a century and the Washlet RX and Washlet SX reflect this expertise with pre-mist functions helping to maintain the cleanliness of the Cefiontect glazed finish of the inner bowl and rimless pan. The urea resin seat discreetly houses the technological components and, on select models, is automatically raised using sensor technology.
The Washlet first launched in 1980 and has revolutionised bathrooms across Japan. Its warm water cleansing system and recent developments in air purification, automatic functions and more have helped improve hygiene standards. Toto has sold over 40 million Washlets worldwide and, in March 2018, was certified by an external research firm as the number one brand globally in terms of sales in the shower toilet market. The Washlet RX and Washlet SX enable entry-level access, both in terms of price and product specification.
Toto works extensively in the hospitality and commercial sectors in the UK and the rest of the world. Its portfolio includes some of the leading hotels, including: The Stafford London, London Marriott Hotels Park Lane and County Hall, Claridge's, The Berkeley and many more. Toto also works with cultural institutions and offers the same standards to residential projects, too.
The main European Toto showroom and gallery is in London's Clerkenwell. The gallery is building a reputation for showcasing emerging architecture and debating the latest topics. For the past two years Toto has hosted and supported enterprising young architectural consortium Japanese Junction to deliver exhibitions and talks programmes that highlight working practice methodologies between the UK and Japan.
For more information and technical support, visit gb.toto.com
Contact:
Toto showroom, 140-142 St John Street, London EC1V 4UA
020 7831 7544