Stallan-Brand's school is all about its roofs, which provide outdoor shelter, bring in daylight and allow the facades to emerge from the landscape
Borderlands are often places of conflict, where politics are contested and allegiances in flux. Today, however, the Scottish Borders region, for example, appears to be the antithesis of this with a network of established settlements that have evolved together – such as Galashiels, Hawick, Melrose and Jedburgh – yet each imbued with a particular independent character. The latter is recognised as an important gateway to Scotland and, until recently, its school provision was located in a number of buildings scattered around the town centre, so children would often spill out into the streets to play or move from class to class. If you overlook the obvious safety concerns, this ad hoc arrangement generated a real bond with the community which no-one wanted to lose in consolidating facilities into the new learning campus by Glasgow-based Stallan-Brand Architects.
A number of site strategies (such as 'The Cascade' and 'The Wedge') were explored by the architect before settling on 'The Street' which positioned the building in an east-west orientation, with sports facilities to the north and playgrounds to the south. The so-called Street (a split-level central atrium) is orientated toward the town and in a welcoming gesture to the local community. This is further reinforced by the incorporation of a community library and café, in addition to numerous adult learning activities including community Bake Offs. This is quite a departure from the 'fortress mentality' and restrictive security measures imposed following the 1996 Dunblane Primary School massacre. Certainly the new Jedburgh Grammar Campus is open to all, as is evident in its glazed entrance lobby which also accommodates food bank contributions and gratis pre-loved school uniforms.
The new Jedburgh Grammar Campus is open to all, as is evident in its glazed entrance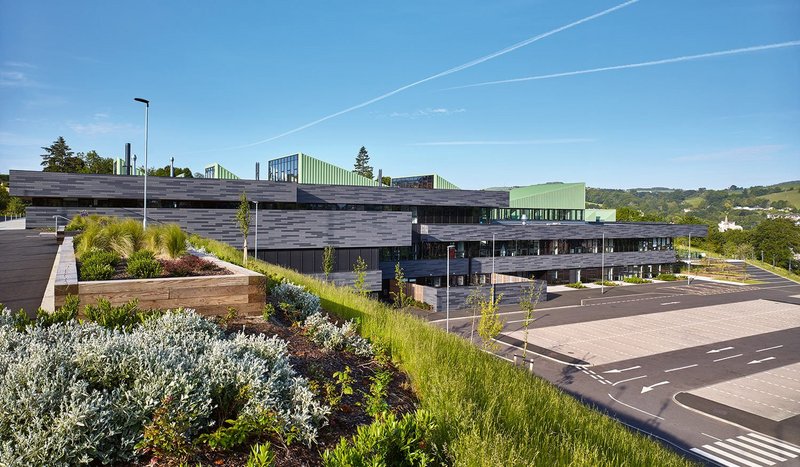 North elevation of the campus. Its landscaped embankment helps embed the building further into the landscape.

Credit: Andrew Lee
The new building is inter-generational and encompasses facilities for 434 nursery and primary school pupils and 550 secondary students. The three-year timetable from initial community consultation to completion was tight and involved a capacity analysis of four potential sites. Each was suitable to accommodate the school's footprint but the selected site offered the bonus of enough space for external playing fields. The favoured location lies to the east of the Jed Water on a sloping site and is just eight minutes' walk from the town centre. Previously the site was open parkland flanked by an avenue of mature trees which the arborcultural assessment identified as a mix of common lime, horse chestnut, fern-leaved beech, sycamore, yew and holly – many dating the mid-19th century.
Added to the need to keep these was a challenging 40m change in level from west to east, which was exploited to facilitate a series of level changes. The architect was also able to conceal some large volume indoor sports halls by digging into the hillside and employing a 12m high retaining wall. Although a sizable intervention in the landscape, the campus is barely visible from the town centre and is discreetly concealed by existing trees. Echoing Frank Lloyd Wright's maxim, Stallan-Brand declares this 'is not a building in the landscape, but rather an extension of the landscape. It does not seek to sit on a hill, but rather emerge from the hill.' Pedestrians approach via a staggered set of steps that ascend from the visitors' car park. There is staff parking and drop-off provision adjacent to the school while a local bridle path facilitates pupils arriving by horse!
This commission from Scottish Borders Council followed from two small primary schools by Stallan-Brand at Kelso and Galashiels. The council's lead client Donna Manson (then service director for children and young people) was determined to reduce societal inequality and asked the architect to radically reimagine the scope and potential of a school project. This invitation to innovate was, in part, a response to perceived shortcomings of the nearby Kelso High School, completed in 2017.
The Scottish government's flagship policy Curriculum for Excellence, launched in 2010, promotes a broad competence-based pedagogy which prioritises classroom clusters, breakout zones and flexible learning spaces, both internally and externally. The ambition at Jedburgh was to overturn outmoded school typologies and instil a sense of ownership in pupils. So rather than serried ranks of defined classrooms linked by a corridor, this school adopts a fluid, open plan approach that can respond to individual learners' abilities. The model is akin to a sixth form common room, where pupils can hang out, gather informally, collaborate on assignments and linger.
Jedburgh embodies this doctrine and the layout integrates year groups from age 3 -18, harmonising the transition between nursery, primary and secondary education.
Here there are no bells or constant crowding into narrow corridors; instead the teachers circulate to wherever the pupils are based. The school promotes a culture of team teaching with an emphasis on pupil wellbeing with the idea that learning should be an enjoyable experience. The role of the architect was to inculcate a sense of wellness and boost attainment for pupils, most of whom live in the residential areas of Jedburgh, supplemented by a number from Ancrum and other small outlying villages. The school also has a number of pupils with special needs and learning disabilities.
The double height central space acts as the 'heart' of the school and has been named in honour of Mary Somerville (1780-1872), a Jedburgh-born pioneering polymath. This rectangular atrium, filled with light from above, provides a welcoming arrival point for everyone. Its pitched roof kicks up at either end to capture morning and afternoon sun, augmented by clerestory glazing along both flanks which ensures sunlight can animate the space at all times of the day. Larch timber-slat ceilings have acoustic insulation but concerns about disruptive noise have been raised by some pupils with hearing implants, so further noise attenuation measures may be needed.
Externally, the building reads as a series of trays or strata emerging from the hillside. Here the architect cites James Hutton, born in Jedburgh in 1726, as an early influence. Widely regarded as the father of modern geology, Hutton's study of plate tectonics shaped his influential theories regarding the earth's geological evolution. The building features expansive overhanging eaves clad in charcoal-coloured composite panels cut to emphasise the horizontal, mimicking ribbons of masonry. These covered spaces allow pupils to congregate outside when it's raining.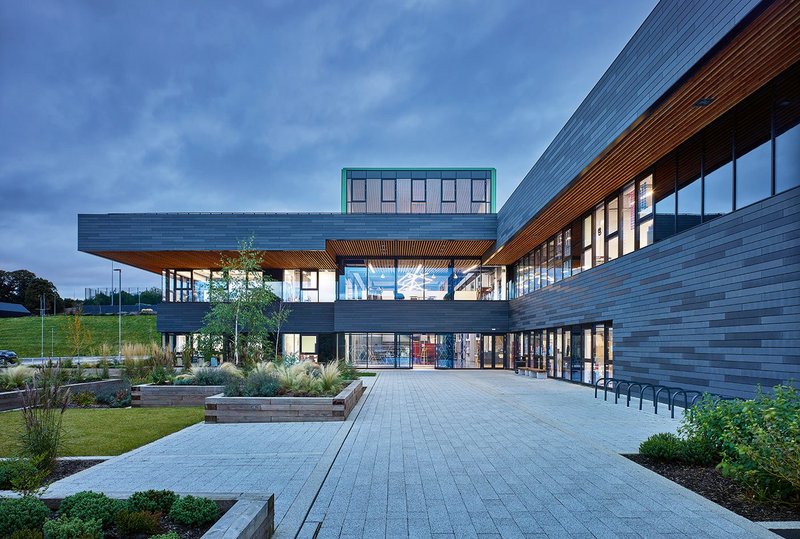 Approach to the main entrance. Charcoal-coloured GRC cladding was chosen for its robustness and patination, tying in with the architect's notion of the building as striated rock formations.

Credit: Andrew Lee
Cresting above these bold horizontal bands are sawtooth skylights picked out in copper-coloured green to contrast with the primarily monochromatic palette. These west-facing skylights (each is 6.3m wide and repeats on plan every 7.5m) bring natural light into the interior and overcome the problem of naturally ventilating any deep plan layout. This daylight illuminates the 'learning plazas' and supports various working patterns and learning environments on the upper floors. They incorporate solar control glass to reduce solar gain and are fitted with internal blinds to combat glare. While they admit fresh air, rainfall sensors avoid water ingress.
This ambitious project is seen as a community resource and addresses not only the town's educational needs but also broader priorities such as enhanced digital connectivity, employment, lifelong learning, culture, tourism, health and well-being. The architect's goal was to create a 'democratic form' and, undoubtedly, Stallan-Brand has given Jedburgh an impressively inclusive and appropriately scaled learning campus which should equip young people with the skills and understanding to meet the many challenges of the 21st century.
Credits
Client Scottish Borders Council
Architect Stallan-Brand
Contractor BAM Construction
Civil and structural engineer Goodson Associates
Building services Davie + McCulloch
Landscape architect TGP Landscape Architects
Acoustician New Acoustics
Interior design Space Solutions
Fire engineer Atelier Ten
QS and project manager Turner & Townsend
Suppliers
Windows, curtain walling, skylights Technal UK
Cladding Reider Oko Skin
Roofing Sika Trocal
Standing seam roof/cladding Kalzip/SFS
Ceilings Ecophon
Internal doors CNN UK
Floor finishes Forbo/ Burmatex
FF&E Thornton