Juergen Teller's legacy will be more than his photographs – the thermal performance of his new studio should see the building serve generations to come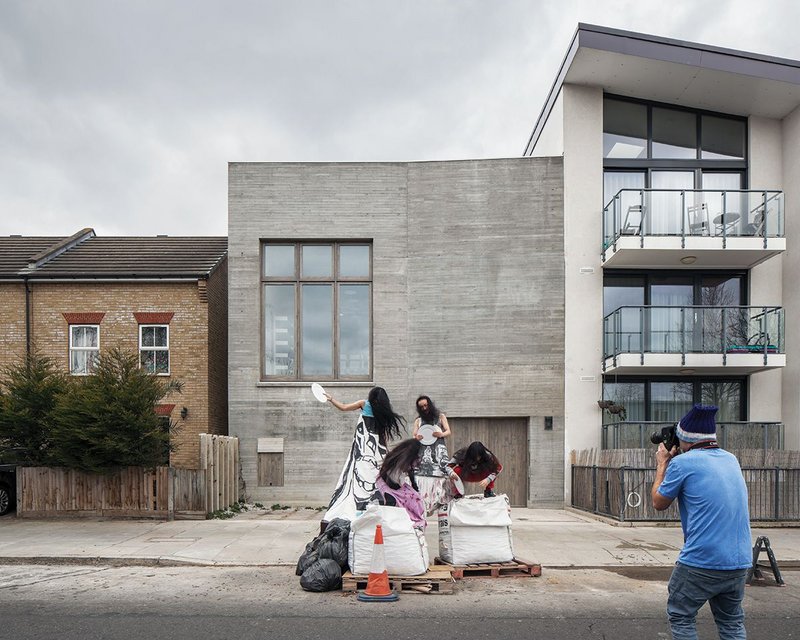 Facing out over the street, the front admin pavilion is formally muscular, using a highly reductive palette of materials.

Credit: Johan Dehlin
Juergen Teller, the German fashion and art photographer, is a man who likes things done well. So when 6a was designing his new studio and office in west London, it's no surprise that although the development had no particular sustainability agenda at the outset, it's ended up with thermal performance stats that astonished even its own design team.
As-built U-values came in lower than targeted in the 0.08-0.1 W/m²k range (compared with 0.35 building regs limits), while air tightness averaged 2.65m³/hr/m² for the whole site (compared with 10m³/hr/m² building regs).
'We pushed it as far as we could to get a great thermal performance,' says Laurence Owen, partner at engineer Max Fordham, who describes the outcome as 'innovative and pioneering'.
'Juergen asked how it should perform and I said very well. He said "then do it",' says 6a director Tom Emerson. 'He really wanted a good building but wasn't prescriptive in how we got there. He trusted us… It's the only project I've ever worked on where everything we put in [at the start] got built.'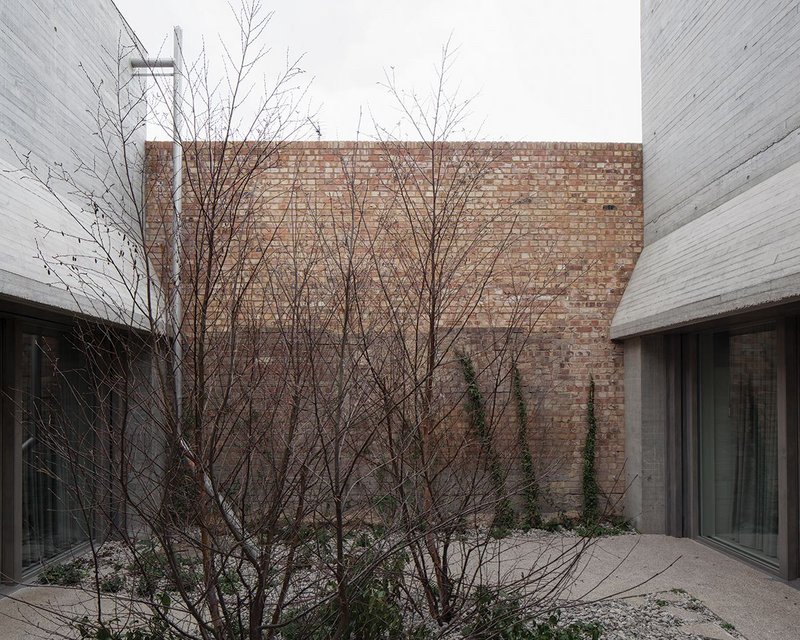 The striated concrete material expression might look cold but behind it packs an impressive insulating punch, with performance coming in well above building reg standards.

Credit: Johan Dehlin
The impressive thermal performance has been achieved through a determinedly fabric-first approach involving substantial thermal mass of concrete structure and blockwork walls supplemented by generous insulation and a painstaking attention to detail to create a super air-tight structure.
'The point of fabric-first is that you're designing for a lifespan of 50, 100, even 200 years. The aspiration is for this building to go on and on. We've reduced demand to negligible for heating and zero for cooling,' says Owen.
The project was five years in the making, including two spent on site – which Teller used as a location for his photography. The completed project is not so much one building as a three-in-one arrangement consisting of three top-lit volumes, interspersed with garden courtyards (designed by Dan Pearson) and linked by a long corridor that extends the 60m depth of the narrow, approximately 8m wide plot. The brief evolved – initially Teller wasn't planning to base his studio here and during the project's gestation changed his practice from film to digital. The final arrangement consists of an entrance volume with office, archive, and post-production facilities, a central studio building with staircases leading to store rooms, and at the rear of the site, a more domestic space including a kitchen, library, meeting room and sauna. In practice, however, Teller employees all three spaces and gardens as studios as required.
The point of fabric-first is that you're designing for a lifespan of 50, 100, even 200 years
Each volume is fully glazed onto the courtyards and each has at least two light sources to give different light temperatures – colder north light from the roof lights and warmer direct and reflected light from the windows and glazed doors. The exposed, board-marked concrete fulfils the client's wish to avoid a pristine, white environment. Its emphasis on views between rooms and courtyards – and up and down through each volume – gives a spatial effect reminiscent of the Soane Museum, says 6a's Tom Emerson.
As well as having a large amount of exposed thermal mass, the new building is super highly insulated. The 665mm-thick external walls include 300mm of BASF XPS insulation between the two inner and outer concrete faces, with Kingspan Kooltherm K8 Cavity Board used on the boundary walls in two layers of 100mm. Floors are insulated with 200mm of Kingspan Thermafloor TF70 underslab insulation, again applied in two 100mm layers. The roof incorporates 200mm of Bauder PIR rigid insulation.
The need for top lighting could have presented thermal challenges. By positioning the studio roof lights to face almost north, 6a allowed just a limited amount of direct light through at certain times of the year, with the concrete beams that run across the space also serving as baffles. Photovoltaic panels are included on the south face to provide hot water in the studio, while the rear building has heating and hot water supplied by solar thermal panels.
Natural ventilation comes via actuated roof lights and manually openable windows and doors, which have perforated night security shutters for cooling and recharging the thermal mass. In summer, a smart ventilation controller – part of the heating system – is used.
Elsewhere, 6a created vents by directly drilling perforations through the walls, both inside to out and internally, thus avoiding unsightly, applied vents. Air quality sensors allow occupants to check the internal air conditions and take action if necessary.
Continuing the fabric-first approach, the insulated concrete and blockwork has triple-glazed Accoya windows, designed by 6a with an oiled finish to tone with the concrete.
The result is a studio and office environment that is calm, comfortable and flexible; as Emerson says, it's a complete inner world for Teller that can move from festival-like to almost monastic as required.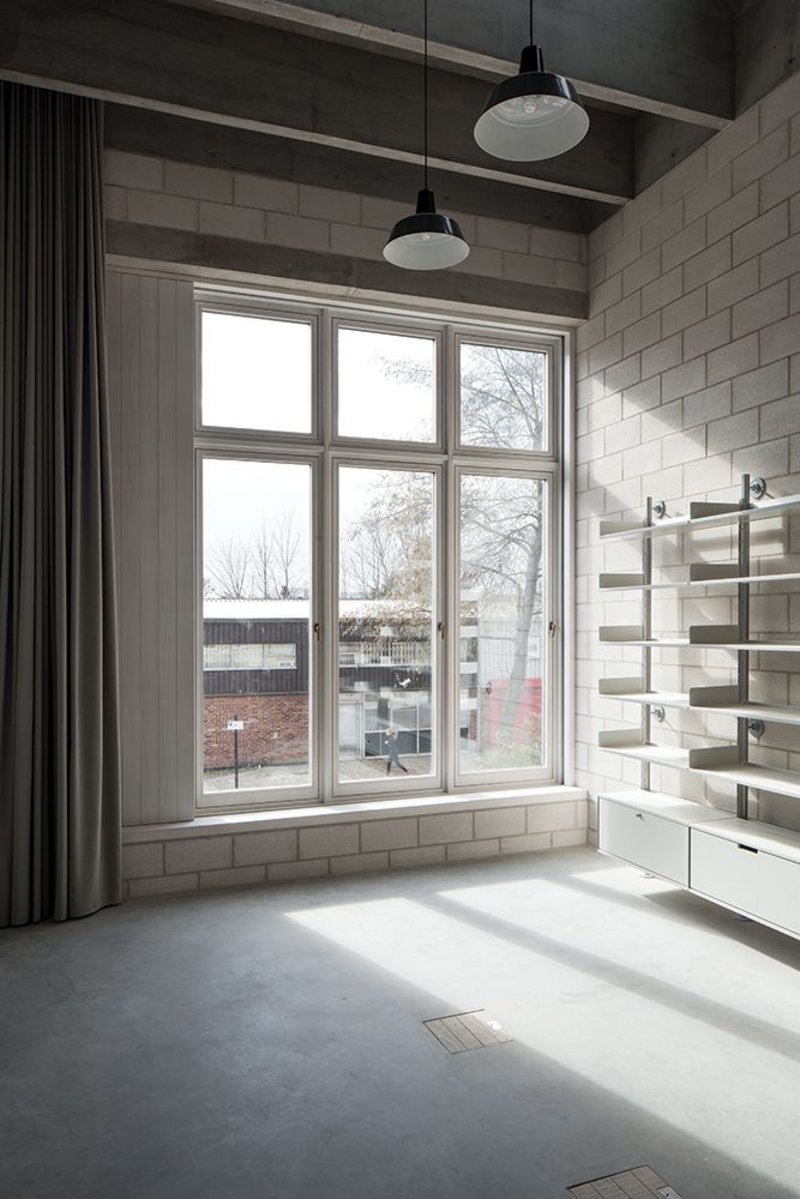 The pared-back aesthetic of concrete block and screed floor might be simple, but it is uncompromised, highly considered and detailed.

Credit: Johan Dehlin
So much concrete raises sustainability issues that the design team has reconciled with the building's expected longevity. This will be assisted by the incorporation of a service trench, made of formwork from the concrete casting, that will run the full length of the building and give occupants the flexibility to upgrade services and technology as these inevitably change over time. It was in here, rather than in a more conventional location, that Teller chose to photograph Emerson.
'We're talking about a building that will hopefully last for 100 years, and in that time frame, performance far outstrips embodied energy,' says Emerson.
'We and Juergen were very keen to reach the best environmental performance in a building that is easy to use inside and out. Sustainability is embedded without explicit expression and, rarely for us, was built without compromise. Teller was committed to the end.'
Credits
Architect 6a architects
Landscape design Dan Pearson Studio
Structural engineer Price & Myers
Environmental engineer Max Fordham
QS Gleeds
Main contractor Harris Calnan