Safety sits at the top of the specifier's agenda, but how do you keep informed, maintain trust and juggle other pressures such as cost? A roundtable came up with some ideas

Left to right Fionnuala Murray, brand executive, Keystone Group; Nia Rodgers, senior architect, tp bennett; John Duffin, managing director, Keyfix; Alex Spinks, head of technical management, Fairview New Homes; Martyna Kielbasa, senior design & technical manager, L&Q Group; Simone de Gale, chair; Bernadette Barker, RIBA expert, Barker Consultants; and Craig Renton, architect and consultant.
At a time of increased scrutiny of fire safety, what is the best practice for architects when specifying non-combustible cavity tray systems? That was the subject of a RIBAJ/Keyfix roundtable discussion that sought to identify the difficulties and find a better way forward for manufacturers, specifiers, clients and occupants alike.
Designed to collect water that has penetrated the external skin of a cavity wall, cavity tray systems are one of the few products that pass through vertical fire barriers around the whole building. If specified and installed wrongly, these can compromise build quality and safety, increase insurance costs and compromise homeowners' warranties.
There was general agreement that problems arose from the use of 'equal or approved' in the building specification, which can lead to minimum selection standards when an A1-rated product may have been the original choice. This introduces more potential for things to go wrong, such as incompatibility with other specified materials, unless the substitutions have sufficient scrutiny.
Participants were not necessarily in favour of the removal of 'equal or approved' given the need for flexibility when there are supply chain issues. But they agreed there was a needed for greater awareness of the implications of substitutions, and crucially who was taking responsibility for the approval of these. Too often this is left to the site team or a subcontractor. Time also needs to be allowed in an architect's contract for them to carry out their due diligence and replicate their research when a product is substituted.
Perhaps architects have to learn to allow for this in their fee, suggested one participant. Is there a way of better encapsulating what the architect required in the equal or approved specification, perhaps with some form of checklist to prove that a substitution is equal?
Architects wanted to be confident that they were specifying a totally tested, robust, warranted system
'You have to define what you're asking for equivalence on,' said one. Why not, asked another, require guidance to be 'equal and approved' instead? Getting building control involved from the earliest stage could also help with compliance and embed the product you want in the spec. One housebuilder had avoided the use of 'equal or approved' substitutions by standardising its own detailing and issuing them in instructions to architects as guidance. This had, they said, improved the quality of build.
Architects wanted to be confident that they were specifying a totally tested, robust, warranted system with reasonable conditions for that warranty.
It was clear that a greater flow and use of information in all directions would help architects understand the nitty-gritty of the products they are specifying and how they are used. All systems on the market achieve minimum standards and have differing approvals, but how can a product that is cut, shaped and bonded together with tapes or mastics be considered equivalent to a fully designed, itemised, detailed and supplied system.
Knowledge of the benefits of cavity tray systems and where to use them is particularly important, said one architect, when they can be under pressure not to use them.
'Let's have all the knowledge we can. Let's understand the product you are choosing,' said one architect – and let's ensure those proposing a specification change have the same understanding, which is quality- rather than price-led.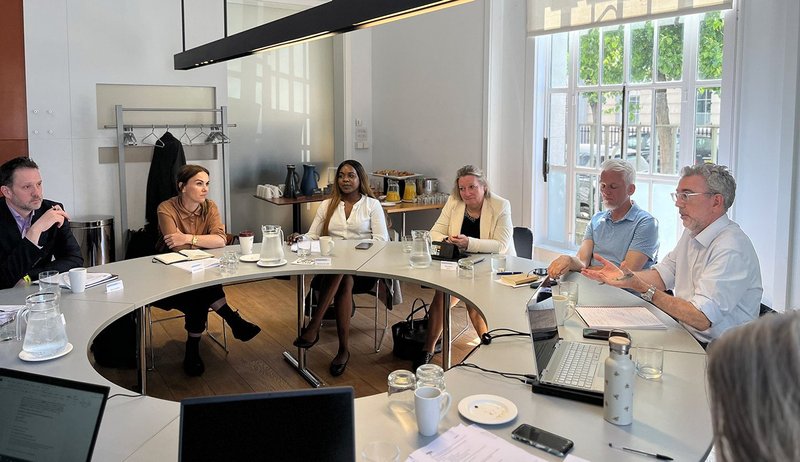 So what do architects want from cavity tray manufacturers to help with their specification? Early engagement with manufacturers, before order stage, would enable architects to be better informed when writing their technical specification. This should include the full technical design specification and schedule, including fixings and corner and reveal details, and BIM information and drawings rather than rolls or lengths of product to be formed on site sometimes in less than desirable conditions. They want to know how it is assembled and disassembled, as well as details of the system's embodied carbon, toxicity and renewable content. And they need to know the product's durability and lifespan – it has to be compatible with the lifetime of the building. Brick facades should last hundreds of years so the non-maintainable components in them should too. And they want the manufacturer to be willing to develop the product and work with the architects 'on the hoof' if required.
As well as knowing what the product can do, architects at the roundtable want to know what would happen if anything did go wrong after the end of its, or its components', shelf life. Long term access to information on the system specified and its warrantees was also identified as important.
And what do manufacturers want from architects? For Keyfix, it is important that architects have taken the time and made the effort to understand the issues in cavity tray specification, and 'back us up' by acting as ambassadors when a substitution is proposed to a less high performing product, rather than 'going straight to the bottom'.
Feedback from specifiers was also invaluable to help them improve product performance.
As one participant said, it's about 'opening up the discourse for learning' in both directions.
This will ensure that lessons learnt and technical considerations are shared to help move forward together and ensure that all systems are compatible and complementary with an ultimate aim of achieving best practice and building integrity.
This RIBAJ event was produced in association with Keyfix