Knauf AMF's Heradesign acoustic ceilings and wall absorbers create a nurturing, productive environment for University of Cambridge researchers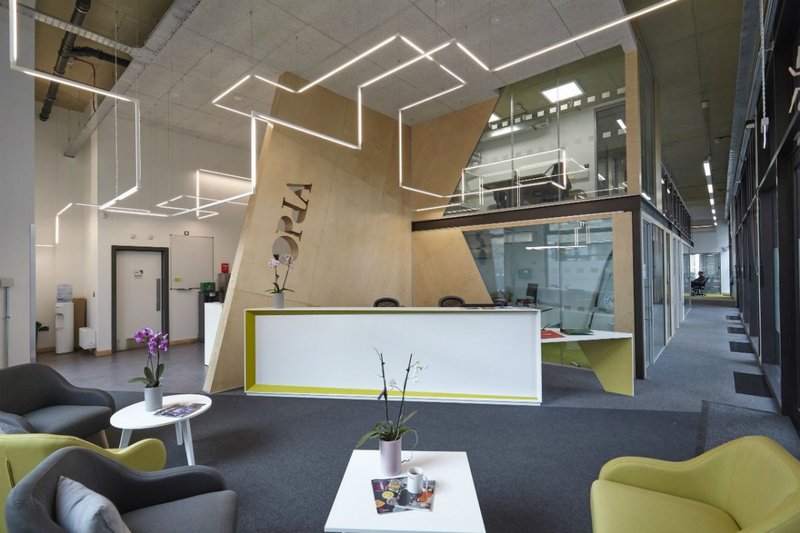 University of Cambridge open plan reception area with a Knauf AMF Heradesign ceiling raft.
The purpose-built Office of Postdoctoral Affairs at the University of Cambridge creates a nurturing environment for some of the world's brightest minds. Its bespoke support facilities help stimulate thought, share knowledge and provide networking opportunities for those playing a vital role in the university's world-class research.
As part of its aim to create an organic, raw aesthetic of exposed services and uncamouflaged building materials, Saunders Boston Architects chose Heradesign acoustic ceilings and wall absorbers from Knauf AMF. Heradesign is manufactured from sustainable wood-wool sourced from PEFC and FSC certified forests and is a popular choice for specifiers who want to produce a simple, less processed look.
Visitors to the Office of Postdoctoral Affairs enter an open plan reception area where a Heradesign ceiling raft provides Class A acoustic control and creates visual impact. The raft comprises individual panels fitted to a concealed grid to give an almost continuous appearance. It is hung using discreet wires so it looks as if it is floating, creating a visually striking feature that integrates with the exposed services and lighting.
This organic design continues into the centre's multi-functional spaces and circulation areas. There is a large meeting room with particularly challenging acoustic demands because it can be divided into two. Heradesign ceiling rafts and wall absorbers provide the additional acoustic control, limiting the transference of unwanted sound from the adjoining space and from nearby stairwells.