Soft fabric and bendy poles could make much more robust structures than traditional stiff materials do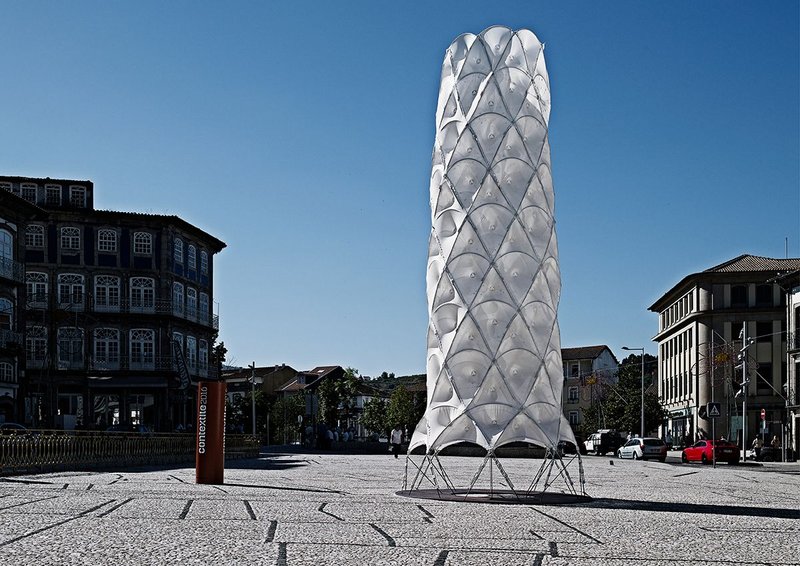 Is the global paradigm for designing robust and stiff structures wrong-headed? What if we built instead using soft materials able to move and react to forces in a controlled way?
That's the question being posed by architects and designers at Denmark's Centre for Information Technology and Architecture (CITA), an innovative programme at The Royal Danish Academy of Fine Arts, which has constructed a 30ft-tall tower made of bendy rods and knitted fabric.
The team employed cutting edge design and fabrication methods to construct a hybrid tower using soft structures at an unprecedented scale, in the process opening up new opportunities for the use of textiles as a building material.
Martin Tamke, associate professor at CITA, told RIBAJ: 'As a team of architects and designers, we wanted to be able to specify a structure made of soft materials, but membrane structures are typically stiff, using plastics or PVC. We decided to develop a number of processes and tools to make, test, simulate and build with fabrics.'
The structure comprises a diamond-shaped lattice of bent glass fibre reinforced polymer (GFRP) rods integrated with a stretched knit of custom-made CNC. Materials are extremely lightweight and form a stiff structure able to withstand significant external forces through compression and tension.
According to CITA, the most obvious real life applications for the system are facade screens or indoor elements, such as blinds. The knit is permeable, and able to block out sunlight, to a degree; however, it is not watertight, which could restrict external applications. The structure's dynamic reaction to wind forces, compared to stiff structures, could offer particular opportunities for architectural expression.
The knitted skin was produced as a single pre-stressed element that was rolled into shape, tensioned, then transported and erected on site.
Tamke adds: 'Working with fabrics you normally have to choose from a set of off the shelf products and cut, patch, seam and glue. But with this technology we can knit every detail into membranes with bespoke properties. There's no need to cut anything, the entire skin is produced in its final form. This approach is very sustainable as it reduces the number of off-cuts in the factory and the material performance can be made specific to the conditions on site.'
CITA is now looking to extend the project, potentially in collaboration with new partners. The design tools it developed are open source and already being exploited by other architects and engineers. They are being used by a team at the University of California, and a group at Format Engineers, based in Bath in the UK.
'It's really nice to see our work really helping others solve related problems,' Tamke concludes.
---