Don't just leave it to the cost consultants. Chris Dolling of the BCSA explains what architects need to know about costing steel, and we look at the latest tender price forecasts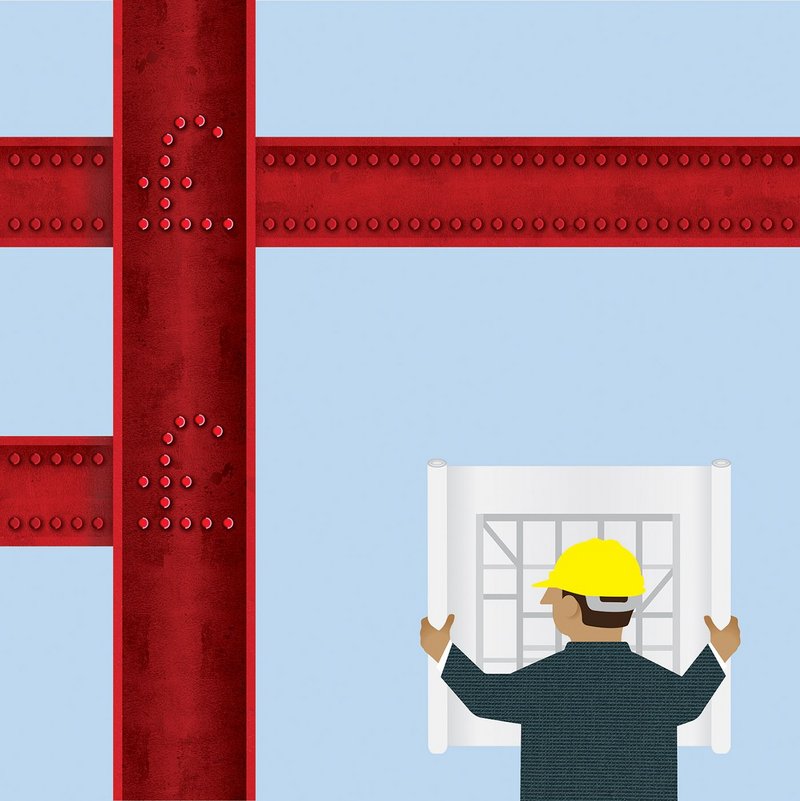 Credit: Illustration Gemma Robinson
While architects don't need to know in detail how to cost buildings, if you want to avoid a nasty surprise when the tenders come back in, you do need a general understanding of the cost impact of the concept design decisions you make. This is especially true on smaller projects which may not have a cost consultant.
Frame choice has a huge impact on design decisions from foundations to cladding as well as the construction programme. Since it is rarely changed at a later stage, it's important to have a clear idea of the cost implications when the initial frame decision is made.
At an early stage, cost consultants use cost models, historical data and benchmarking to arrive at a rate per m2 based on gross internal floor area (GIFA) before refining these to suit the particular project and market conditions. At a later stage, when the primary and secondary members have been finalised, the cost consultant will measure the length of each structural member and multiply it by the relevant weight in kg/m before applying a cost per tonne to each frame element.
Key determining factors
The key steel cost drivers below remain the same whatever the trends in tender prices.
Location This is a major cost variant. Indices such as those produced by the BCIS provide cost adjustment factors for location; for example Belfast is the cheapest place in the UK to build, while the City of London is by far the most costly.
Logistics Site specific conditions are also relevant when it comes to costs. Whereas there might be easy access when building an isolated business park, the restraints of a busy city centre site can have a major impact on the installation programme because of limitations imposed on deliveries, storage, noise, craneage and working hours. Less constrained sites might also allow more standard framing solutions while those requiring non-standard grids will reduce the level of repetition and so increase costs.
Function, sector and building height Due to their different usage and subsequent varying frame weight, sectors can show a wide disparity in typical costs for the same floorspace. Longer spans – particularly desirable in speculative commercial spaces – generally mean heavier sections and a heavier overall frame, although cellular beams can lead to subsequent savings by reducing the depth of the floor and services zone. An industrial shed, for example, might have a frame weight of 40kg/m² GIFA compared with a long-span city office building's 90kg/m² GIFA. Overall building height is another important factor since a higher steel frame weight per kg/m² is required on multi-storey construction.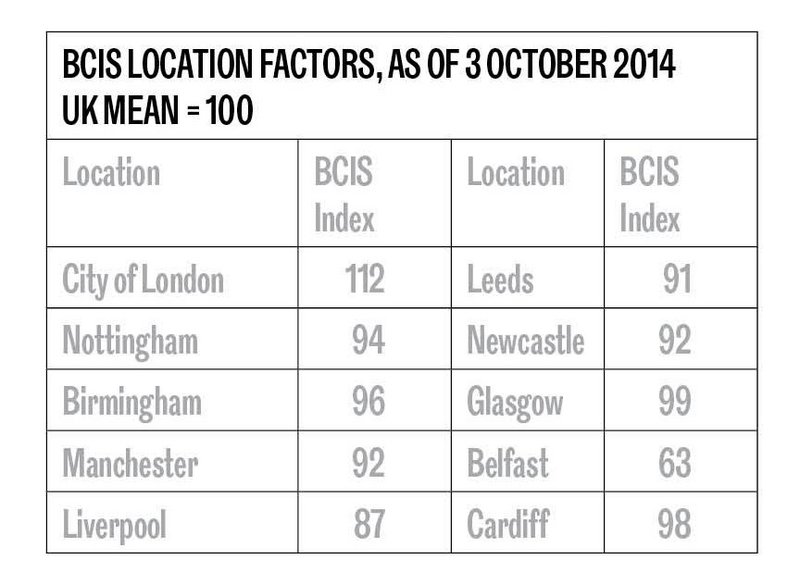 The table below gives indicative costs for three types of multi storey building and two types of industrial steel buildings.
Building type Particular sectors have special cost factors to consider for steel. Both healthcare – in particular hospitals –and education buildings require a mix of facilities that will often use different grids and loadings and will be outside standard cost ranges. In both these sectors, partnering and framework arrangements are common – which may mean that costs have already been set out for a number of projects and will have a bearing on initial estimates. Education buildings can also be subject to costs associated with a timetable driven by the academic year.
Form and complexity Form is often more relevant than the quantity of steel involved since simple steelwork is far cheaper than complex designs. Complex forms generally increase the need for non-standard sections and connections, and may require more complex structural solutions such as transfer structures and fabricated beams, which will also push costs higher. Varying the floor-to-floor heights can also have knock-on effect on other costs such as substructure and cladding.
Likewise, buildings with a high degree of standardisation are more likely to conform to traditional build costs.
Structural frame cost breakdown
Minimum weight doesn't necessarily mean minimum cost. Raw material proportionally accounts for just 30-40% of the total steel frame according to the BCSA, with fabrication accounting for a similar proportion followed by fire protection and erection at 10-15% each. Steel design and engineering accounts for 2% and transport for the remaining 1%.
Common pitfalls
Beware simplistic comparisons with the costs of previous projects. It's tempting to look at a superficially similar project of twice the size and estimate that the steelwork for the new project would therefore cost roughly half as much. But that doesn't take into account all sorts of factors such as the size of spans, fire protection, cladding, service integration, and overall construction programme. For specialist systems such as cellular beams, shallow floors or steel bearing piles, the cost of the system itself should not be looked at in isolation but considered in tandem with the many implications of the choice. The most cost effective solutions are those that achieve the best balance between the product cost and the fabrication/erection time.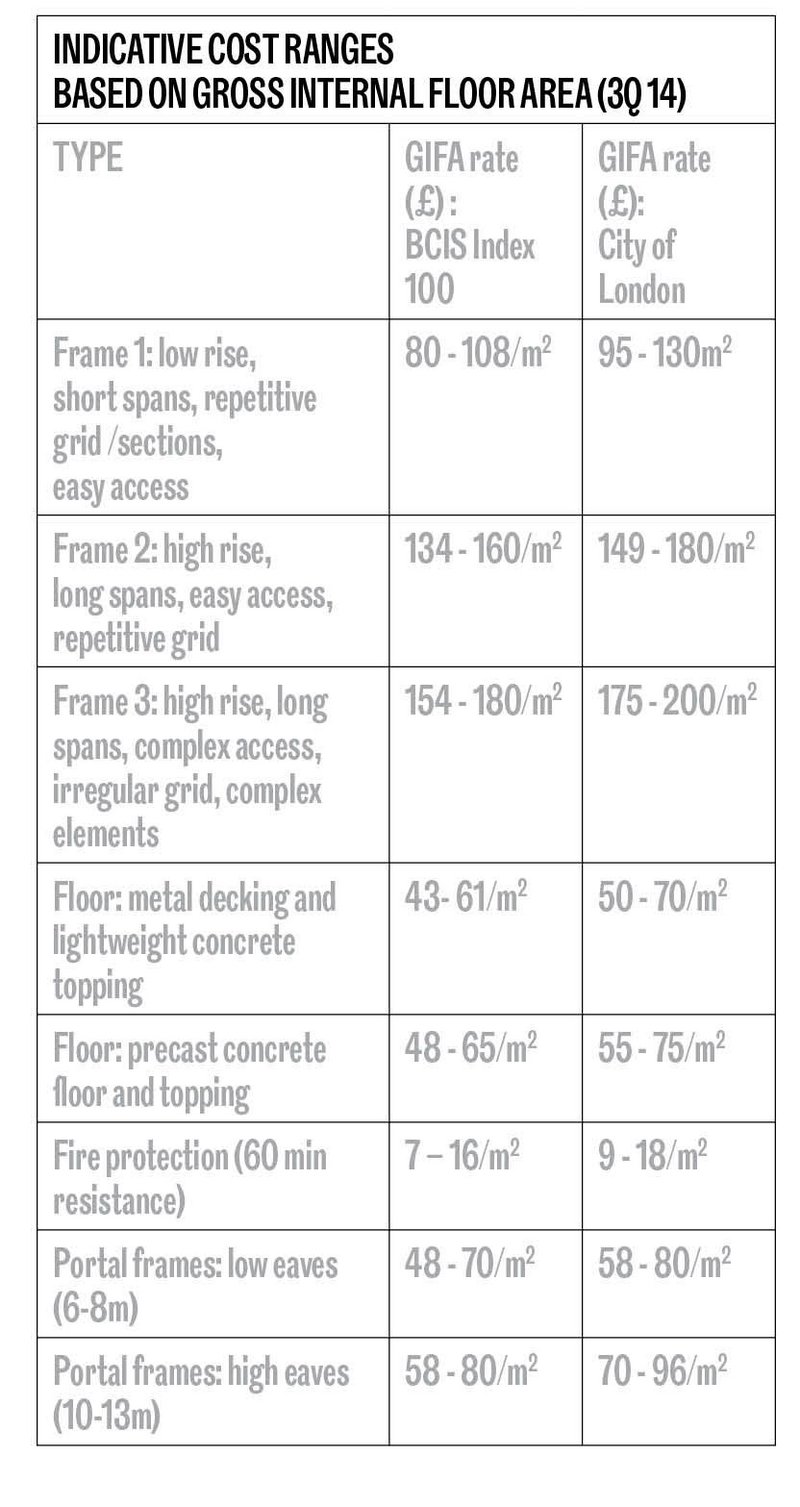 Tender prices on the rise
Tender prices are generally on the up according to the latest market figures from Gardiner & Theobald (G&T). The firm forecasts a 4% rise in average tender rates across the UK in 2014 followed by 3.5% in 2015 and 2016 and 4% in 2017. In London, the increase is 6% for 2014 then 4.5%, 4% and 3.5% for the next three years.
Development activity has been particularly strong in the residential sector in London and the south east, but major regional cities have also shown growth. G&T senior associate Rachel Oldham expects demand for commercial space and infrastructure work to rise in the near future.
With five year cumulative rise forecasts of 22% for the UK, substantial inflation allowances should be built in when costing projects going out for tender in the future.
'With the decision on which framing material and configuration to use taken quite early in the process, it can be difficult in changing market conditions to identify the most cost effective framing solution. So it's important to keep talking to the supply chain to understand lead times and how the market is changing,' says Oldham.
Structural steel and concrete both showed tender price rises for the second and third quarters of 2014 in response to increased demand in the commercial sector in particular, according to cost indices from the Department for Business, Innovation and Skills. Compared with the start of the year however, structural steel prices remain at a similar level while concrete and cement have risen by 3% and 5%. Manufacture of structural steel sections increased in price by £20/tonne in May 2014, and the BCSA expects structural steelwork prices to increase steadily in comparison to other construction materials.
G&T's research is in the latest version of Steel Construction: Cost, published by BCSA and Tata Steel. This also includes an update of its ongoing study on comparative framing costs, which shows that steel remains a competitive framing material. Below are rates for Q3 2014 on GIFA basis for a City of London location.
---
Click here for your digital page turner.
---