Clever engineering allows Aecom's curved hovering footbridge to open dramatic river views for Belfast's commuters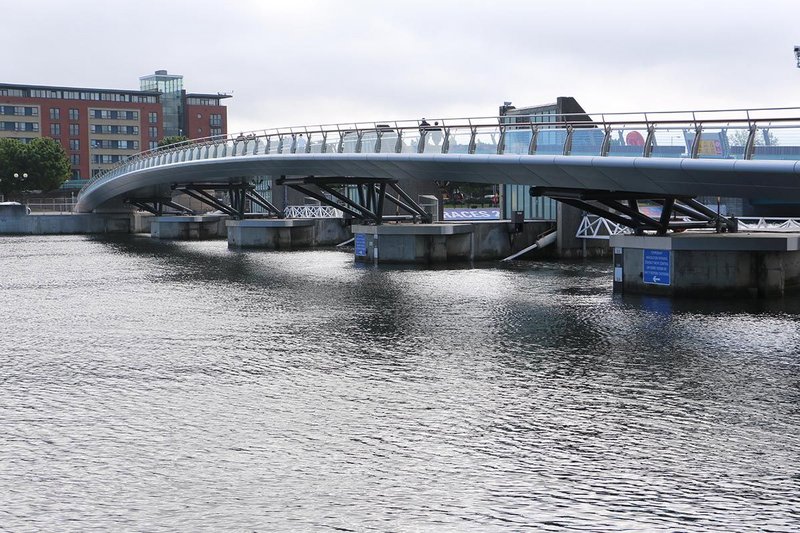 An elegant 'hovering' footbridge, cantilevered from the top of the Lagan Weir in Belfast, provides dizzying views of the city and the river below.
Designed by Aecom, the 120m-long, blade-shaped structure runs from Donegal Quay on the north side to Queens Quay to the south, and replaces a horizontal trussed footbridge that was built as part of the original weir in 1996.
At just 2m wide, the bridge had become too narrow to accommodate escalating numbers of pedestrians and cyclists using it as a key route into Belfast city centre.
The new, wider, bridge is designed around a principle of 'elegant simplicity' and follows a curved vertical gradient from one bank to the other. In plan it is asymmetrical, widening from 6m on the city side to 8m a quarter of the way across, at a bend in the river, where visitors can linger and enjoy the best views towards the city, before tapering back to 4m wide on the opposite bank.
'Our points of reference were structures like Santiago Calatrava's bridge over the Grand Canal in Venice, rather than landmark celebratory footbridges with large masts and visible cables,' said Trevor Leaker, project director at Aecom. 'By concealing most of the structure beneath the bridge it would become celebration of the movement of people and bicycles across it.'
Support for the bridge, and its large cantilever, is provided by an intricate structure of steel hollow section 'trees' that fan out from fixed points on top of each of the four large concrete piers making up the weir.
'Our engineers had to design it so that the piers could simultaneously absorb the horizontal force of the river in full flow, when the gates are shut, and the force of the cantilever with the potential for heavy crowd loading on the very outside edge,' said Leaker. 'The structural members of the trees anchored to the weir are constantly in tension and effectively hold the bridge down.'
The entire structure is enveloped in aluminium cladding, with a glass parapet installed on the downstream side, designed to maximise views, and a stainless steel post and wire system on the west parapet. 'Upstream, the bridge bows out from the weir to give visitors great views of the weir itself – which is an interesting mechanical structure – and the water cascading through it,' said Leaker.
The bridge was load tested with 100 water containers, equivalent to 100 tonnes of live loading. But the real test came on the day it was opened, when an impressive 160,000 people walked across – delighted, no doubt, to have their scenic route to the city back in better operation than ever.