Contractor says the move will cut its embodied carbon by 28 per cent but concedes that low-carbon concrete is only a 'short-term' solution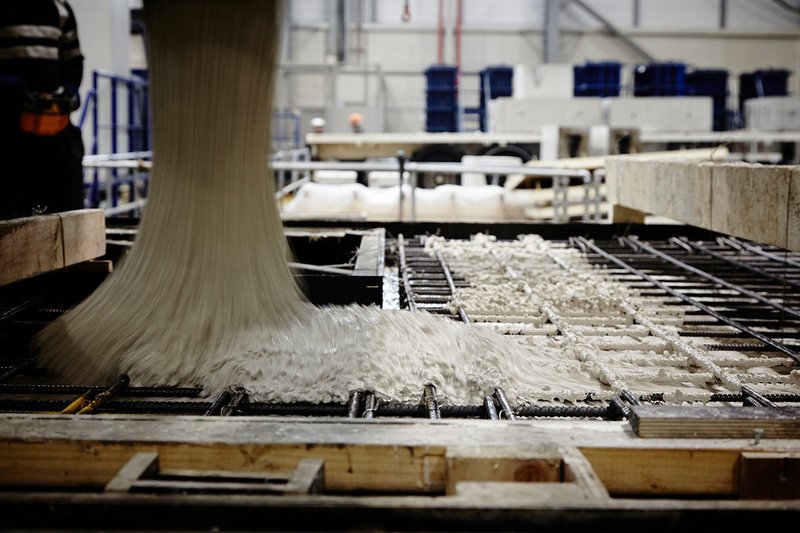 Using 100 per cent low-carbon concrete is expected to cut embodied carbon by 28 per cent, based on Laing O'Rourke's concrete use in 2022.

Credit: Laing O'Rourke
Construction company Laing O'Rourke has mandated an immediate switch to 100 per cent low-carbon concrete on all its UK projects that began construction from April this year.
The move is expected to reduce embodied carbon by 28 per cent, based on the company's concrete use last year, equivalent to planting 120,000 trees or 94ha of forest.
The decision is the result of a long-term research programme, co-funded by the contractor and Innovate UK, in collaboration with the University of Cambridge and Sheffield University's Advanced Manufacturing Research Centre.
Laing O'Rourke has committed to becoming a net zero company before 2050 and has said the greatest challenge is reducing its Scope 3 emissions related to embodied carbon in purchased materials. (Scope 3 emissions are defined under the Greenhouse Gas Protocol, the world's most widely used greenhouse gas accounting standards.)
The firm's low-carbon concretes incorporate alternatives to Portland cement, including industrial by-products such as ground granulated blast-furnace slag (GGBS) and pulverised fly ash. They cover a range of strength classes and meet a minimum Grade A standard, as defined by the Institution of Civil Engineers in its low carbon concrete routemap.
Grade A concrete should deliver between 5 and 20 per cent of the carbon intensity (measured in kg CO2 e/m3) of standard benchmarked concrete, depending on the strength class.
According to Laing O'Rourke's head of sustainability for Europe, Rossella Nicolin, the R&D team is now working on entirely cement-free alternatives to concrete, which is important, she says, 'because we know that GGBS and PFA are short-term solutions and finite'.
The Institution of Structural Engineers has said that current methods of replacing cement with slag and fly ash are inadequate due to their small and declining supply. One recent study calculated that GGBS could not replace more than 10 per cent of the Portland cement produced worldwide.
Nicolin told RIBAJ that adopting low-carbon concrete 'doesn't mean that everything is resolved'. Architects, engineers, contractors and suppliers still need to work together, she said, to ensure that design for embodied carbon is considered from the outset to 'reduce materials quantity as much as possible' before considering the use of low-carbon concrete.
Laing O'Rourke's low-carbon concretes have been developed by in-house concrete technologists, including those at its advanced manufacturing facility in Nottinghamshire. Supply chain partners have demonstrated 'no issues with workability shrinkage, durability or performance', said Nicolin, although using the material may affect curing and project programmes.
The contractor is a founding member of the Concrete Zero partnership, which requires its members to commit to using 30 per cent low-carbon concrete by 2025, 50 per cent by 2030 and 100 per cent by 2050.