Czech practice Brainwork has created a series of large 'glass eyes' along the capital's Vltava river embankment, providing the focus of a new cultural hub
'I like the fact that this project was born of nascent independent cultural activities by local organisations, but ended up being supported and developed by the municipality as a key way of improving Prague's city centre public space,' says Petr Janda, Czech architect and founder of Brainwork studio, who co-initiated and designed the Prague Eyes project.
Janda, who studied both architecture and sculpture, has been running his practice since 2008 and collaborating with a number of independent Prague cultural promoters. Together with one of them, Ivo Slavík, he grasped the potential of Prague embankment (Náplavka) 12 years ago when the site, in the historical centre of the Czech capital, was used just for parking cars and materials storage.
'Around 2007, we were discussing what new cultural activities might take place on the riverside, which at the time was completely underused,' says Janda. 'We wanted to initiate a process of converting the riverside into a cultural and public recreation space. In a way, Prague Eyes had been around since then.'
By 2009, the project was designed and showcased internationally, covered by blogs and magazines, and the city seemed fascinated by the simple but striking architectural solution. In the meantime, the Prague riverside underwent a lot of changes. Farmers markets, kiosks, restaurants, sport facilities, galleries and shops spread around it, turning it into one the country's most visited destinations.
'Over that time, we worked on a number of projects to make the riverside as cultural as possible,' says Janda. 'We built a floating platform, called (A)Void, bringing boats to the riverbank, where we organised concerts and exhibitions. Over that time Prague Eyes was also gestating but had to wait another 10 years from idea to realisation.'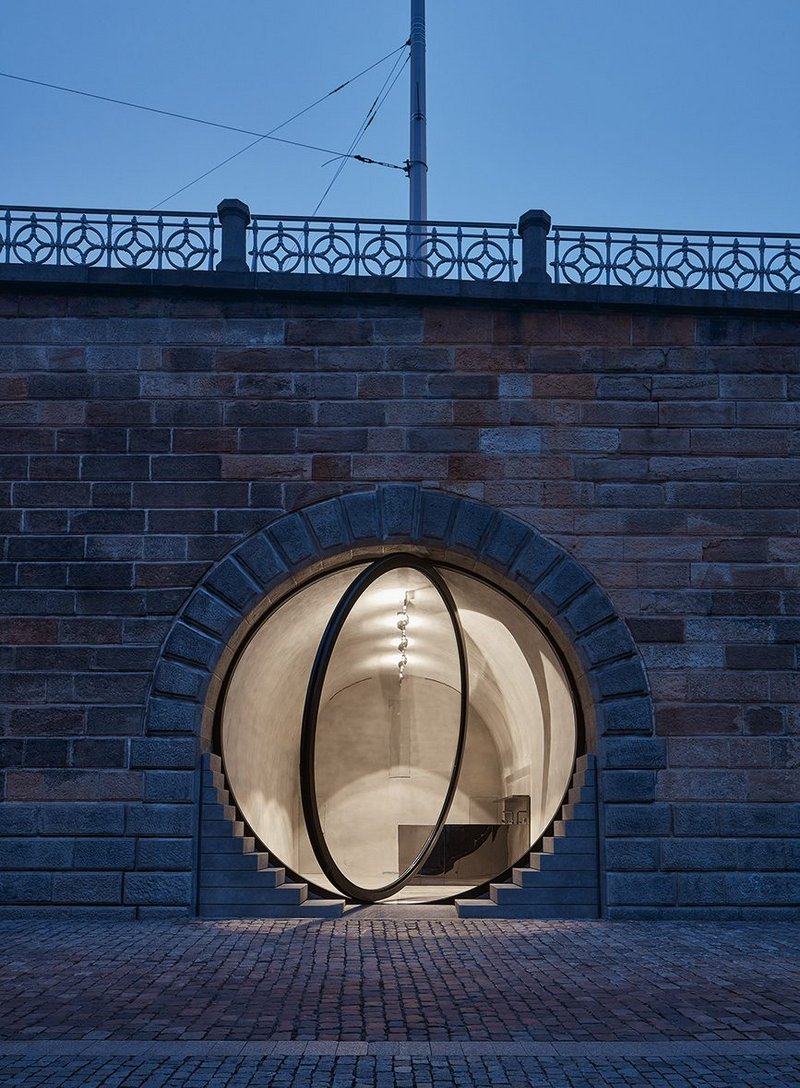 The pivoting doors, accessing lettable multifunction units along the riverfront, each weigh in excess of 2.5 tonnes.

Credit: BoysPlayNice
The (A)Void initiative was very well received by the Prague municipality, which decided to put through embankment funding to establish the largest and most expensive public space intervention in the city since 1989. This phase completed two years ago as a series of 20 spaces running along the river as rental units for business and cultural use and was longlisted for this year's EU Mies Award. 'It's an ongoing project with new spaces, completing in three stages with more construction to come,' Janda adds.
Prague Eyes is a symbol of local renewal and marks a renaissance for public space in the city. The embankment itself, constructed in the 19th century, was built for loading and unloading goods. But by the 20th century, its large, vaulted spaces tucked within the high riverside walls were mostly empty or used as ice-houses. Their reuse as cultural and entertainment spaces chimes perfectly with the changes to the Prague riverside in the last decade.
Janda says the idea itself came about quite quickly. 'My thought was to create bays along the riverside which would open to a public walking and relaxing on its paths,' he says. 'The large glass openings were seen as forms that corresponded with the original urban context and purpose of the spaces. While the technical design was complex, the biggest challenge was bringing the Prague municipality on board in the first place.'
His aim was to create a design that integrated into the existing environment of the riverside wall. 'All embankment elements are designed as a symbiotic fusion with the original architecture of the embankment wall into which they grow and, via small interventions, they create a monumental whole,' he adds. Entrances to the six main spaces of Rašín embankment are based on completing the geometry of the existing tunnel-like openings.
'Its glass portals are fabricated as bespoke steel frames of low-e glass, each weighing more than a tonne,' explains Janda. 'The composition of the openings themselves is framed by stone stepped forms at their bottoms, which actually hide access to a services shaft under the portal, containing air vents and flood protection measures.
The seemingly simple circular glass openings were, in fact, extremely difficult to manufacture, requiring specialised input from Czech and international subcontractors, with local firm Sipral Construction developing the bespoke circular steel frames. Janda says glass specification was very problematic, with standard flat glass only being produced in maximum widths of 3.2m. So they had to find a suitable producer of 'organic' glass able to take on the project. In the end they went to American company Reynolds Polymer Technology, which manufactured the glass in Thailand before, aptly, delivering it to the site by boat.
The resulting elliptical pivot windows each have a 5.5m diameter, a 70mm thickness and, together with the frame, weigh more than 2.5 tonnes, making them probably the largest pivot windows in the world. Janda describes this aspect as the project's most difficult challenge. Movement of the doors is solved by actuators, with windows fixed in a 60-degree 'open' position, with some of the doors opening via motion sensors.
A different approach was used on 14 spaces on the opposite side of the river. Instead of large glazed openings, Janda designed bespoke curved metal gates.
In these spaces, some containing public WCs, entrance wings pass in an arc into the interior membrane separating cubicles from the public anteroom.
Spaces can, at any time, serve as cafés, clubs, studios, workshops, galleries, a local library and neighbourhood meeting rooms. 'The architectural solution works with an amount of modular diversity,' says Janda, 'with their rental linked to a detailed use specification, which includes items such as operations or technical kit. An operation and maintenance manual was devised, stating where additional elements like mezzanines or exterior terraces are allowed to be positioned.
Janda's work on Prague embankment is ongoing with more projects and smaller-scale improvements in the pipeline. 'I'm really happy about the outcome,' he declares. 'We see it as another step to make our public spaces better, more functional and beautiful.' The next phases of the revitalisation will, he says, see street furniture, free-standing toilets, floating baths, a floating jetty and a toilet block, as well as looking at the lighting system and public safety aspects. One aim is to reduce the number of boats and pontoons moored on the embankment so as not to block the contact between the newly opened vaults and the river itself. But whether there necessarily needs to be a disjoint between the concept of a working river and technically advanced architecture as a catalyst of cultural and spatial renewal is perhaps an issue that the always-engaged Brainwork can address in the future.