Lazenby's aesthetically pleasing concrete captures the imagination at White City Place; the ambitious scheme redesigned by Allies and Morrison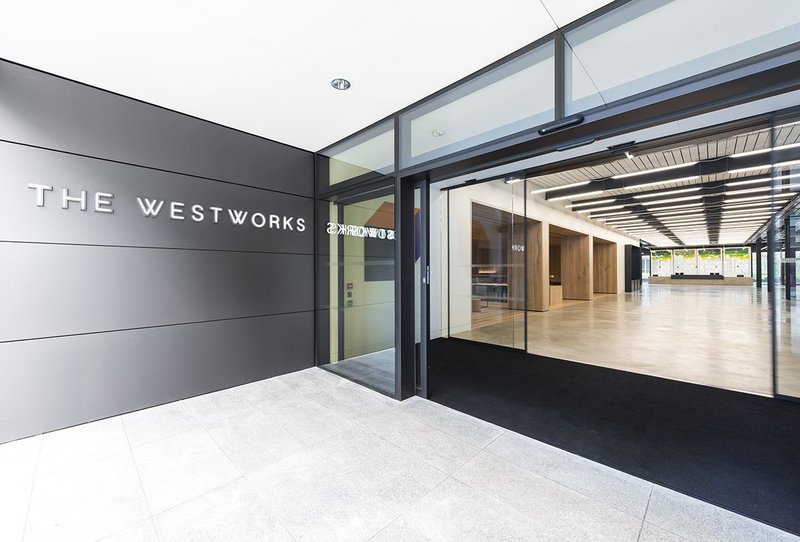 Lazenby's Cool Grey Polished Concrete.

Credit: Jeremy Phillips
Lazenby has installed a range of concrete products into The WestWorks development, west London, as part of the White City Place scheme. The project showcases Lazenby's Cool Grey polished concrete floor as well as a cast in-situ reception desk and restaurant counters. The company's complementary Fossil-coloured concrete, Cool Grey's pre-cast equivalent, was specified for the stair treads.
More than 1,200m2 of polished concrete has been specified on the ground floor, with a further 52m2 on the first floor. The Cool Grey polished concrete was laid 100mm deep over a concrete sub-base and incorporates a complex joint plan to maintain and enhance the clarity of the architectural lines. The floor was installed over a two-week period by an expert team of six.
The 90 identical Fossil pre-cast concrete stair treads were also manufactured and installed by Lazenby for The WestWorks' internal feature staircase. Each tread was inlaid with parallel anti-slip strips; a feature designed to enhance the look and durability of the 2m-wide treads. The continuation of the Cool Grey and Fossil concrete from the ground floor, up the feature staircase and on the first floor gives the building a clear and fresh identity.
Lazenby's Cool Grey concrete reception desk at 7.5m long and two concrete restaurant counters at 4m and 5m in length, were cast once the polished concrete floor was complete. These architectural features were cast on site to ensure that each element was seamless, without the need for joint. Shadow gaps below each piece of furniture help to give the impression that the concrete is floating.
Looking outside, past Lazenby's concrete reception desk, visitors to The WestWorks look out onto a beautiful, newly planted, garden space with more Lazenby concrete installed as part of the project's design. Cool Grey polished concrete panels, each surrounded by marble-white pebbles, cover 220m² of this external space. More than 100 identical Fossil pre-cast concrete stair treads have been specified as part of the landscaping, along with concrete landings. The steps also feature parallel anti-slip strips. The project's main contractor, Lendlease, specified Lazenby to help capture the imagination of the people that work at The WestWorks and reach their new audience.
For more information and technical support please visit: www.lazenby.co.uk
Contact:
01935 700306
---