Discover the luxury pre-cast collection providing architects with bespoke features and furniture that can reshape interiors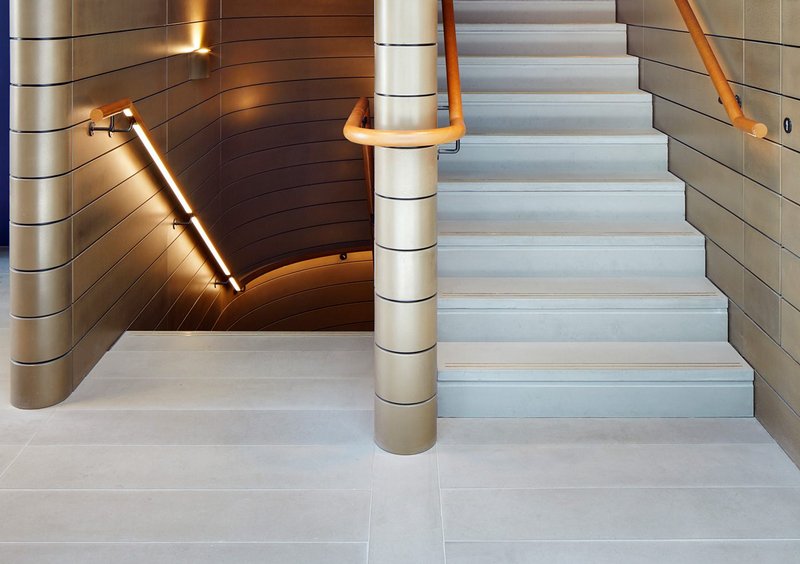 Having a moment: Lazenby pre-cast concrete stair treads at Walkers Court, London. SODA Studio.
Architects and designers are relishing the new possibilities provided by fully customisable pre-cast features and furniture.
Master craftsmen at concrete flooring and surfaces manufacturer Lazenby are using specialist techniques to create everything from tiles and sinks to bespoke furniture in colours that integrate seamlessly with traditional polished concrete floors.
'Pre-cast elements complement polished concrete flooring,' says Lazenby sales manager Ben Young. 'They're perfect for the cohesive, contemporary interiors so popular at the moment.'
Unlike concrete cast in-situ, which has long been a staple of commercial interiors, pre-cast elements are uniform in appearance, which makes them perfectly suited to tiles, stair treads and skirtings.
Tiles can be cast up to 1200x1200mm in size, while stair treads can be L shaped, flat or 'treads and risers' with nosings inserted into the concrete to comply with building control regulations.
Pre-cast tiles and treads come in a variety of finishes that blend good looks and durability.
A textured finish offers a slip rating of +36 PTV, which provides an anti-slip surface ideal for use outside or on stair treads. The result is sleek, contemporary and ideally suited to high-traffic commercial environments.
Lazenby's Yeovil factory is equipped to bring the most ambitious architectural concepts and high-end designs to life.
'The possibilities are endless when it comes to worktops, surfaces and bespoke furniture,' says Young. 'Our team can work from drawings or measurements to create the entire concrete design to the client's specification.'
Among Lazenby's most popular commercial products are concrete-clad reception desks. Its Glass Fibre Concrete (GFC) panels are thinner than standard concrete, which makes them lighter and more manageable.
With no need for steel reinforcements, Lazenby creates an opportunity for attractive design features such as 'shadow gaps', which give concrete-clad worktops and reception desks a floating appearance.
Paired with a colour-complementary polished concrete floor, the result is a strikingly modern and co-ordinated scheme.
'One of our favourite pre-cast products has to be our sinks,' says Young. Lazenby's sinks are completely bespoke and cast using GFC, making them ultra lightweight - and typically only 30mm thick - without compromising strength.
For commercial spaces, four, five and even six-basin sinks can be cast in a single piece with an industrial or contemporary aesthetic. With the right care and maintenance they can last for decades, even in a busy environment.
Lazenby polished concrete - pre-cast and in-situ - rises to the challenge every time.
For more information and technical support, visit lazenby.co.uk

Contact:
01935 700306
info@lazenby.co.uk
---