Innovative materials and methods, thought-provoking seminars and CPD opportunities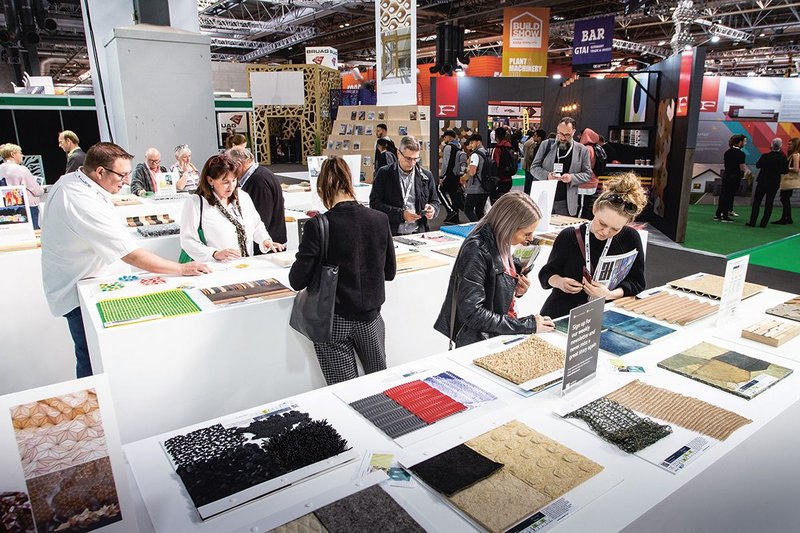 Materials Expo at the Surface & Materials Show.
With a focus on innovation, modern methods of construction (MMC), sustainability, the digital revolution and diversity in the workforce, UK Construction Week is now in its fifth year and will once again be held at Birmingham's NEC from 8-10 October.
For the second year running, the Material District exhibition is entirely dedicated to innovation in materials for architecture and design and features products made from recycled plastic, bamboo, glass, and coffee grounds. Whether you're looking for innovative cladding, coatings or flooring, a match-making service will help you to find exactly what you need from the latest products in the global marketplace.
MMC is a strong theme this year. Full-scale builds will be erected onsite with live demos of houses being assembled, BIM demos and simulations hosted at the MMC Hub. Examples of MMC-built structures at the show include a modular care annexe for the healthcare sector, a SIPs residential building, a factory-finished modular bathroom pod, and offsite solutions for the education sector.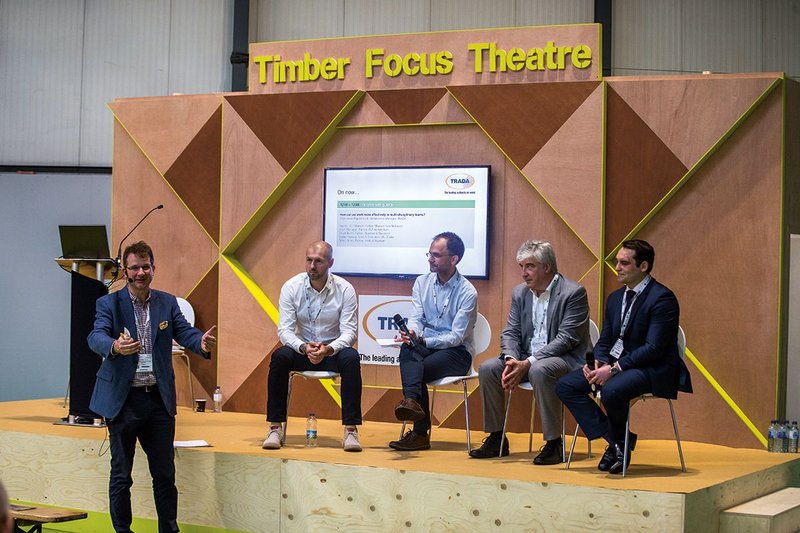 Presentation at the Timber Focus Theatre.
Take some time to visit the Timber section, where timber frame, SIPs and CLT will all be on show. And while you're there, try your hand at wood-bending with trained architect and eco-friendly artist Charlie Whinney – see what wonders you can create with a strip of ash and a simple steam machine.
Brush up on your knowledge with a packed three-day CPD programme. With more than 150 hours of CPD content available, this year's programme will adopt a different theme for each day of the show, tackling fire safety, health and wellbeing and sustainability. Learn about the strengths and weaknesses of different timber construction methods, and the impact of acoustics on wellbeing and carbon in the supply chain.
Don't miss the insightful line-up on the UKCW main stage throughout the show, with a raft of keynote talks and panel discussions as industry experts, commentators and disruptors discuss the most pressing issues affecting our industry today.
On day one, join George Clarke, architect and television presenter, and Mark Farmer, CEO of Cast Consultancy, for a seminar entitled MOBIE: Changing the way we design and build homes, as they discuss inspiring the next generation to design and build homes in the UK and overseas.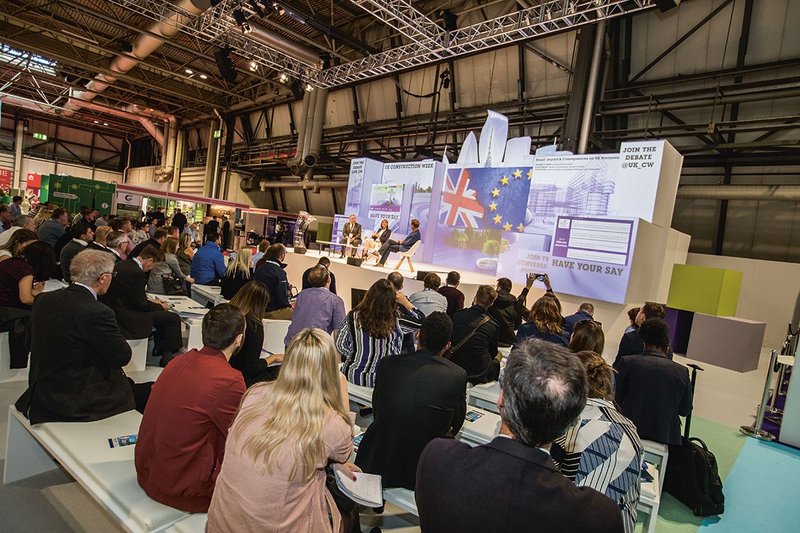 The main stage at UK Construction Week 2018.
On day two, join BBC presenter Steph McGovern, Simon McWhirter of the Active Building Centre, Joanna Ward of the All-Party Parliamentary Group for Cycling and John Alker of the UK Green Building Council to debate: 'What can the architecture, construction & engineering industry do to help tackle climate change?'
And if you ever fancied swapping jobs, don't miss Coventry University's immersive construction site experience. When did you last get to run a building site? The university's site simulator is hailed as one of the most powerful experiences of any construction show.
UK Construction Week is free to attend and includes multiple sections: Build, Building Tech, Civils, Energy and HVAC, Surface and Materials, and Timber. It also features the newly launched Concrete Expo (8-9 October only) and Grand Designs Live (9-10 October only).
Single registration gives access to all areas of the show. For further information visit www.ukconstructionweek.com