How a home renovation for the architect's parents became a major challenge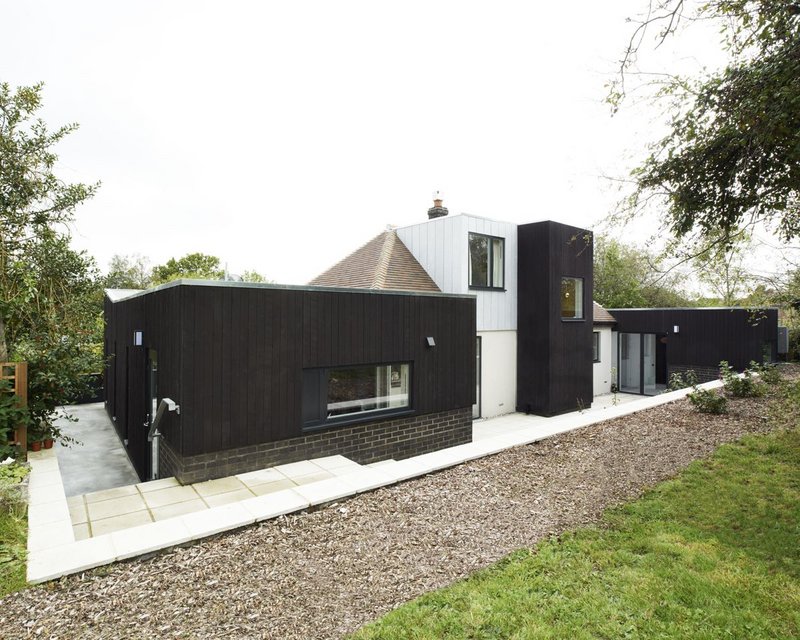 Credit: Vicky Thornton
Designing a new home for a relative can be testing for even the most experienced architect, but what if you have to live with them in the property during the renovation while experiencing the side effects of chemotherapy treatment for cancer?
Such was the challenge faced by Vicky Thornton when designing 'Bookends', a bungalow refurbishment and extension project near Hastings in East Sussex.
The existing 1930s-built property was purchased by the architect's parents as an accessible home for their retirement but needed extra space. Each side of the house was extended with a striking black box-shaped form, providing a bedroom, accessible bathroom and study to the west, and a kitchen, dining area and conservatory to the east.
Retaining most of the existing property helped speed up the build, Thornton told RIBA Journal: 'We could have taken route of knocking down existing building, but it was imperative to get on site within a year because my parents were getting less able and a new build would have involved a longer planning process ... it was also important to minimise embodied energy by retaining what was already there.'
The extensions are clad in black painted spruce, inspired by black fishermen's huts in Hastings and referencing the black and white half-timbered homes in the locality. A rough-sawn spruce was chosen to make the cladding look more rustic, even though the detailing is intricate around the windows and at junctions with coping.
'Although the fishermen's huts were probably blackened with bitumen to resist the harsh coastal conditions, we chose a natural linseed oil-based paint from Swedish manufacturer Falun, which doesn't blister and crack with heat absorption, unlike some other synthetic alternatives,' says Thornton.
Locally sourcing the spruce, as well as wood for the new timber frame, resulted in a £10,000 saving compared to the alternative approach of using cross laminated timber.
Despite suffering illness and sharing with her parent clients throughout the build, Thornton managed to complete the project on time, albeit with some niggles. 'As we were trying to get the building out of the ground, my parents started worrying about where furniture and lighting was going to go, which meant having to redesign the electrics at a late stage. Along with the cancer treatment is was a very intense period of my life and looking back it seems like it happened in a dream, but out of it came a house they absolutely love,' she concludes.
---