RH Partnership's light, bright residential block for the young Cambridge college connects existing buildings and performs for the future
An informal collective of female professors and students, Cambridge University's Lucy Cavendish College was founded in 1965 as a graduate Collegiate Society. It began admitting female mature undergraduates in 1972, only becoming fully incorporated as a college in 1997. That initial informality was reflected in the campus itself, explains domestic bursar Christine Houghton, with the college originally working out of three Edwardian villas in private gardens on suburban land west of the city centre, all owned by St John's College. This 'tenant' condition resulted no change to the campus in the interim, but when the nascent college was bequeathed an adjacent villa and St John's then sold them the freehold of the others, development could begin in earnest.
This happened at pace; in 1989, the unremarkable Oldham Hall went up to define the east entrance. Then in 1993 the gardens between the original Strathaird House and College House were replaced by two new dorm blocks and Warburton Hall – the new dining hall and teaching space – designed in of-its-time but still-charming vernacular by van Heyningen and Haward, with Freeland Rees Roberts completing the college library on the campus' southern edge in 2001. But a house located in the middle of the site stymied further development; even in its developed iteration, Lucy Cavendish remained characterised as discrete 'buildings in a garden' rather than a collegiate form.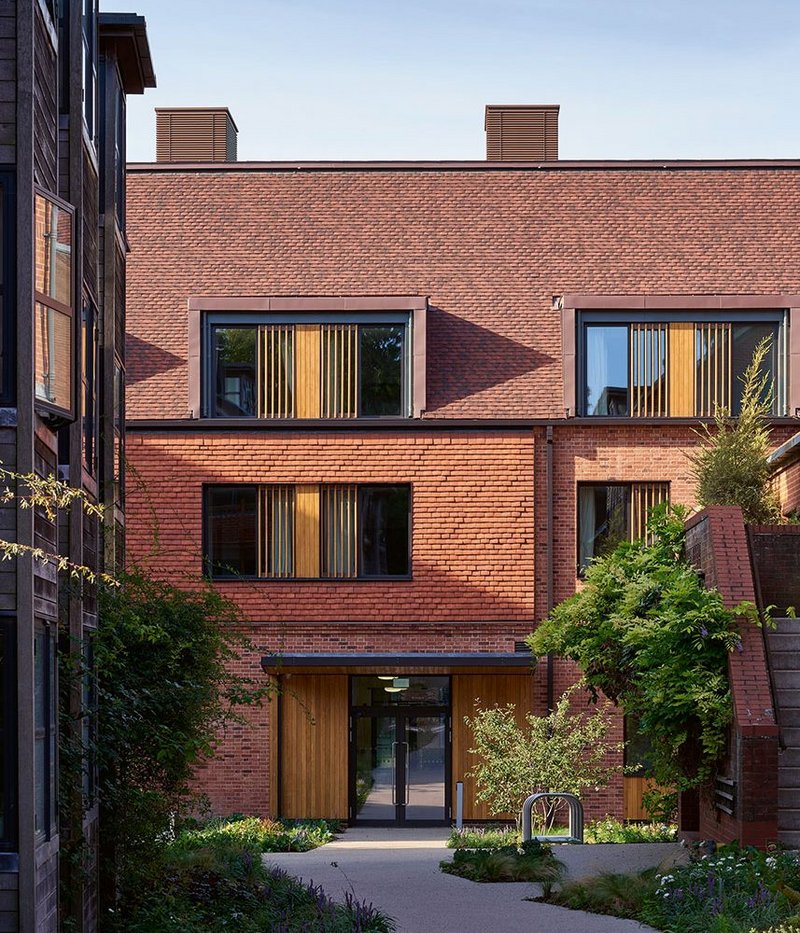 The new block inserts itself between earlier developments – most notably vHH's 1990s dining hall on the right and the practice's student dorms on the left, creating new adjacencies on the college site.

Credit: Nick Guttridge
Local firm RH Partnership's 3000m² new dorm block seeks to address that informality once and for all, as well as communicating the college's aim to have the most diverse intake of any Cambridge college. For, established to support one marginalised community – mature women – it has since ensured most of its intake is state-educated, has accepted undergraduates since 2020 and been co-educational since 2021, and wishes to attract more from disadvantaged or minority groups. But, says Houghton, it's not just about progressive attitudes on intake: 'Mixed gender is one thing, but diversifying is key to the college's future. Accessibility and expressing the college's commitment to sustainability are really important ideas for us,' she adds. Aware this would be a tall order for any architect, and after RH Partnership had submitted its proposal as part of a wider masterplan, the college decided that demolition of that intransigent Edwardian villa at the centre of the site was necessary to realise it.
The £10.5 million, three and four-storey, cross-laminated timber Passivhaus building that now runs boldly through the centre of the site is as much about how it catalyses the campus as it is about expressing the aspirational agendas of the building's brief. With 72 ensuite bedrooms – some fully accessible – associated kitchen spaces and ground floor café, lounge and study spaces, the new T-shaped block means that 20% of the college's total student number of 800 can now be accommodated on site. Not only that, but the building seems to effortlessly connect Oldham Hall on the east side to Strathaird Lawn on the west, better framing the College and Library Lawns in the process. It also creates the new Garden Court on its north side, on what was formerly a dowdy and intrusive college car park. Movement across the college campus is now defined by a route that shifts by turns; expanding to address some blocks across a square or lawn or compressing to a mere alley's width between them, creating not just spatial complexity but, critically, a connectivity that feels more collegiate in nature.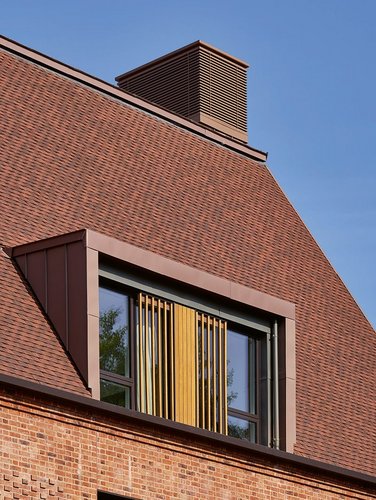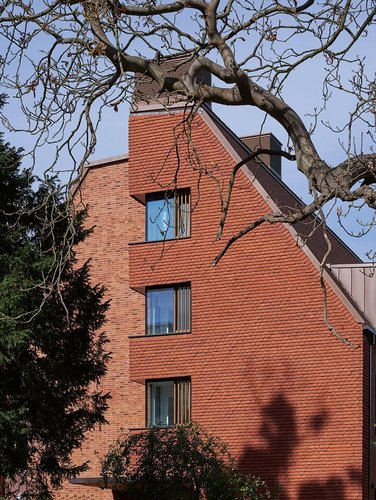 RHP initially felt challenged to manage the expectations of a client determined to ensure that its new campus building was as low embodied and operational energy as possible. 'Given that the college said it wanted a building that promoted student wellbeing as well as embracing tenets of sustainability, we obviously pushed to make it a Passivhaus building from the outset,' recalls practice director Kevin Myers. But with optimal versions of the typology based on reducing surface area 'we were aware that we would have to take care not to make the final form too block-like.' Myers recalls an early conversation with a city planner from the picture window of the library's eyrie-like upper reading room, where strong hints were dropped that flat roofs and banks of MVHR plant were a non-starter. Advice was duly heeded; from the outset Myers worked with sustainability consultant Max Fordham to ensure that occupant comfort and building performance were married into a complex and variegated form fitting of the conservation area in which the college sits. 'It meant creating a suitable level of detailing for the brick facade as well as having it respond to views from and to it,' says Myers. 'The college really loved the bench seat windows we proposed for student rooms but it was also about creating glimpses-through and feature corners for the building' – a design that responded reflexively to its context. The planners must have thought so too – the design was ultimately passed under Delegated Powers.
This approach is best evidenced on the north-west side where the language of warm, Forterra Bamford Blend red facing brick with lime mortar joints makes way for the openness of the ground floor café and lounge area. Here, the architect has foregone the CLT structural frame in favour of a steel cantilever to create a large, fully glazed corner looking straight onto the original Strathaird Lawn. RHP chose a full-height Schueco FWS 50 curtain walling system and matching AWS 90 triple-glazed external doors with thermally broken aluminium frames, offering up the glass not only to the historical view but also to its less problematic northerly aspect, preventing potential heat gain through the glazing. The system runs around to the south face, here as four sets of matching double doors set between brick piers that give easy access from the café lounge to a south terrace facing the library building.
Gables too have been defined by the massive, two-storey height pitched roofs that don't only articulate the Passivhaus 'box', but provide an opportunity to hide the plant at the external upper level. Windows – on the 'split' west gable and with dual aspects on north and south sides of the east wing – articulate them and bring light into bedroom corridors, rewarding curious students with wide views over the college site.
Large student room windows, which predominate on the facade, were performance specified as Idealcombi Futura+ composite windows under the Design & Build contract. Triple glazed, the tilt and turn units allow for requisite levels of ventilation while taking account of safety concerns. Myers adds that adjacent slimmer window units, behind vertical circular oak rods, are fully inward-opening to optimise ventilation levels in warmer months and provide solar shading – as well as more visual granularity – to these repeating facade elements. However, tilt and turn units are large and require some heft to open and shut; for accessibility reasons alone, and with hindsight, Myers feels it would have been good to install some form of actuator in shared kitchen areas, given that these supplanted the side-hung versions originally specified.
Exterior details create added complexity to elevations. In a nod to the Edwardian architecture on site, at the first and second floor levels the architect went for clay wall-hung tiles for a subtle counterpoint to the brick. On the south elevation, this is augmented by a curving 'eyebrow' detail over first floor windows like some form of notional oriel, giving a component of solar shading to recessed windows on this south side. With the top level rooms set in the lower level of the massive pitched roof, there's an opportunity for more tweaking of otherwise repeating window elements, with the these units expressed as dormers clad on their sides and tops in standing seam red oxide sheet to match the vents that pop out of the upper level plant zone – where that roof pitch cunningly hides all the air source heat pumps and MVHR.

Diagram showing RHP's methodology for creating the required airtightness for its standard window elements.
The new block, through its central placement, not only creates rooms with a multitude of enviable aspects to the Lucy Cavendish College's Strathaird, Library and College Lawns as well as its new Garden Court, but it also realises what Myers calls 'a community of buildings, separate but interconnected.' Delivering an overall U-value of 0.8W/m²K, RHP's sizeable Passivhaus addition, through its modern vernacular, seems happily embedded in its context, bringing both coherence and an aspirational component to the offer of this young college. Its directionality also intimates the aim of RHP's wider masterplan to activate areas to the east of the site. Houghton describes a possible future of new teaching and social spaces, perhaps an auditorium – all potential unlocked by the new design. And to resolve the underwhelming main east entrance, perhaps even a gatehouse; that most defining of Cambridge urban tropes, transposed to its suburban fringe, to generate that elusive collegiate form.
Credits
Client Lucy Cavendish College, University of Cambridge
Architect RH Partnership
Passivhaus/sustainability consultant/building services/acoustician Max Fordham
Passivhaus certifier WARM Low Energy Building Practice
Civil and structural engineering Smith and Wallwork
Project manager/planning/heritage Consultancy Bidwells
Cost consultancy Richard Utting Associates
Landscape design Bidwells UDS
Transport consultancy B G Hall
Fire consultancy MLM
Ecologist MKA Ecology
Access consultancy Leonard Cheshire Homes
Suppliers
Contractor SDC Builders
CLT manufacturer KLH UK
M&E subcontractor Munro Building Services
Post-tender fire consultant Affinity Fire
Brickwork contractor Caxton Brickworks (part of SDC)
Roof and facade tiling contractor White Roofing
Passivhaus windows Ideal Combi
Passivhaus curtain walling Schueco
Brickwork Forterra 'Bamford Blend'
Roof tiling Weinerberger 'Alban Sussex Blend' clay tiles
Wall tile-hanging Keymer Traditional 'Wealden Red' handmade clay tiles