Everything is illuminated: the potential of lighting systems to carry nodes that would monitor and control activity in buildings, from data gathering to adjusting air quality and temperature, could be key to an affordable smart city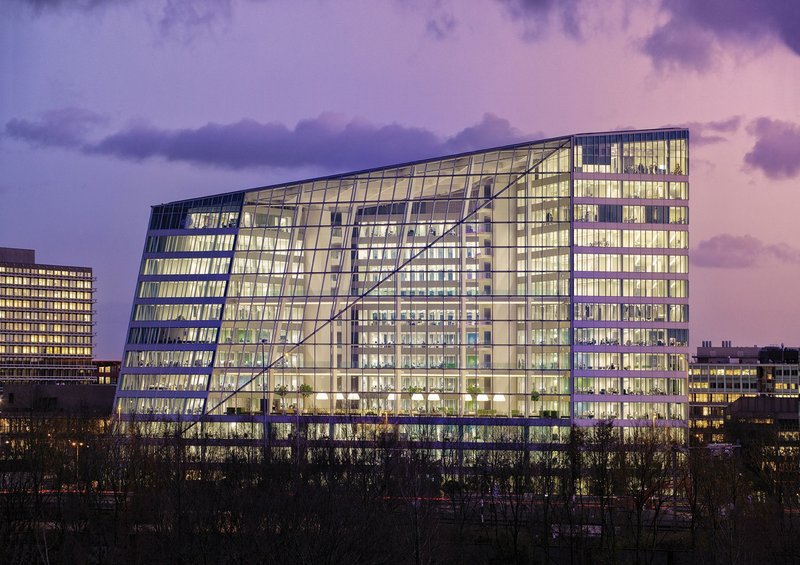 PLP Architects' Edge building in Amsterdam for client Deloitte is, according to Bloomberg, 'The world's smartest building'.

Credit: Ronald Tilleman
If the Internet of Things (IoT) is poised to transform buildings and cities worldwide with its networks of data-gathering sensors, then digital LED lighting is likely to take centre stage.
In the smart city of the future, intelligent internet protocol-enabled luminaries will give end users and building operators greater control over the environment, using software and smart phone apps to switch lights on/off and dim them, increasing comfort and energy efficiency.
Lighting is everywhere, making it one of the easiest ways to bring the IoT into spaces. Sensors embedded in luminaires could support a whole range of new services: movement sensors can track people to improve surveillance and security, or help retailers optimise their store layouts; sensors in street lights could gather pollution and climate data, or detect free parking spaces, and biometric sensors in classrooms could even be used to track pupils' alertness and shift the light spectrum to improve their focus.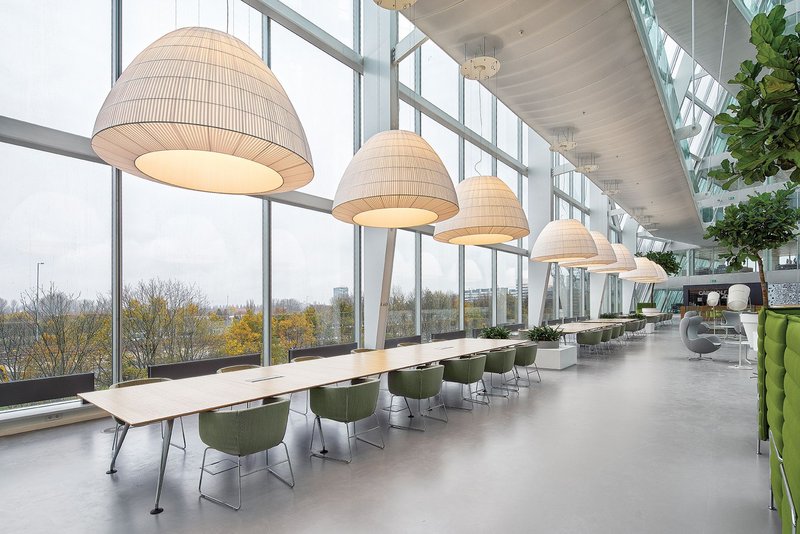 The Edge building's 6,500 LED luminaires also act as IT nodes as part of its building-wide system.

Credit: Ronald Tilleman
Smart firms are getting partners
Major lighting and tech companies are moving to capitalise on these opportunities and develop software and hardware to ensure the 'Internet of Light' is IoT's most powerful instrument.
Every mega-scale technology company now has a smart lighting for cities division, or significant offering. Philips and LED lighting manufacturer Cree have both partnered IT giant Cisco to offer Power-over-Ethernet-based (PoE) LED lighting systems for buildings, and in the smart homes space, Osram has teamed up with Google to make its Lightify wirelessly controllable LED bulbs compatible with the Nest home control system.
LED lighting already delivers high energy savings, but when it is connected to the internet, such as through a wireless or a PoE connection, efficiency is maximised by giving end users greater control to dynamically adjust brightness, on-off patterns, even the colour of each IP-addressable bulb. This demand-based approach runs counter to the traditional top-down way of managing lighting, and other systems, via automation and the BMS.
Arup is trialling this concept at its London HQ where six bespoke 'smart desks' have been kitted out with a range of IoT systems, including LED task lights controlled by office workers via smart phones, and heating and cooling triggered by movement sensors.
Where buildings typically include multiple data systems for IT, HVAC, lighting, security, fire, etc. with limited interoperability, here Arup used open standard web protocols and Application Program Interfaces (API) to enable sensing and actuating devices for different systems to be addressable and configurable in a homogeneous way. Ethernet data cables double up as a low voltage DC power source to save on electrical wiring costs and related installation.
Franceso Anselmo, lighting designer at Arup, and head of the It's All About The Desk project, comments: 'Everything is interconnected in a data-driven environment, and a data­base logs every single change to the system, so there is no need to procure separate systems for metering, lighting control, sensors etc. Old methods of lighting control can't happen because designers have to consider communication between lighting and other systems.
People mean lights mean networks
Lighting firms argue that the greatest potential for their products is as a hub to provide IoT networking, power and a range of sensors housed inside LEDs.
The logic is simple: wherever there are people, indoors or out, there is artificial light, and luminaires can be configured to house different digital sensors or microchips. Because lights need electricity to run, an integrated power supply is already available.
This concept was implemented at the inno­vative Edge building in Amsterdam, designed by PLP Architecture in conjunction with Philips, where 6,500 LED luminaires function as nodes in a building-wide IT system.
Each LED incorporates separate sensors for detecting light levels, temperature and motion, and an infrared sensor serves as emergency control in the event of a power failure. The LEDs share data, over PoE cables, on their status and operations with Philips Envision lighting management software. This enables facility managers to track energy consumption and streamline maintenance operations.
The movement sensors give the main tenant, consulting firm Deloitte, real time data on room occupancy, improving its space efficiency by about 20%. It is also expected to save about 10% on cleaning bills by identifying rooms not occupied during the day.
Onno Willemse, business lead for connected lighting at Philips, says: 'We foresee an emerging ecosystem of application providers that will co-develop new values around our lighting infrastructure and leverage data from it for other subsystems in the building. For example, office workers will be able to use a smart phone app to access other building services through a communications network, controlling lighting and temperature.'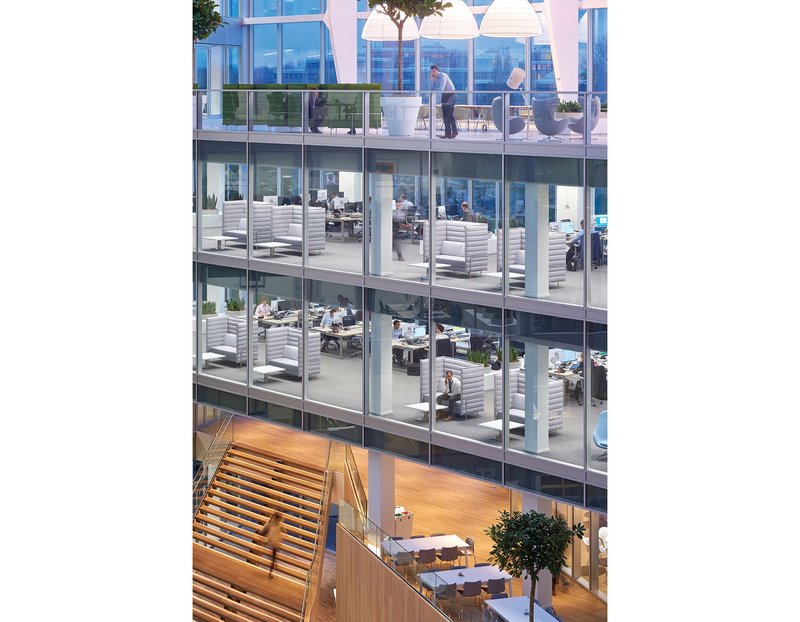 With the new emphasis on IoT systems embedded within lighting systems in buildings, one should not lose sight of lighting's sensory component – bringing mood to different spaces, such as here at The Edge.

Credit: Ronald Tilleman
Network first
Using lighting as a hub would avoid the cost of having to deploy dedicated infrastructure for different data networks. For example, Bluetooth radio transmitters, used for indoor navigation in stores, hospitals or airports, are typically installed separately to create a network. That would not be necessary if they were pre-installed in luminaires across ceilings.
Simon Blazey, head of strategic business development at smart lighting specialist Tridonic, says: 'Deploying sensors is difficult when you also have to deploy the network infrastructure. In the future, luminaire manufacturers will have a range of lights that are customisable to add in connectivity options, such as people- tracking beacons and wireless access points.'
Lighting firms are moving fast to reach the market 'lock-in' achieved by deploying the infrastructure for IoT. Cree, Philips and Tridonic have launched dedicated open protocol software platforms, hooked up to PoE networks, that control LEDs embedded with sensors.
Cree says its SmartCast PoE platform, developed in collaboration with Cisco, cuts out the extra setup step and devices needed in ordinary LED lighting controls, reducing the time and money spent designing, wiring, installing and commissioning lighting projects.
Gary Trott, Cree vice-president of intelligent lighting, says: 'SmartCast PoE provides the technology to make the lights smart and the platform to deploy intelligence across commercial buildings. These buildings have a multiplicity of complex systems such as HVAC, plumbing, smoke and fire, security and safety that must respond to dynamic conditions. All are candidates for greater efficiency, control and interaction.'
If smart lighting is to bring the disruptive force of the IoT to everyone, certain obstacles must still be overcome. The absence of a single common networking protocol for the IoT makes it uncertain whether devices and components made by different companies will be able to communicate effectively with each other in the future, potentially putting the brakes on large scale roll outs. And an integrated IoT approach, linking lighting with other building systems, will require a major shift in how buildings services are designed, specified and procured.
Tridonic's Blazey says: 'It is traditionally quite easy to deploy a lighting system. You buy the lights from a luminaire manufacturer, it installs drivers to enable them to communicate in a standard like DALI, and the contractor knows this requires a five core cable to run through the building. With the IoT there is much more to understand, such as how the lighting will integrate and communicate with other devices and, when procuring for a major scheme, what aspects should be incorporated into which packages. None of this is yet set in stone.'
Tridonic and others are running pilots to determine how different project stakeholders will engage in the design and delivery of IoT systems at scale in buildings. These trials will be vital for the IoT to move from technology buzzword to rapidly expanding market.
---