What: McMullen Facades, where: Moira, Northern Ireland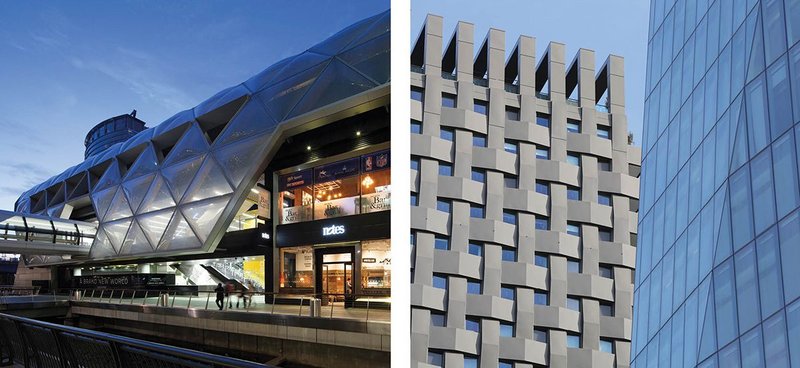 Left: Facades for Foster + Partners' Canary Wharf Crossrail development in London. Right: Basket weave cladding for the Triton building at NEQ Regent's Place, London, designed by Tate Hindle.
Rural Northern Ireland is an unlikely place to find a specialist unitised facade manufacturer cladding some of the UK's tallest and largest buildings. Nestled among homesteads and green rolling hills, near the picturesque village of Moira and the royal-blessed town of Hillsborough, a plane flight from many of its projects, McMullen Facades is driven on the global stage by the natty axiom: 'You never have to go east of London for a good facade'.

A competitor to Europe and China's big facade contracting firms and unique in the UK, McMullen's story indicates strong evidence to go west. Based from day one on a model of a design assist service more commonly found in the United States, McMullen Facades prides itself on not having a big sales force/team. In its place, the company has a vast in-house design and technical team designing and building bespoke facade systems all within its 8500m2 site, and an unwavering belief in the power of prefabrication. It is a process which draws people, know-how and components from all over the world to a quiet corner of the country and transforms it into a hive of activity pumping out skyscrapers elsewhere.

Yet with large-scale, high-profile projects including Canary Wharf Crossrail development, Evelyn Grace Academy, NEQ Regents Place and the National Graphene Institute under its belt, and regularly working with architects including Allies & Morrison, Broadway Malyan and Foster + Partners to name a few, McMullen had modest beginnings. Edward McMullen started the business in 1971 as a small glazing company. At the height of the troubles in Northern Ireland there was little investment into new build but a lot of replacement glazing work. The aluminium division started in 1979 when Ted McMullen, the current managing director, joined the firm, and it was a strategic decision to develop the business over the years to be recognised as a firm which could effectively manage ever higher standards and more complex projects, and demonstrate an in-depth understanding of UK standards and legislation.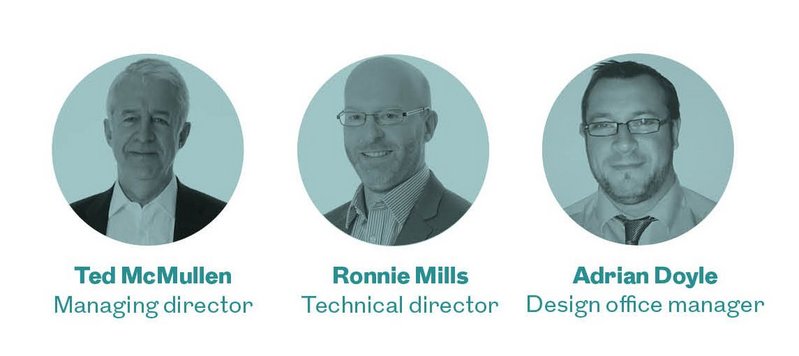 The company went into unitised systems 15 years ago – a decision based on the belief that manufacturing facades in a factory environment is in the client's interest. It built a factory extension with an overhead crane to handle the units even before it had secured its first project. Ten years ago it added its HQ to the site, showing off its manufacturing capabilities, and extending it almost immediately. In December 2012, the company became part of specialist roofing and cladding contractor Lakesmere, a move which has increased its financial strength and security in a market characterised by companies failing. The merger has enhanced McMullen's cash reserves, and eliminated bank borrowing and a core overdraft.

Now part of a £120m group, McMullen Facades focuses on contracts of between £8m and £20m, working with tier 1 contractors and even able to offer a full building envelope package service through joint ventures with the rest of the Lakesmere Group, which has offices all over the UK. Its emphasis over the coming years is to work with architects early – six to nine months' in advance of the project going to planning – as a means of creating true unitised facade innovation. Its plan is fully backed up with financial and human resource growth strategies, including the training of 6-8 design team graduates every year. It is a strategy that sees this bustling site eyeing up locations for a new, bigger factory for future expansion.
This editorial is supported by McMullen Facades Ltd
www.mcmullenfacades.com
---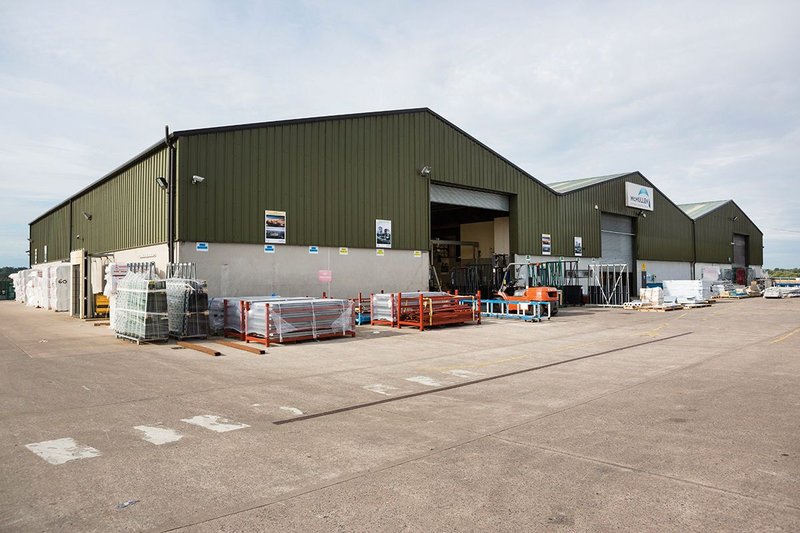 1. Introduction
McMullen has been manufacturing unitised facade panels for more than 15 years. The company's technologically advanced manufacturing facility can process up to 400 a week, depending on the design's complexity. At the moment the factory is focusing on three projects: the 1400-unit project Here East, a conversion of the Olympic Park's media centre by Hawkins\Brown, Leeds Central Square by DLA Design and Tidal Basin, two 25 and 24 storey towers for Carillion designed by CZWG.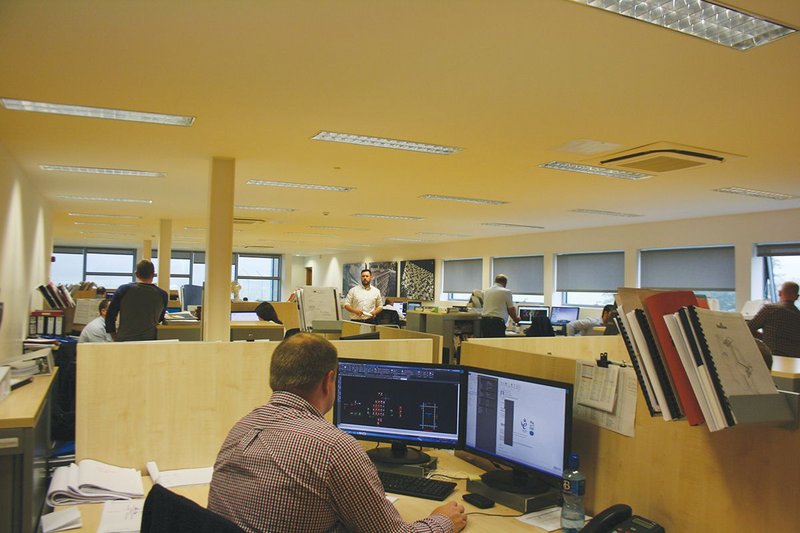 2. Design
McMullen's design office, in the building next to the factory, employs 51 people, from facade, structural and thermal engineers, through BIM and 3D specialists, to technical managers and system developers. Design is split into two parts for each project – front end and system design to streamline buildability. Once a project has been assessed, it is assigned a technical manager, senior facade engineer, facade engineers and a structural team. Usually between eight and 15 designers are assigned to each project.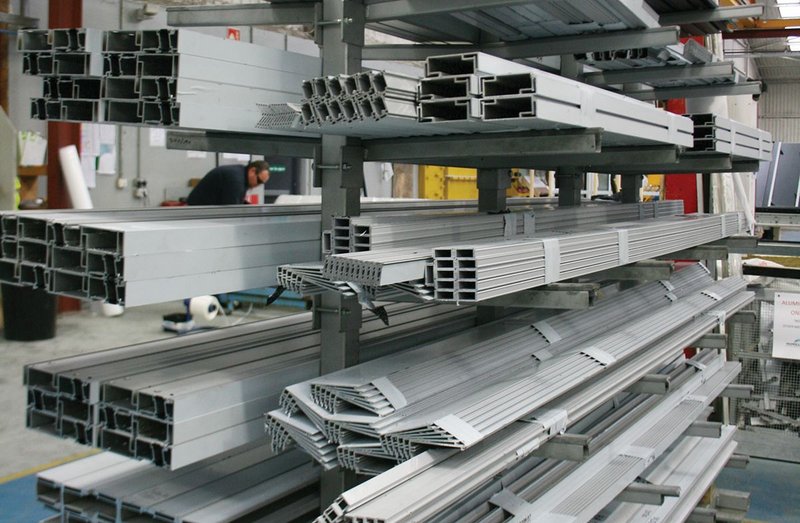 3. Components
All materials arrive at the factory as ready-made components from McMullen's new 40,000ft2 storage facility seven miles away. McMullen's sourcing and supplier team works out which components are needed to construct the design according to quality, time and budget. McMullen works with suppliers from all over the world, including aluminium from Germany, glass from Poland, Spain and Germany, and smaller building components such as brackets from local companies. It also has a specialist purchasing team for components such as brass, copper and stone.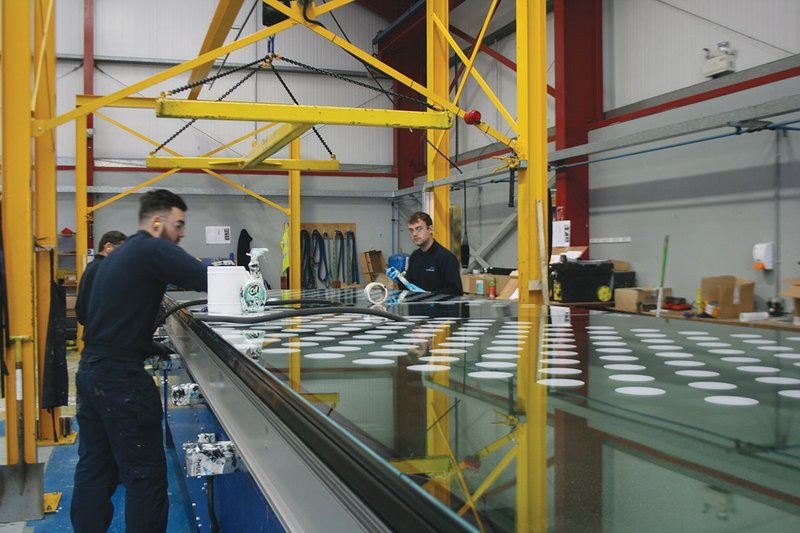 4. Assembly
Inside the factory are 100 workers, with specialist skills from CNC machinists to quality control technicians on up to eight or nine manufacturing lines. McMullen is inspired by Toyota lean manufacturing methods such as the Kanban system to control the logistical chain and inventory. The factory environment is constantly adapted and updated according to the projects in development. A high volume production (conveyor) system was introduced in May for the Here East project. Each panel is 5.7m by 1.6m and circa 500kg. The conveyor has five stations, splitting tasks into 50-minute sections.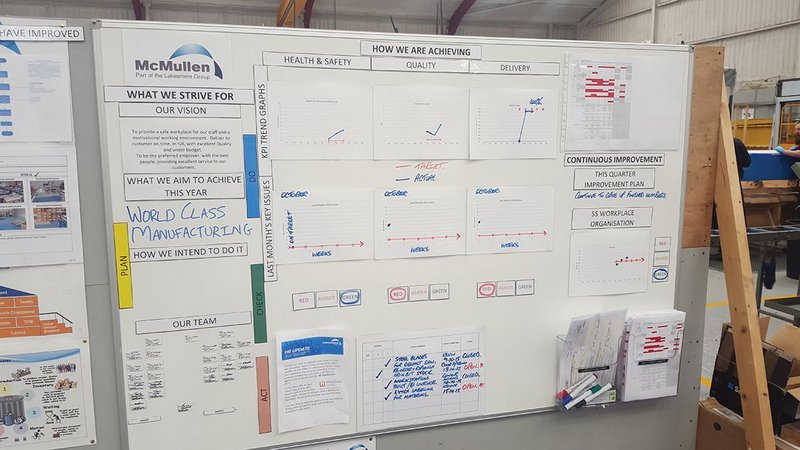 5. Communication
Communication is vital on all levels in the drive towards world class manufacturing. Every morning teams meet to discuss targets. Measures and guidelines set by McMullen's research into levels of excellence are continually communicated via team boards (above) and a screen in the factory. This also extends to suppliers. Early communication with the glass supplier for Here East, for example, meant that the patterned frit glass is supplied in the order in which it is needed for the panels, speeding up assembly and construction. The design team is available next door at all times for queries.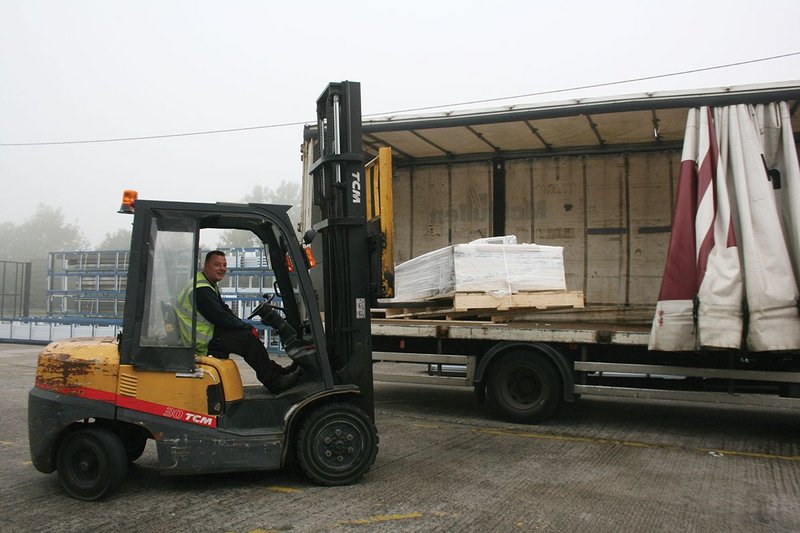 6. Testing and delivery
McMullen assures the quality of its products through prototyping and laboratory testing which takes place off site at an accredited UK laboratory. Meanwhile completed panels are sent out for delivery on HGVs almost every day. Here East's panels are being manufactured at a rate of 50 minutes per unit, nine units per day and three deliveries per week. Shipping from Belfast is rapid compared to other European facade manufacturers with either next day for daytime shipping or two days for overnight shipping possible.
---