New building regulations, design standards and codes of practice aimed at controlling the spread of a future outbreak are expected to result from a government-commissioned report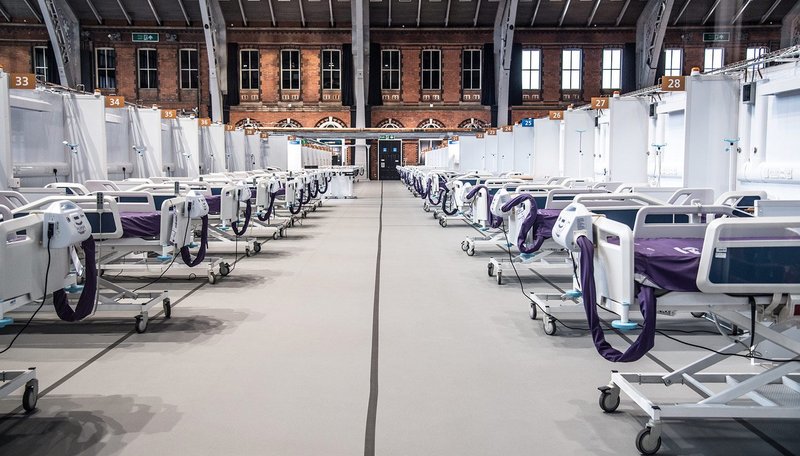 The former Nightingale Hospital in the Manchester Central Convention Complex.

Credit: thisisjude.uk
The National Engineering Policy Centre report, Infection resilient environments: time for a major upgrade, was commissioned by government chief scientific adviser Patrick Vallance and carried out by CIBSE and the Royal Academy of Engineering (RAEng). It predicts that a 'do nothing' scenario could cost the UK £23 billion a year in the event of another severe pandemic and identifies measures needed in buildings and transport systems to reduce the transmission of infectious diseases, be that future waves of Covid-19 or new pandemics.
It urges the government to seize on the post-pandemic opportunity to mandate long-term improvements to infection control in commercial, public and residential buildings.
Among the report's recommendations is an increased prominence of health and wellbeing across parts of the Building Regulations and the establishment of a new section covering health and wellbeing. The latter, it said, 'should have the explicit functional requirement that buildings provide an adequate indoor environment to protect occupants' health and wellbeing against adverse effects'.
Researchers recommended that the British Standards Institute (BSI) develops meaningful new standards to embed into existing design and operational practices, drawing on the expertise of existing standards committees in the built environment, healthcare and other relevant sectors. In addition, they said the BSI should review the existing standards covering indoor environments to ensure they address infection resilience.
To ensure buildings operate as designed in terms of infection resilience, researchers said industry bodies and public procurement should drive improvements to the commissioning and testing of building systems.
Furthermore, the report said the government should identify a lead department to act as a strategic coordinator to better align policy on infection resilient environments with policies on net zero, safety, equality, and accessibility.
Commenting on the report's findings, Peter Guthrie, vice president of the RAEng and chair of the NEPC working group for Infection Resilient Environments, said: 'If the built environment is not equipped to limit the spread of infections, there will be direct health costs from severe illness, long-term sickness or death. These will be further compounded into economic and social costs as health costs disrupt businesses, education and our daily lives.'
He added: 'This is not simple because the developers who commission and fund new buildings will not directly benefit from including health provisions at the design stage. Changes to regulation and standards are therefore needed for the scale of change required.'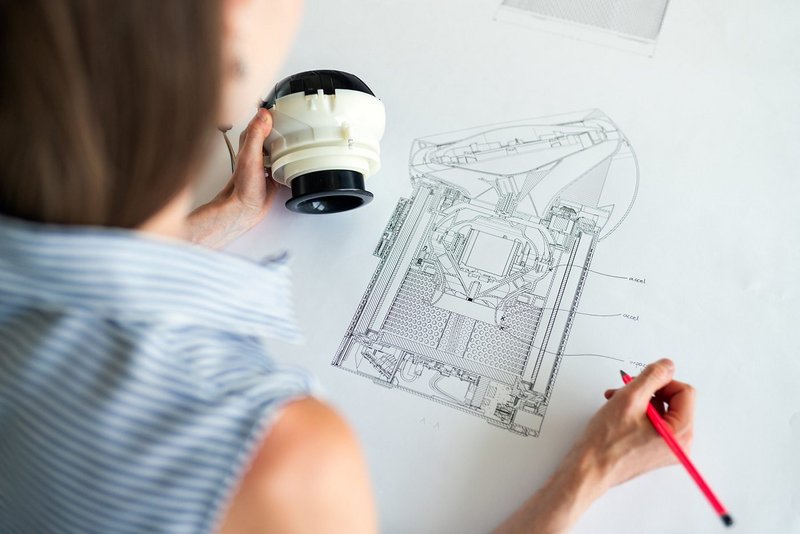 Noise and vibration engineer designs air purification devices.

Credit: This is Engineering
Economic analysis commissioned as part of the research found that, in the event of another severe influenza-type pandemic in the UK over the next 60 years, the estimated total societal cost, including health, social, and economic impacts could equate to £23 billion a year.
Even outside of the extreme circumstances of a pandemic, it said lives lost and sick days caused by seasonal influenza equate to an estimated annual cost of £8 billion.
Among the recommendations on building strategy and design, the researchers said clearer specifications were required, driven both by the client and the wider sector, to influence the way a building operates in practice and its consequent impact on health. 'This could be accompanied by design tools that provide accurate predictions of performance, incorporating energy, ventilation, and thermal comfort,' the report states.
Initial design stages 'must be driven by a people-centric approach that understands the needs of the end-user,' it said. Collaborative design for infection resilience can encourage wider benefits for health, it says, giving the example of making stairways more prominent to encourage physical activity and reduce the number of people in lifts.
With the profitability of a development often the client's key success metric for a project, the researchers said there was an ethical responsibility to ensure that health measures were designed into buildings. 'More regulatory requirements are necessary to drive change at this design and strategy stage,' they said, adding that the new Building Safety Regulator, being established under the Building Safety Act, could play a role in addressing health outcomes as well as structural and fire safety.
The primary recommendations were:
Establishing best practice – the British Standards Institution (BSI) should convene the relevant expertise and develop meaningful standards that are embedded into existing design and operational practices.
Promoting building health – the UK Health Security Agency should promote the benefits of infection resilience and good indoor air quality to building and transport owners and the public through signage and ratings in a similar way to food or water standards.
Ensuring that buildings operate as designed in terms of infection resilience – industry bodies and public procurement must drive improvements to the commissioning and testing of building systems at handover, and subsequently over the life of a building.
Establishing in-use regulations with local authorities by 2030 to maintain standards of safe and healthy building performance over the building lifetime.
Ensuring Government departments such as BEIS, DfT and DLUHC consider incorporating infection resilience into major retrofit programmes designed to meet the commitments of the Net Zero Strategy.