Alpine Design & Build chooses Trovex sanitaryware, cubicles and finishes for a new office in Hemel Hempstead to attract business tenants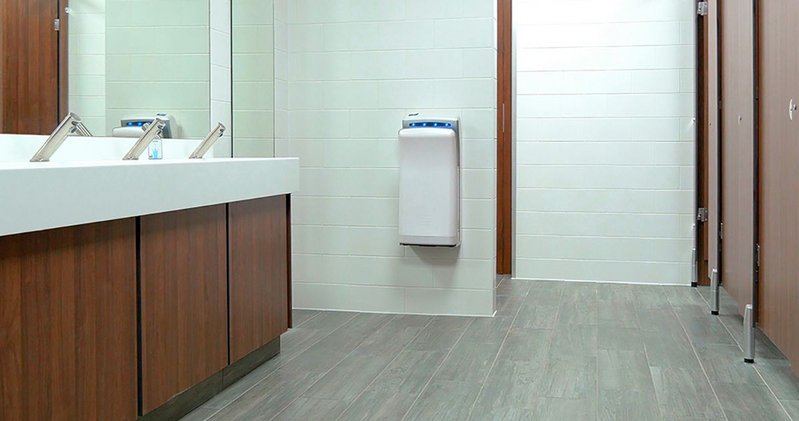 'When it comes to finding the ideal office building, modern appealing washrooms are at the top of everyone's wish list,' says Damon Morrow, graphic designer at Alpine Design & Build. Its latest flagship development project Nexus House, a 14,000sqft office building in Hemel Hempstead, included bespoke washrooms by Trovex.
'This was to be my showcase project, so it had to be the best I could achieve,' says Morrow. The pressure was on. Trovex worked closely with Morrow who had the challenge of coordinating the various teams for this large, prestigious project. 'A key benefit of the washrooms was the look. Trovex had everything I wanted; from the walnut finish and shadow panels to the modern wash trough. In fact, I'd say the washrooms will rent the building –people want to see good facilities.'
Bespoke details
Complete project management, from specification to installation, and responsive customer service is a key benefit offered by Trovex. 'Everything came together well,' says Morrow. 'Once I approved the design, Trovex completed it with any subsequent changes without an issue. It is a very good firm to work with.'
The top choice for Nexus House was the S3:60 SGL system, which offers different styles of wash basins and duct panels in every available finish. 'The quality of the doors and the panelling is fantastic,' says Morrow. 'The materials are hard wearing.'
The solid-grade laminate with a walnut finish contrasts crisply with the white tiled walls and solid surface Corian wash trough. The selection for this project includes cubicles, ducts, wash troughs with panels below, sanitaryware and aluminium hardware. Finishing touches included touch-free hand dryers and sensor taps for ultimate hygiene.
The cubicle doors were created with extra height, which had the effect of emphasising the walnut grain, as well as increasing privacy. The duct panelling was taken from the X5:80 SGL system for the feature of rounded corners on each panel. This brought the challenge of horizontal shadows with the chosen colour scheme. The Trovex team overcame this by providing wood grain shadow panels with the grain running vertically instead of horizontally, which matched the cubicles.
A top quality result
The sleek design and luxury finish of the washrooms provides the desired effect for this prestigious project. 'The design looks good and fits in with the look of the building,' comments Morrow. 'We have walnut doors, and if you compare them with the laminate, they look exactly the same.'
Companies in the area are set to be spoilt for choice, when it comes to premises with premium washrooms. Following the success of this project at Nexus House, where the washrooms were included as a trial installation, Trovex was chosen for two other similar projects by Alpine Design & Build.
For more information and technical support visit: www.trovex.com
Contact:
01707 254 170
---