An innovative pergola with two front posts and a canopy that can cover over 30 square metres also features an angular cassette designed to complement cubic architecture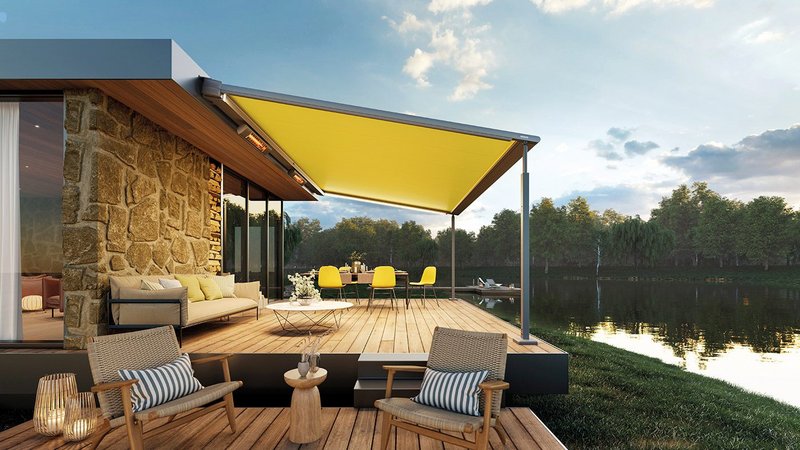 Sun protection made in Germany: Markilux Pergola Cubic awning with integrated lights and heaters.
German shading solutions manufacturer Markilux has launched the Pergola Cubic range of awnings, which is specifically designed for cubic architecture.
The cubic form is a familiar sight on city office-scapes, as seen most recently in Renzo Piano Building Workshop's Paddington Square project in London.
Some of today's architect-designed homes and modular, customisable self-build designs also harness the simplicity of the cube form.
Pergola Cubic meets a growing demand from homeowners for awnings that tie in with their modern minimalist architecture.
All Markilux's Pergola awnings are supported by two front posts and are available in four versions: Classic, Compact, XXL and now Pergola Cubic, which is based on the technology of the Classic model but with a modified angular cassette that holds and stores the cover.
6 reasons to specify Markilux Pergola Cubic awnings
With a width and projection of up to six metres, one Pergola Cubic awning can shade more than 30 square metres.
Up to five units can be combined to cover even larger areas.
The awnings feature the Tracfix system, which guides the cover flush along the side rails.
A tensioning system with integrated gas pistons maintains optimum cover tension when the awning is in any extended position, keeping it stable in the wind.
For a variety of lighting effects, LED systems can be integrated in the guide tracks, on the cover support tube or under the cassette.
Other customisable options include adjustable posts for better water drainage with only a slight tilt of the cover surface; the choice of a manually or solar-powered Shadeplus awning; and a ground fixing or stabilisation box option for securing the awning.
For more information and technical support, visit markilux.com

Contact:
0800 014 9952
info@markilux.co.uk
---