Marley Eternit's Vertigo is used to striking effect at a mews development in south east London by architect Alexander Sedgley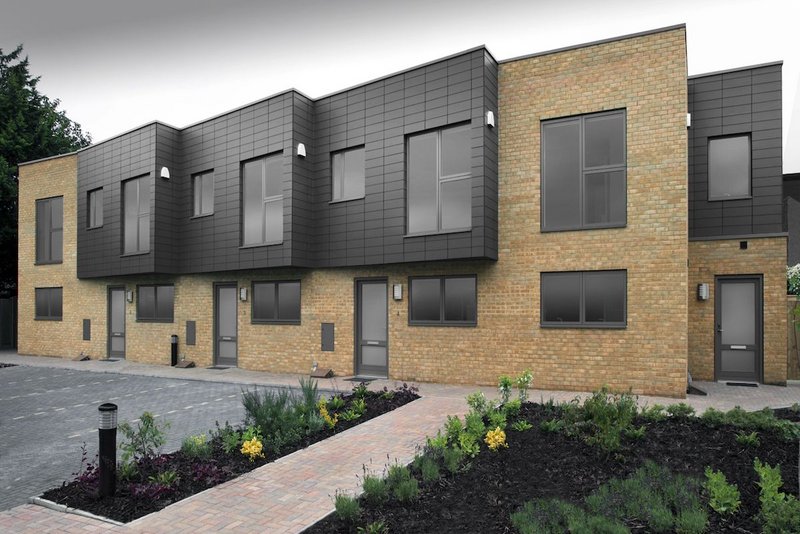 Alexander Sedgley architects' design for William Mews, near Brockley, includes Marley Eternit's Vertigo cement slates.
Architectural practice Alexander Sedgley has specified a pioneering vertical fibre cement slate facade system for a luxury private mews development in London. The Vertigo cement slates, from manufacturer Marley Eternit, have been used to create striking projecting bays on the front and rear of the exclusive terraced and semi-detached rental properties at William Mews, near Brockley.
Built by Proctor Developments, the distinctive eco-friendly homes use timber frame construction, so the architects needed to specify a lightweight cladding material. They also wanted the bays to create a strong contrast against the yellow-flecked London stock brick.
Project architect Stephen Alexander explains: 'As well as meeting our weight criteria, the Vertigo system gives a clean, contemporary slate aesthetic that will stand the test of time, but crucially remains sympathetic to the surroundings.
'It was very easy to detail and the other big advantage was that the roofing contractor was able to install it, so we didn't need a specialist fitter. It was also much more economical than using sheet metal and removed the aesthetic problem of visible seams.'
The first of its kind in the UK, Vertigo consists of small 600mm x 300mm slate-like panels that can be quickly fixed onto battens, with the desired amount of insulation in between. The fibre cement slates perfectly adapt to the contours of the building, providing a second protective skin.
Available in eight different colours, Vertigo cement slates can be used to create distinctive and elegant vertical cladding solutions for a full range of building types. Perfect continuity between the roof and facade can also be achieved by using Vertigo with Marley Eternit's Birkdale or Rivendale fibre cement roof slates.