Couldn't there be more to the city's post-car public realm? RIBAJ teamed up with Marshalls Bricks & Masonry to create the Public Space Design Day, inviting five practices to offer a wider reaching response to using traffic's vacated spaces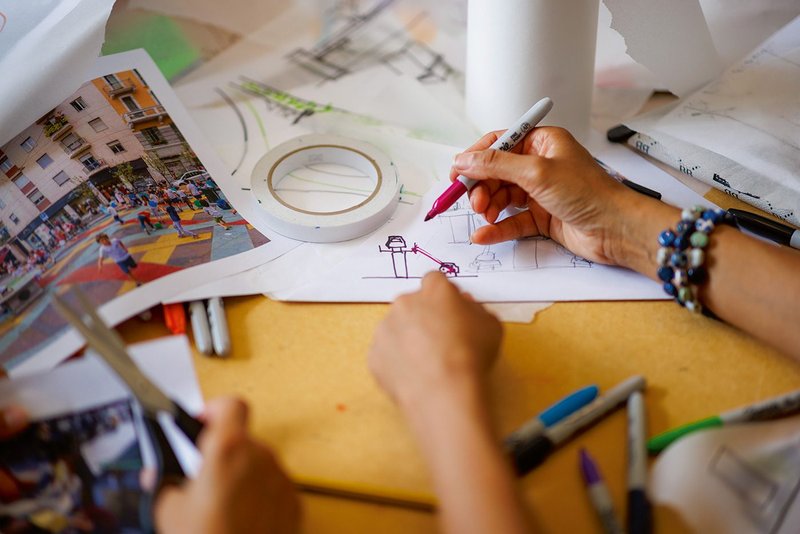 When Florian Beigel conceived of the Half Moon Theatre in Islington – with its robust blockwork internal facades and spatial flexibility – his vision was to link a space for theatrical performance with the life of the street. 'What if that capacity was extended throughout the public realm?' asked RIBA Journal contributing editor Chris Foges, introducing the Public Space Design Day hosted by RIBA Journal and Marshalls Bricks & Masonry. The workshop asked five teams of architects to propose new uses for urban spaces liberated by the 'slow but inexorable disappearance of the car'.
When we envisage replacing roads with public realm, the usual vision is that of a landscaping intervention – seating, water features, café tables, plants. But is there an opportunity to do more? The brief asked participants to propose versatile structures that could enable a range social and cultural activities – something 'more open- ended than conventional buildings', but with greater potential for use and with greater presence than the standard elements of landscape design.
The structures' sturdiness and economy should be facilitated through the use of Marshalls' concrete bricks.
The five teams – Native Studio, Studio Multi, Tonkin Liu, vPPR and What if: projects – convened at 66 Portland Place, in a grand room overlooking the four-lane A4201 linking Regent Street to Regent's Park. Despite Marylebone's leafy appearance, traffic noise is a constant presence, an apt reminder of the purpose of the day's exercise.
And as the day progressed, the atmosphere in the room heated up – along with the rising June temperatures and the increased volume of rush-hour traffic. What had felt like a convivial undergraduate studio session in the morning developed into something resembling a Masterchef countdown – canapés included – as the teams prepared to present their thinking to each other and to guest reviewers Cany Ash of Ash Sakula Architects, Conor McDonagh, assistant director of economic growth at Ealing Council, and Dean Harris, managing director of Marshalls Bricks & Masonry.
The brief was intentionally open, allowing the practices to choose their own sites and areas of interest. And indeed, it became immediately clear that a diverse range of scenarios and had emerged. Echoing the mention at the beginning of the day of the Half Moon Theatre, an interest in performance made itself felt in many of the designs, as did a spirit of play – reflecting a brief that called on entrants to 'let your imagination run riot'. But underlying the fun, each characterful intervention showed a determined attempt to accommodate and improve conditions for those who are currently alienated or underserved by the public realm – humans, animals and plants alike.
See all the ideas explored by the five practices on the day
---
Marshalls Bricks & Masonry writes:
Marshalls Bricks & Masonry would like to thank all who took time to register interest in participating in this event, and those who took part on the day.
It was so insightful to watch the teams work on their ideas and even more interesting to hear the ideas presented back. Some truly creative minds.
As part of the Marshalls family, everything Marshalls Bricks & Masonry does is intended to make the world around us a better place to live in. It's not enough that every product is designed, manufactured and tested to market-leading standards; if we truly care about the impact we have on society we have to make the conscious choice to always do the right things, for the right reasons, in the right way. We call this The Marshalls Way. We are guided in this by our values of leadership, excellence, trust and being sustainable. In staying true to our beliefs we can meet both the high standards we set ourselves, and the highest expectations of our customers, our industry, our business peers and society as a whole.
That's why days like this are so important to us. They allow us to share our goals and beliefs with our customers.
We pride ourselves on being able to offer sustainable bricks and masonry products to the construction industry, with our concrete facing bricks offering 49.1% less embedded lifetime C02 than other types of facing bricks on the market. Our concrete bricks unite design and sustainability and allow our customers to help reach their own sustainability key performance indicators.
If you are interested in finding out more about our sustainable facing brick products then we would welcome the opportunity to provide you with a site visit. Alternatively, if you are interested in our Marshalls Bricks & Masonry CPD event then please do get in touch.

Tel: 01633 600 806
bricksbm@marshalls.co.uk
marshalls.co.uk/commercial/design-space/london