Structures built along urban rivers offer havens to wildlife in What If: projects' plan to encourage nature to flourish in the city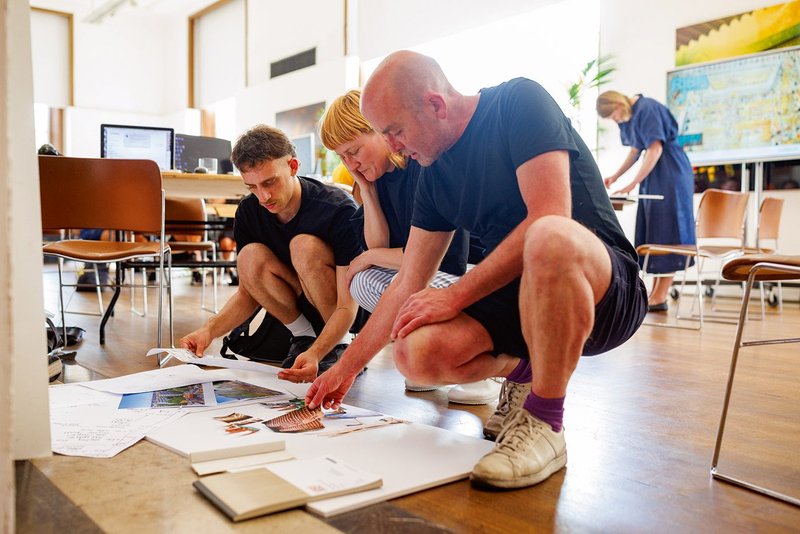 What if: projects proposes to use Marble Grey facing stocks – a blend of light and dark greys giving a marbled appearance.
Project team:
Gareth Morris (director)
Alexandros Xenophontos (architectural production)
Heidi Rustgaard (choreographer)
---
This exploration in 'multi-species conviviality' aims to bring people's attention to an encounter with wildlife, while encouraging habitats and resilience.
'We looked at architectural references worldwide where habitats coexist,' said Gareth Morris. 'They have always had a space in the city'.
Indeed, diverse inspiration ranged from north African mud-brick dovecote towers to Oscar Niemeyer's brutalist O Pombal in Brasília and the perforated brick walls of Laurie Baker's Indian houses.
What if: projects' intervention proposes concrete brick structures of different sizes, offering habitats for various wildlife species and responding to the scale of the public realm.
To form a network of structures, the group proposed that they converge with London's lost rivers – illustrated by a string along the River Effra, culminating at Brixton's Loughborough Estate, which is characterised by its high- and low-rise modernist blocks. 'I like the idea of restoring the Effra,' said reviewer Conor McDonagh. 'The idea of being able to walk along it, and the structures getting bigger along the journey towards the source, captures the imagination'.
The structures are intended as 'third places', explained Alexandros Xenophontos, aiming to be accessible, non-commercial public spaces. They also provide a changing scenography and a backdrop to public events. 'It becomes an endless, evolving multi-species performance', explained Heidi Rustgaard.
Taken over by creatures and plants, the structures will 'transform the city'
With the eventual overtaking of the structures by creatures and plants, the intervention will contribute to 'the transformation of the city', proposed the team, manifesting the rhythm of the seasons. The interaction between human voices, animal sounds and the resonance provided by the architecture itself would create a 'new, poly-rhythmic sound-score' – experienced either individually or collectively as a composition. This is an environment which suggests a different reality, noted the reviewers, and has the potential to offer a unique and powerful experience.