An artwork at the V&A demonstrated how microbial fuel cell bricks can produce electricity and clean water from human urine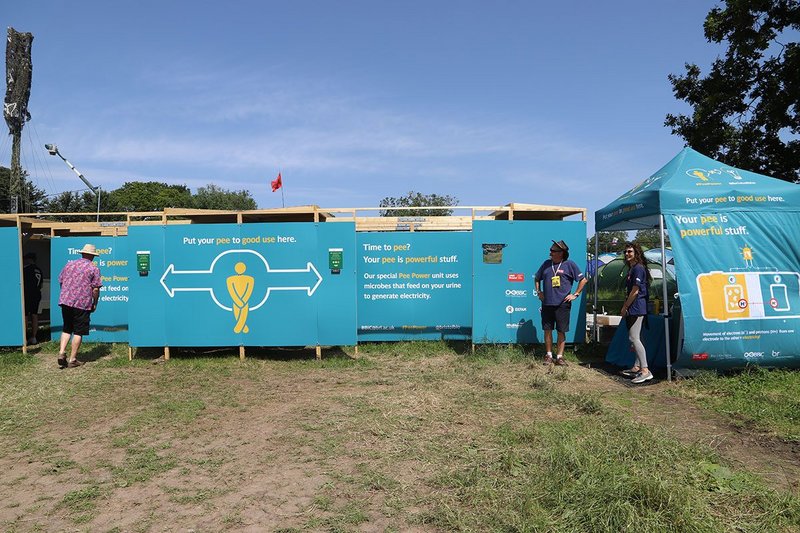 A prototype system installed at Glastonbury Festival in 2019 was able to generate a continuous three watts of power from pee

Credit: Bristol BioEnergy Centre, BRL, University of the West of England, Bristol
A bio-digital artwork powered by human pee, on display at the V&A as part of last month's Digital Design Weekend, provides an exciting, and surprisingly odourless, glimpse into the future of building integrated renewable energy.
The bubble-shaped artwork incorporates 15 microbial fuel cell bricks developed by the Active Living Infrastructure: Controlled Environment (ALICE) consortium, comprising Newcastle University, the University of the West of England and artwork partner Translating Nature.
Power generated from urine in the bricks is used to capture data and run pulsating LEDs and animations based on bacterial foraging algorithms.
The system is more than a mere creative flight of fancy; plans are underway to develop a fully-fledged product able to produce electricity and clean water in homes, initially targeting remote communities in sub-Saharan Africa.
A joint development agreement signed with south-east Asian manufacturer Siam Cement Group will see the technology and the design of components refined to create a viable product for the region.
Ioannis Ieropoulos, director of the Bristol BioEnergy Centre at UWE Bristol, tells RIBAJ: 'There have been other developments around some of the materials we have been using and the performance levels recorded. We're getting closer to the energy density levels we would like to see the technology producing.'
A prototype version, installed at Glastonbury Festival in 2019, was able to generate a continuous three watts of power. The system intended for Africa will use liquid waste to create electricity – either for lighting or for charging a mobile phone – and clean water, with fertiliser as a byproduct.
Pending the success of this project, living bricks could find their way into many buildings worldwide, including homes, shopping centres, hospitals and hotels, says Ieropoulos. 'A wall of a house could take water from the kitchen sink, a washing machine or dishwasher.
'If the engineering was done appropriately at scale, there's also an opportunity to be doing on-site treatment and electricity generation.'
Each microbial fuel cell contains two compartments separated by a membrane. Microbes on one side use liquid waste as a food source. A chemical reaction produces electrons that flow into the clean water compartment, creating electricity in the process.
A more experimental aspect to ALICE is the system's ability to measure microbial activity and communicate it to building occupants. Biosensors record data produced by the microbial electrons and convey the information on how productive and happy they are as animations. This playful concept, emphasised in the V&A artwork, explores how people might one day interact with microbial fuel cell technology in their homes.