HoloLens augmented reality headsets marry models and real construction to give a total project view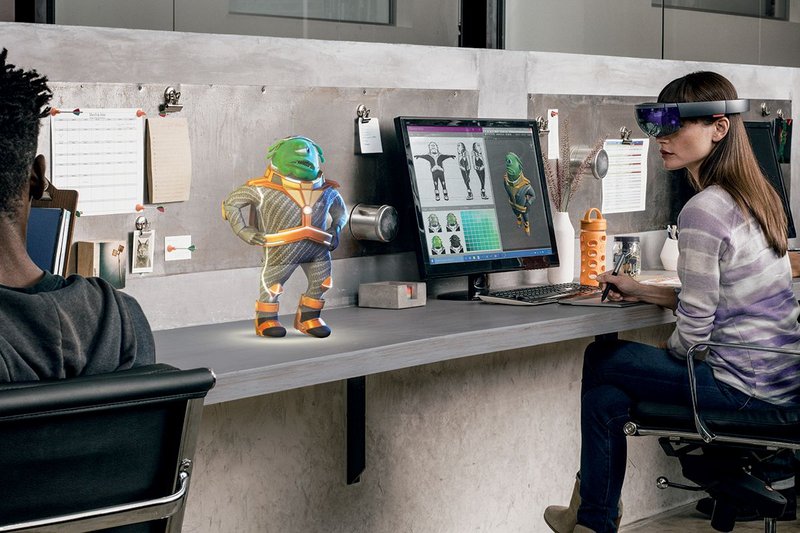 I've never had an out of body experience, but today I think had the closest thing to it, in an exhibition room at RIBA HQ, in London.
As I walked around a table at the centre of the room, I simultaneously hovered high in the air above a residential complex in Brazil.
This was no near-death hallucination, however. I was experiencing the latest in augmented reality technology, a pair of Microsoft's HoloLens glasses, as part of an event set up to celebrate RIBA Gold Medal Week 2017.
In augmented reality, also referred to as mixed reality, headsets lay holographics and information on top of your everyday view.
This blending effect enables users to view and manipulate 3D models, and see context-specific information, while maintaining visual contact their surroundings and other collaborators in the room.
On live projects the system makes it possible to visualise 3D models for structures and M&E systems and the like, mapped on top of an actual construction as you move around – ideal for verifying design intent and quality control.
The goggles effectively double up as a small computer, containing all the processing power and memory needed to store and run complex CAD models, translated from a variety of common file formats. They are relatively light to wear and I experienced none of the nausea or wooziness others have complained of when wearing immersive headsets.
The HoloLens runs a mixed reality-enabled version of Trimble's Sketchup Viewer software, which is understood to be the only design and construction-focused package available for the system.
As I wandered around computer generated model of the building, it remained in position and in perspective, as if stood on the table in front of me like another piece of furniture of the room.
Holding up my right thumb and forefinger in an L shape and pinching them together pulled up a virtual holographic menu that gave me access to a range of options to manipulate the model, such as zoom in, rotate, or take measurements. My initial disorientation gave way to excitement as I realised the possibilities, I felt like an architect version of Robocop and looked the part too.
With another pinch, I was transported inside the model at 1:1 scale and able to 'directly' experience the quality of light, materials and finishes close up, my view updated in real time as I swivelled my head around 360°. A jump function enables the user to instantly 'teleport' to any location in the model by simply looking at it. It is also possible for multiple HoloLens users to enter the environment at the same time, each one represented by a holographic avatar stood in the model.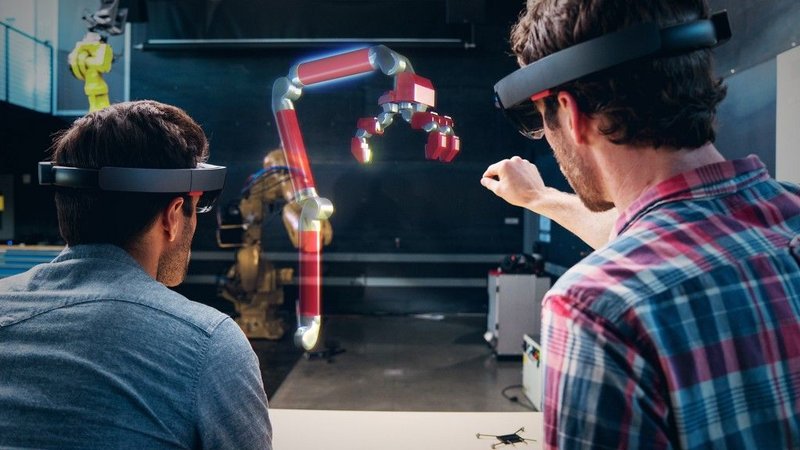 The experience wasn't perfect – the field of view is currently limited to a rectangular window, not the full panoramic view possible in virtual reality systems like Oculus Rift or HTC Vive. The look and pinch mechanic didn't feel entirely user friendly, although that may have been down to my lack of experience with the interface.
'This is the latest HoloLens development kit, just launched in November,' says Leila Martine, director of new device experiences at Microsoft UK. 'So we're putting it in the hands of businesses and the developer community to see what they can do with the technology to identify use cases. After a couple of times wearing it people realise they are seeing things in ways they haven't been able to before. Architects have a great sense of space, so when they go inside they quickly find their bearings then focus in on exploring very specific areas of the model.'
I felt like an architect version of Robocop and looked the part too
NASA is using HoloLens to help design the new rover for a 2020 mission to Mars. Aecom used it to interrogate the complex design for the summer houses that were part of the 2016 Serpentine Exhibition. And the University of Cambridge is running two construction-based research projects.
It's early days for the industry's use of immersive technologies, just 5% of CAD users and CAD managers were using the systems in 2016, according to a Worldwide CAD Trends Survey 2016 by IT research specialist Business Advantage Group. But, as prices come down and the physical form factor reduces, uptake is expected to grow significantly.
The cost of a HoloLens device installed with Trimble software will set you back US$4,500, which seems very good value to me – just a few grand to experience two realities instead of one.