As the skills shortage, housing crisis and growth of build to rent drive growth in factory-made housing, architects and manufacturers are cuddling up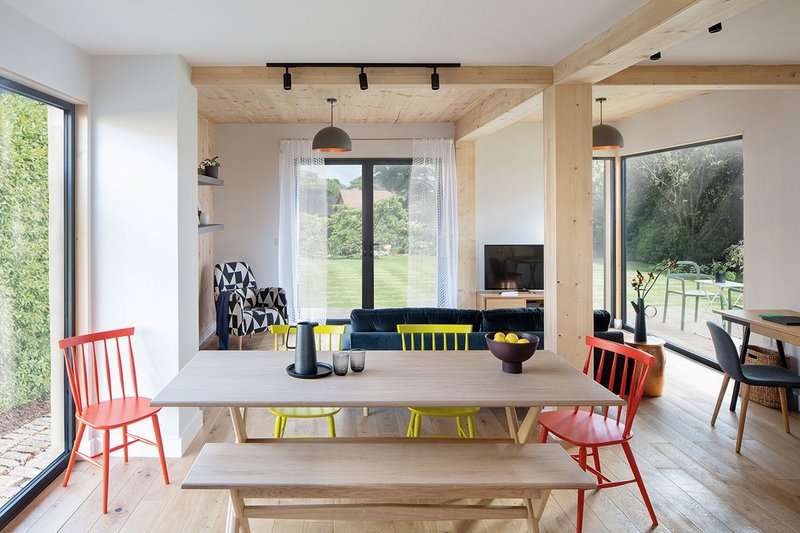 Studio RHE's CLT nHouse: 100m2 volumes produced in tandem with Lesko Modular.

Credit: Dirk Lindner
It is now almost 80 years since the Housing (Temporary Accommodation) Act enabled the construction of the post-war prefab, but controversies and concerns about building a home in a factory have run deep ever since. While practically every other item we buy rolls off a production line, housebuilding's transition to the factory remains, for many reasons, problematic.
Architects have been part of that story, unsure of their relationship with manufacturers, and the impact of standardisation on their role and input. But they have also demonstrated manufacturing's creative potential – think of Cartwright Pickard's Murray Grove in Hackney or Rogers Stirk Harbour + Partners' Y:Cube studio homes for the YMCA.
Now things could be changing, for both offsite housing development and architects. With a skills shortage, a push from government and impetus from the build to rent sector, manufacturers and offsite schemes are growing and a few housebuilders, like Berkeley Group, are setting up their own modular factories. Now, says Darren Richards, managing director of offsite consultant Cogent Consulting: 'Architects are moving beyond being fearful to viewing this as an opportunity – and seeing they can still have an impact on design.' That offsite opportunity is evolving as the market develops, with designer-maker alliances forming to deliver serial projects or branded house concepts. These new relationships can change the way architects work.
Going large
The student accommodation sector has helped to give some architects an edge in offsite experience and learning, which is now being applied to urban apartment schemes, notably for the private rented sector (PRS). But still relatively few practices have in-depth knowledge of how to work with manufacturing, believes Richards, whose firm helps develop understanding between clients, their design teams and manufacturers.
As an architect we are used to designing a one off – not something to be repeated 700 or 800 times. Any design needs to be enduring
Architects have much to learn, says Richards. 'At an engineering level, there is a need to understand the difference between a real standard component, and one that you think is standard, but actually isn't. Inefficiency manifests itself in cost. There's a need to understand how manufacturers sequence components and labour, so that when they push back against something, you understand why.' Architects can add value by focusing on key areas of the building, he adds. 'Layout, massing and so on are fairly mechanistic. Architects can really earn their money in the design of facades and common areas, as well as in creating efficient circulation space, which is key for build to rent.'
HTA is one that seized the offsite opportunity early. It gained expertise through long relationships with manufacturers, including Vision Modular Systems, with whom it is working on schemes at 101 George Street in Croydon and Greenford Quay. These are both being built to rent for operator Greystar, and the PRS sector is providing a boost to market perception and industry practice, says HTA partner Rory Bergin. 'It has a business case and is demonstrating this works. As the rest of the industry follows, that will help get offsite embedded in the residential sector.'
These are big projects, with 546 homes in two connected towers, 38 and 44 storeys high, at George Street, and 379 at Greenford Quay's first modular building alone. The architect focused on the urban apartment market partly because of that scale. It has also fostered relationships that go beyond project design, explains Bergin. 'We work with manufacturers on the development of systems and products – and meet them regularly to talk about the market.' As he says, usefulness and value work both ways.
Today, around a third of the practice's projects are already using or are destined to use large-scale manufacturing – whether pods, modules or panelised systems. Bergin estimates that three quarters of staff working in its architectural team have now gained experience of working with these approaches. 'We know what to look for and what to avoid, like buildings that don't stack,' says Bergin. Manufacturing homes involves a trade-off, he adds. 'It's more efficient, will be cheaper in future and is less environmentally damaging, but to make it work there are simple rules that you have to be rigorous in applying.'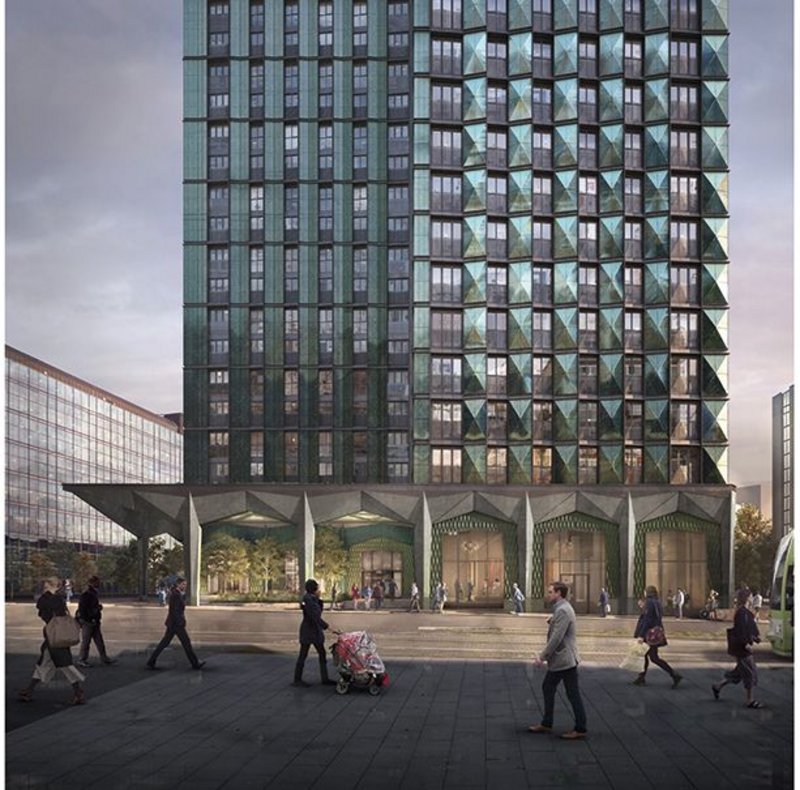 HTA's 101 George Street, Croydon, for operator Greystar comprises two towers and 546 homes.
For the architect, the design and production drawing process can be intense. 'Once we have a production date in the factory we have a time limit,' explains Bergin. 'We have 150 people in a factory who wouldn't be able to do any­thing so we have to get the design work done and clients have to make decisions, all in time. That can be stressful.' Even details like bathroom taps must be decided before homes are made, but the upside is that the more routine elements of the design are streamlined. 'You don't have to design 27 apartment typologies or detail 57 bathrooms,' Bergin continues. 'Once you get the building figured out, you get more time to spend on the façade and the visible side, so our best buildings have rich facades.'
Repeating the house
At the other end of the development scale, the interest in offsite for houses spans the tiny, the temporary and the more conventional suburban family home. A number of architects have produced house concepts for developers or manufacturers, like Cube Haus' alliance with David Adjaye and others. Taking a different route, Studio RHE director Richard Hywel Evans has established a modular housing company, nHouse, with Nick Fulford, its chief executive.
The nHouse concept grew out of Hywel Evans' own Suffolk self-build, which had a glulam frame and cross laminated timber (CLT) infill. 'The ease with which it went together was a joy,' he recalls. He also drew on learning from the practice's work with manu­facturers on larger-scale projects, such as the Import Building at the Republic office campus in London Docklands.
With the help of crowdfunding and a partnership with manufacturer Lesko Modular, the company launched a prototype house just over a year ago and is now working with customers to bring through the first projects. The first nHouse model was a three bedroom house with 100m2 of internal space, which Hywel Evans describes as four boxes. 'The hard part in designing it was to get the boxes rigid enough for a crane to pick up, and to avoid over-specifying them to keep them affordable,' he explains. Another key challenge was the aesthetic, he adds. 'As an architect we are used to designing a one off – not something to be repeated 700 or 800 times. We can create an innovative design, but you have to bear in mind that when repeated it would age. Any design needs to be enduring.'
The business now offers two to six bedroom house models, and an apartment option. And in another manufacturer alliance it has worked with Pepper Kitchens for the homes.
Developing the product range and securing its essential approvals and accreditation has been time-consuming, occupying precious staff resource. But the transfer of knowledge between the embryonic business and the practice's commercial projects continues to be fruitful, says Hywel Evans, feeding into projects like The Gramophone Works in London's Ladbroke Grove, another project using CLT. 'Having had a team on nHouse for 18 months has been very useful in increasing our understanding of the strengths and weaknesses of the material, and particularly how connections work.'
The in-house learning makes us better at what we are doing. Without doubt, we're well placed because of our exposure to systems
In fact, Hywel Evans believes it has changed the way the architect works. 'We are so used to being close to a manufacturer that a conventional relationship seems strange now. The in-house learning makes us better at what we are doing. Without doubt, we're well placed because of our exposure to systems.' And the nHouse venture looks to be taking off, with a string of enquiries, the first home delivered to a site in Wales this spring, and the potential for around 20 more this year.
Partnering with a manufacturer is the only way the firm could have taken the nHouse concept to this point. Fulford points out: 'The government wants us to set up factories, but you would need about £5 million to do that.' A newcomer to housebuilding, he believes a shift to modular is long overdue: 'We know how to make great houses and we know what people like. With homes, we are basically making products, and we have got to get to the point where we have market variety for consumers.'
This will mean change for architects, he argues: 'The house has still got to be in its environment, so there is always the need for the specialist skill, but we don't need as many architects designing houses.' Cogent's Richards says such a future may be a long way off, but could happen. He points to the fact that already manufacturers are bringing architectural technician skills in house. 'That's happening because clients are pressing them for turnkey contracts – their view is why should I have a lot of different suppliers?' he says. 'There is a need to embrace – or get left by the wayside.'