Two volumetric modular residential developments by HTA Design cut embodied carbon by 41 per cent and 45 per cent compared with the equivalent reinforced concrete buildings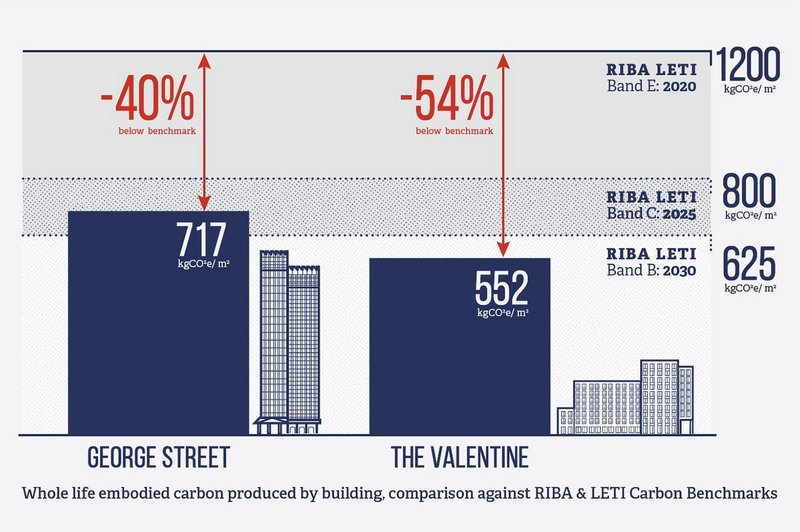 Both modular developments compare well with the latest RIBA and LETI design targets for embodied carbon.

Credit: HTA Design
Two residential tower developments by architect HTA Design, delivered using volumetric modular systems, had 41 per cent and 45 per cent less embodied carbon than traditional methods of building homes, research by academics from the University of Cambridge and Edinburgh Napier University has shown.
The two developments, a 546-home scheme spread across two high-rise towers in Croydon, and a 333-bed, 10-storey student accommodation tower in Gants Hill, London, saved a total 8,000 tonnes of embodied carbon emissions during construction, said researchers. This is equivalent to the CO2 absorbed by 1.3 million trees in a year.
Both projects were delivered by Tide Construction using its Vision Modular System of volumetric units.
The study assessed whole-life embodied carbon, measured by calculating CO2 emissions per square metre across all aspects of design, construction and decommissioning, excluding operational energy.
According to Tide Construction, the study was carried out in accordance with the latest carbon assessment guidelines and applicable international standards as well as the Royal Institute of Chartered Surveyors' 2017 Professional Statement on Whole Life Carbon Assessment for the Built Environment.
Data inputs were provided by Tide and HTA Design alongside internationally accepted LCA databases relating to raw material production, transport, manufacture, and installation.
The results were compared with alternative notional scenarios for functionally equivalent buildings constructed using traditional reinforced concrete construction.
Whole-life embodied carbon for the Gants Hill scheme was 552 kgCO2e/m2, compared to 998 kgCO2e/m2 for the notional scenario, a 45 per cent reduction. Whole-life embodied carbon for the George Street development was 717 kgCO2e/m2, versus 1,220 kgCO2e/m2 for the notional scenario, a 41 per cent reduction.
The figures compare favourably with RIBA and LETI design benchmarks for embodied carbon in residential buildings for 2020 and 2030 (see image).
RIBAJ asked Tide Construction which aspects of the modular approach saved the most embodied carbon. Chief executive Christy Hayes commented: 'Embodied carbon is dramatically lower when modular systems are used as buildings require less volume of carbon-intensive resources, such as concrete and steel. These savings are achieved in all areas of the development, both substructure and superstructure, and will form the basis of subsequent focused research to identify further carbon reductions that could be made.'
He added that producing modules off site in a controlled assembly-line environment and then assembling them efficiently on site 'substantially lowers indirect carbon emissions, such as those caused by deliveries and on-site workers' .
Hayes claims the research 'clearly and credibly' demonstrates to the industry the embodied carbon savings that can be achieved through modular. He said that 'as a matter of priority, this element of whole-life carbon assessment should inform the earliest stages of the investment decision-making process'.
This story is based on a press release and follow-up questions. RIBAJ requested access to the full study, but was told that Tide Construction was unable to share it for commercial reasons.
Buildings are responsible for roughly 40 per cent of global carbon emissions. As they become more energy-efficient in operation, reducing the carbon associated with their construction is becoming increasingly important.