The UK's first 'Multi-Comfort' building aims to go beyond Passivhaus to embrace all aspects of user well-being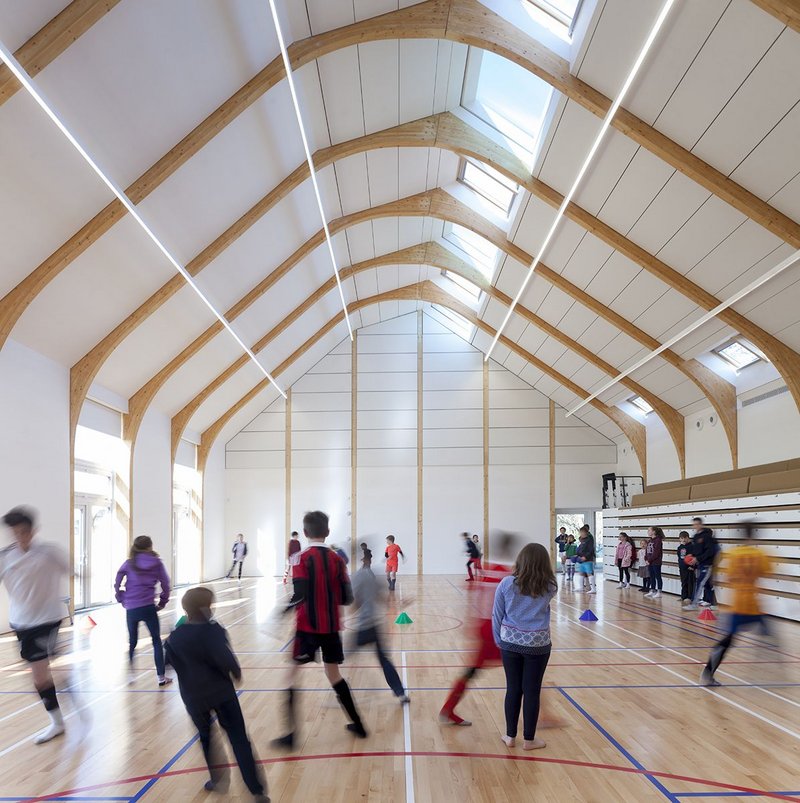 Over at King's School in Worcestershire, Associated Architects' new Bartholomew Barn played host last month to construction products firm St Gobain's launch of its first 'Multi-Comfort' building in the UK – a method which, it says, through the specific combination of its product range, offers designers optimum thermal, audio, visual, indoor air and 'economic' comfort. And with new school hall subject to detailed ongoing monitoring, the firm hopes to put its money where its Multi-Comfort mouth is and deliver quantifiable post occupancy benefits under all five headings.
The concept seemed to go down well with industry bods gathered at the Bartholomew Barn opening, with TV's Oliver Heath, Construction Products Association deputy CEO, struck by the 'calmness created by its geometry. It's human-centred, comfortable and of good materiality. In subtle ways this building just feels good,' he said.
'Multi-Comfort represents an additional enhancement to the Passivhaus standard, with human comfort and energy use built into it,' explained Warm Associates' director Mike Roe, the consultancy appointed to help develop and monitor it. He says it's the firm's attempt to ally this more closely with the USA's international WELL Building standard, which accounts for a wider range of building comfort criteria. 'Multi-Comfort looks at other key parameters; not just the building fabric but other things like daylighting and acoustics and moves away from the narrow focus on energy use,' he adds.
Bartholomew Barn, as the company's first example of this strategy, reconciles the theory with practice, and has been duly stuffed full of performance monitoring equipment. That means electric pulse energy monitors, relative humidity, CO2 and temperature sensors, full thermal imaging cameras and pro-acoustic testing kit, explains St Gobain sector director Stacey Temprell. 'We've developed St Gobain's own research testing to include reverberation tests and special intelligibility tests to further break down acoustic performance.' Temprell says it's about 'holistic design approaches rather than the WELL Standard's more prescriptive ones'; It's certainly more timely: she claims there isn't a WELL accredited building yet in the UK.
But while the performance might be achieved from use of any manufacturer's high performing products, the Multi-Comfort accreditation is currently only gained from the specification of St Gobain glazing, insulation and dry lining – the small print in its bigger drive to reduce the carbon footprint.